The Boyd Dynasty: Theodore Penleigh Boyd - Much More than the Painter of Wattle Trees
As we climb up the branches of the Boyd Dynasty of Artists you will meet painters, ceramicists, sculptors, architects, illustrators, stage designers - and the list goes on. We have already met Emma Minnie à Beckett and Arthur Merric Boyd and their son Merric Boyd.
Today it is the turn of Theodore Penleigh Boyd (1890–1923) to be showcased. He was the third son of Minnie and Arthur Boyd and named Penleigh (his preferred name) after their ancestral home (on his mother's side) in Wiltshire, England where the Boyd family lived for a couple of years while Minnie and Arthur tested their artistic talent in a European context.
This self portrait of Penleigh shows his confident brush stroke, indicative of someone who knew he had much to give the art world. Note also the gaze of his eyes: this was a man with great determination.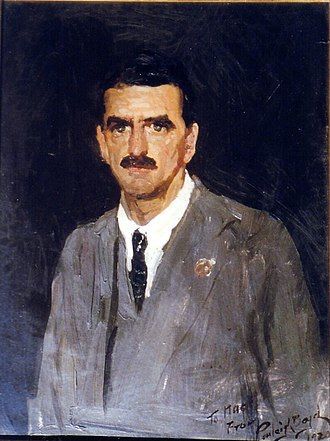 There can be no doubt that Penleigh Boyd was exceptionally talented. By the age of 15 he was studying at the National Gallery School in Melbourne under the tutelage of Bernard Hall and well known Australian artist Frederick McCubbin, a prominent member of the Heidelberg School which espoused Australian Impressionism.
The early paintings done by Penleigh appear to be mostly typical studies of the time and show the influence of Australian Impressionism, which was very much the style of painting favoured at the time. He had his first solo exhibition at the Guildhall, Melbourne in 1910 and it is likely these two paintings were included. He had a second solo show before travelling to Europe in 1911.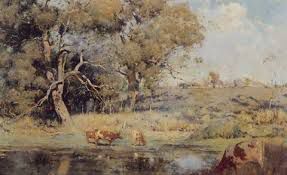 I did find one painting of Penleigh's from this period that was quite different, although painted in the same year (1910) as the two shown above. The brush strokes are much looser and the light shining on the blossom heralds what was to become Penleigh's distinguishing quality - his ability to capture the fleeting nature of illumination. It is here in this painting we can see him mastering the Australian light which is so essential to painting our national flower - the Golden Wattle. More about this later in the post.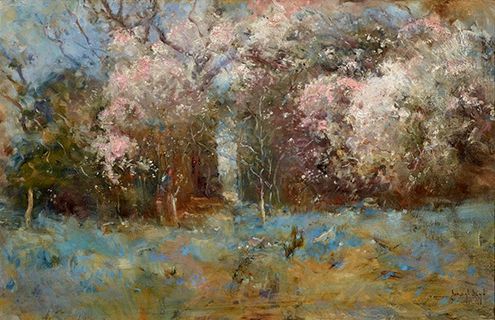 In 1911 Penleigh set off to Europe where he met his future wife, Edith Anderson, through a neighbour in Paris - well known Australian Impressionist artist Emmanuel Phillips Fox.
Edith Susan Gerard Anderson (1880-1961), was born in Brisbane, Queensland and became a painter, playwright and model for Phillips Fox.4
At the time of writing this post I haven't been able to locate any examples of Edith's work but I have found a painting of her by Phillips Fox.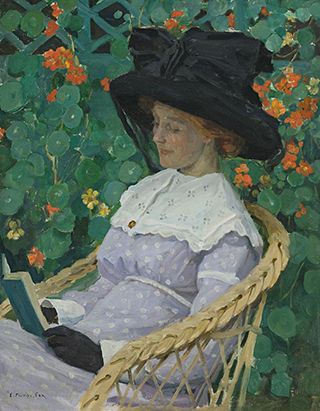 Penleigh and Edith spent about two years living mainly in England and one of his paintings was selected to be hung at London's Royal Academy. Below are three examples of paintings from this period which don't stand out in any significant way. All are done in watercolour.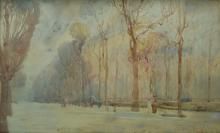 Returning to live in Australia, the couple built a house at Warrandyte, Victoria and so far I have found only one painting produced by Penleigh during this period. Created in 1914, the painting (below) shows a change in style and strong awareness of the importance of light. Perhaps the influence of Phillips Fox can also be seen. He apparently introduced Penleigh to 'en plein air' techniques when they were neighbours in Paris.1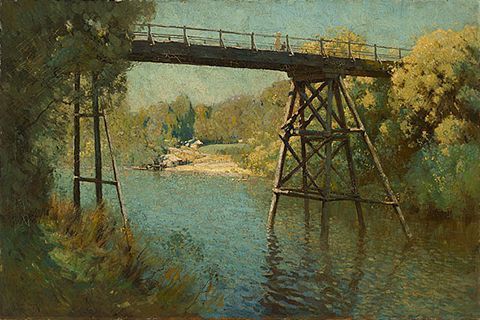 As the sounds of a world war began to drift across to Australia, Penleigh enlisted in the A.I.F (Australian Infantry) and served in France until September 1917 when he was gassed at Ypres.
Of significance is that my research has revealed that Penleigh recorded his experience of serving in WWI in Europe. I found these three illustrations, though no captions.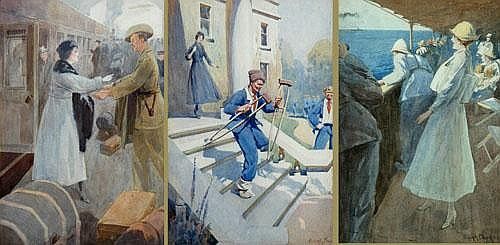 Since commencing to write this post on Penleigh Boyd I have discovered a collecton of his World War I illustrations with descriptions, housed in the State Libraray of Victoria. At the time he made these sketches, using a mapping nib he found in the dirt, Australia had no official war artist. I have decided to show you a selection of these illustrations in a separate post so that we gain the full impact of what he witnessed.
After being gassed Penleigh spent some time in England receiving treatment and then returned home to Australia in 1918. He turned to painting the landscapes and wattle trees for which he is known.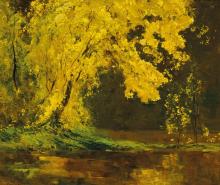 While in Melbourne Penleigh Boyd was at home in the burgeoning circle of fellow artistic souls. He was a member of the esteemed The Victorian Artist's Society in East Melbourne, as attested to by this cartoon collage of the merry doings at one of the monthly smoke nights ... (where) the local visual arts scene was an exciting current of creativity. 5. I can't identify them but apparently the cartoon includes: E. Phillips Fox, Rupert Bunny, Walter Withers, John Longstaff, Max Meldrum, Penleigh Boyd, William Dargie, Daryl Lindsay, William Frater et al.5
Cornerstone of the collection: Smoke night at the Artists Society by Alfred Martin Ebsworth 1888. Photo: State Library of Victoria (5)
In 1922 Penleigh once more returned to England to organize a loan exhibition of modern art which was shown in the major capitals of Australia in 1923.
Not long after the exhibition closed in Melbourne, Boyd was killed in a car accident while travelling to Sydney.
At his death his obituarists compared him to Arthur Streeton and rated him as one of the most promising painters of his generation.1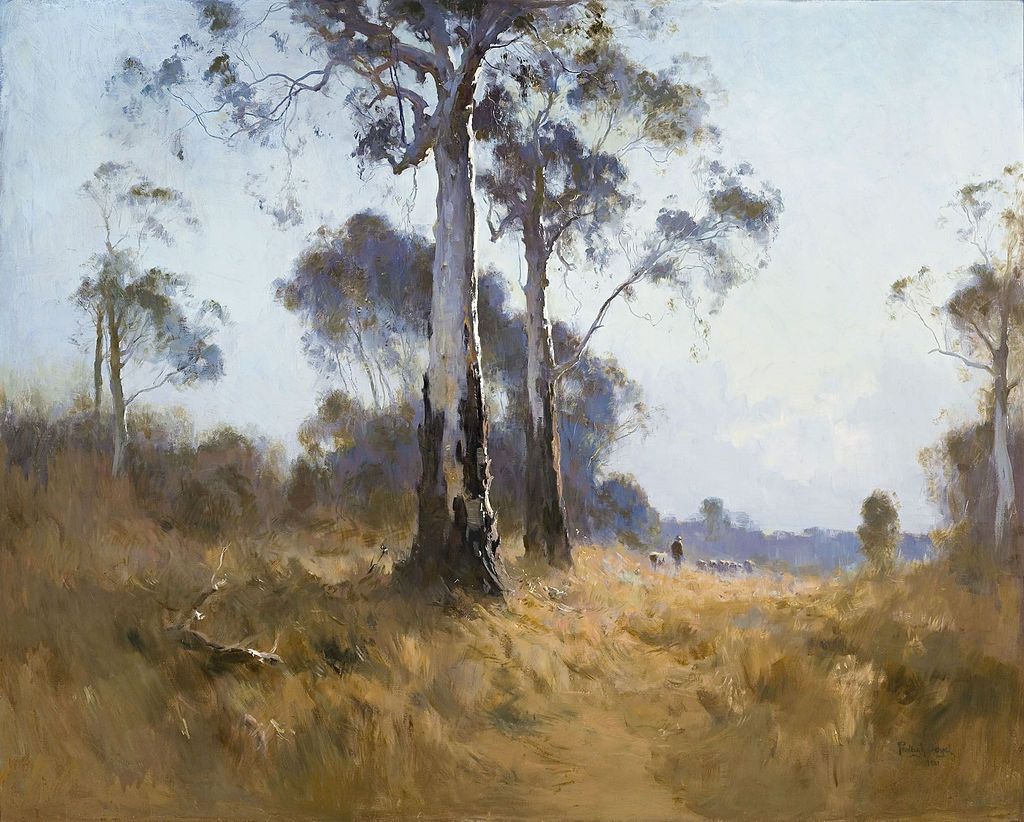 I have included a video for those of you who are interested in studying in more depth the paintings created by Penleigh Boyd.
Where to Next?
Next week we are going to see the World War I illustrations produced by Penleigh Boyd while he was on active service in Europe.
Penleigh and Edith Boyd had two sons: John a Beckett Penleigh (Pat) Boyd and Robin Gerard Penleigh Boyd, the latter being a famous and influential architect, educator and social commentator in Australia. Soon we will return to learn more about these members of the Boyd Dynasty.
Post Script
I have searched for works by Helen Read à Beckett Boyd (1903-1999) who was Merric and Penleigh's sister. She turned to painting and print making later in life. Sadly I could only find two of her paintings and in both cases the image is very poor.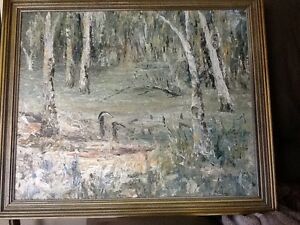 Credit
en.wikipedia.org
artnet.com
invaluable.com
trove.nla.gov.au
domain.com.au
gumtree.com.au
findlotsonline.com