The Boyd Dynasty: Australia's Most Artistic Family thanks to Emma Minnie à Beckett marrying Arthur Merric Boyd
BOYD is a name in Australia synonymous with the arts, particularly the names of Arthur Boyd (painter) and Robin Boyd (architect). But there are many, many more members of this remarkable artistic dynasty whose origins we find back in the fledging colonies of New South Wales, Van Dieman's Land (Tasmania) and the Port Phillip District (Victoria) in Australia.
The ancestral mix from four families, who eventually all settled in the 1850s in Victoria, contained lawyers, convicts, doctors, brewers, squatters, writers and politicians: perfect DNA ingredients to form artistic offspring!
These two paintings below represent the marriage of these families and the fostering of artistic talent that was to make a major contribution to the Australian (and international) arts scene (in the broadest definition) for the next 150 years.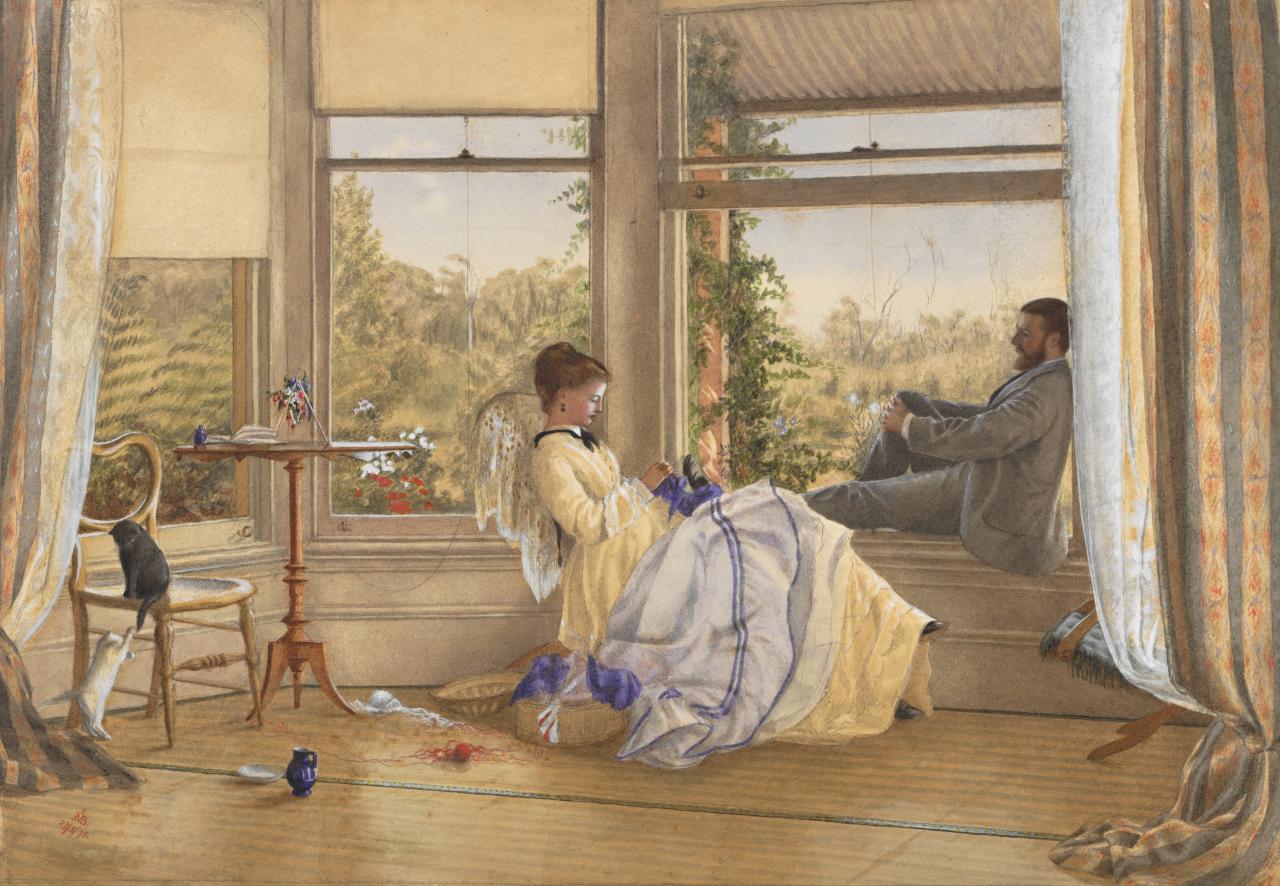 On the left above you can see a painting by Emma Minnie à Beckett (1858-1936) who was born in Melbourne (Harkaway) into a very wealthy family who encouraged her artistic talent.
On the right is a painting by Arthur Merric Boyd (1862-1940) who was born in New Zealand but grew up in Australia when the family moved back to Victoria, his mother's birth place.
In 1886 Arthur Merric Boyd married Emma Minnie à Beckett, (known as Minnie), and in 1890 they moved to England and lived for a time in Westbury, Wiltshire. In 1891 they each had a picture in the Royal Academy of Arts exhibition, London. I have found the catalogue for this exhibition: Emma Minnie Boyd's painting was To the Workhouse and Arthur Merric Boyd's was Victorian Coast, Australia; both were oil paintings.
I couldn't find a photo of Arthur's painting but I did discover that the National Gallery Victoria possesses Minnie's painting from the 1891 exhibition.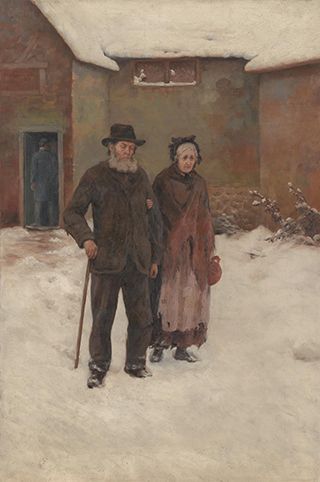 Arthur and Minnie Boyd travelled and painted on the continent of Europe for two years. First I will show you a small selection of the Overseas Studies completed by Minne.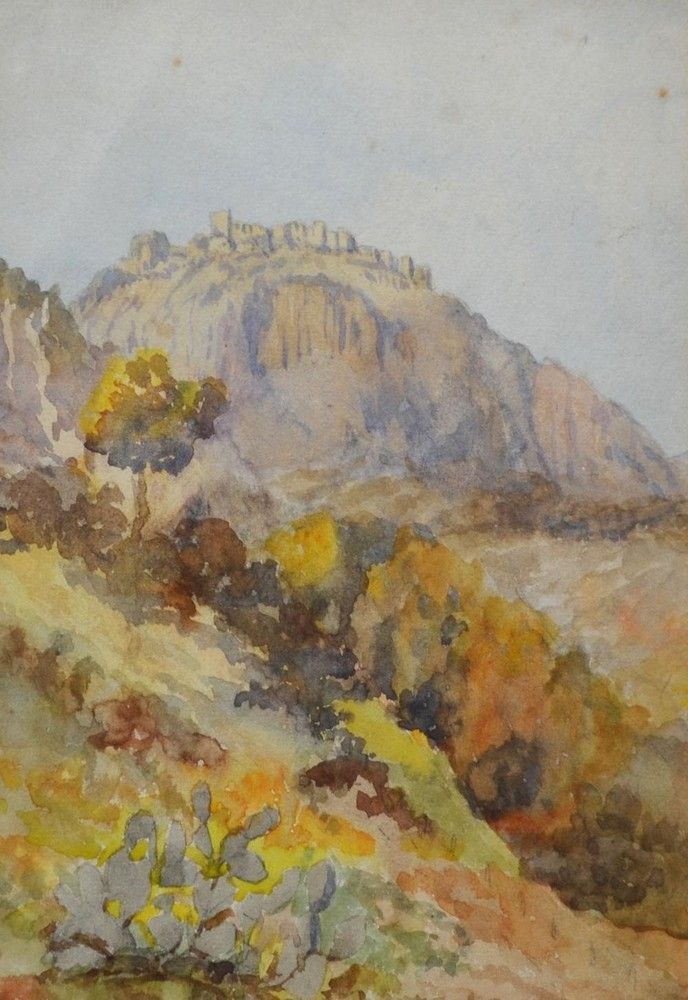 And a couple of paintings done by Arthur while living in Wiltshire, England. I will show you more of the overseas works by Arthur in the next post on the Boyd Dynasty.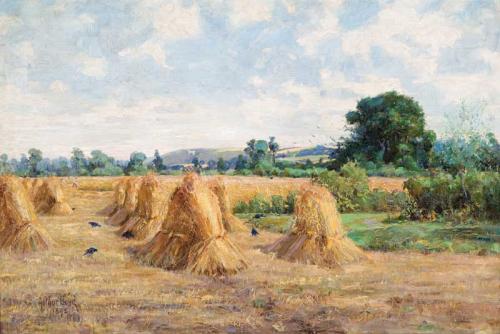 Returning to Australia about the end of 1893 the Boyds lived mainly in the Sandringham area and other nearby suburbs of Melbourne.
Here is a little display of some of Minnie Boyd's Australian paintings: oils and watercolours.
I've managed to locate two very early paintings done by Minnie in the 1860s on a gumleaf, which was a popular art form in Australia at the time.3 For overseas subscribers we need to tell you that some gum (eucalyptus) leaves are particularly large and tough enough to act as a small canvas to paint on.

Minnie was a printmaker, sculptor, children's book illustrator and ceramics painter and I have been able to trace that her artistic DNA came from the à Beckett ancestry line where there were painters, though at this stage I'm still researching this. Let's look at some more of Minnie's paintings.
First a couple of oil paintings which are from her younger years as an artist.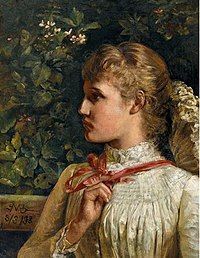 And these are watercolours which seems to have been her preferred medium.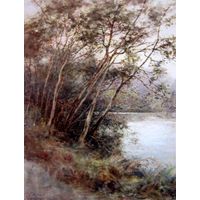 Minnie Boyd also illustrated a couple of books I think around the late 1890s. Below are examples of her work from the book Waratah Rhymes by Louisa Anne Meredith.

In 1908 Minnie and Arthur Boyd purchased a farm in glorious Yarra Glen (east of Melbourne), with money Minnie received from her mother, Emma à Beckett.
Living in this idyllic part of Victoria no doubt encouraged Minnie to paint watercolour landscapes, which became her favoured genre and gradually she gave up painting figures. Minnie frequently exhibited with the Victorian Artists Society exhibitions, an Art Society which exists to this day.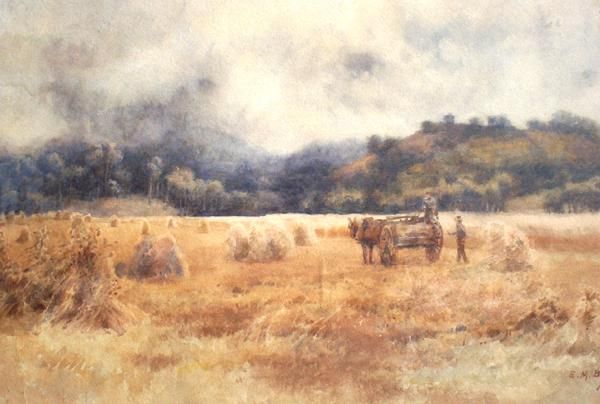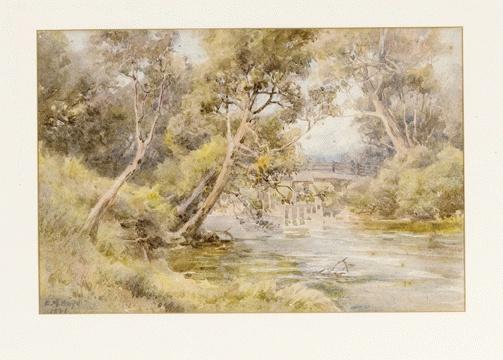 Minnie also loved the sea and many of her works illustrate the coast line around Port Phillip Bay.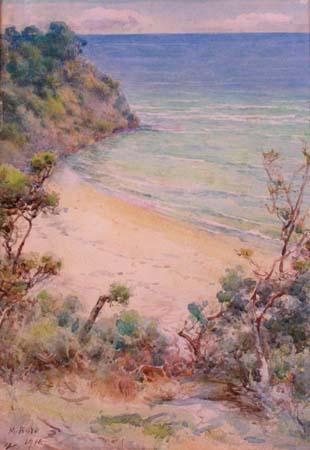 Minnie Boyd will always be remembered as the mother and grandmother of some of Australia's most significant artists, some of whom we will meet over the coming weeks.
But in her own right Minnie Boyd was one of the most prolific and consistent women artists of her generation in Melbourne, with a career that significantly outlasted that of Jane Sutherland, for example. Emma Minnie Boyd's art was shown in its own right as works of historical and curatorial merit in the 1992–1993 touring exhibition "Completing the Picture: Women Artists and the Heidelberg School", at the Heide Museum of Modern Art and elsewhere, and in a retrospective in 2004 at the Mornington Peninsula Regional Gallery.2
Minnie Boyd died in Sandringham, Melbourne, on 13 September 1936. Her husband, Arthur Merric Boyd died four years later. We will look at his works and life as a painter in the next post on the Boyd Dynasty which will be in a couple of days' time.
If you have time you might like to read the article below as it discusses the historial context in which Minnie Boyd was developing as an artist, plus, gives a further insight into Minnie Boyd as an artist.
Credits
ngv.vic.gov.au
en.wikipedia.org
kiamaartgallery.wordpress.com
aasd.com.au