Georges Seurat - an important legacy cut short
Today we look at the life and work of Georges Seurat. But before we do this we would like to welcome GB in the Philippines as our latest subscriber. We are delighted to have you join our on-line community where we love to talk about art as part of everyone's life.
Whilst Georges Seurat was part of the next generation after the Impressionists, it is opportune to look at him following the recent blogs on Pissarro, as they both worked together for a time, exploring new ideas and techniques, despite the vast differences in the ages.
In actual fact, Pissarro was 54 years young when he met Georges Seurat in 1884, through his son, Lucien, (then aged 21), who was studying and painting in Paris. Lucien had met two young painters, Georges Seurat and Paul Signac, also in their early twenties, who were all fired up in exploring new ideas about the science of colour. One of these, called Divisionism, was about separating individual colours into dots, and those dots interacting optically with the viewers perception, to create light and shade, rather than blending and mixing colours. The second of these, pioneered by Seurat, was called Chromo-luminarism, which involved applying the dots to achieve as much luminosity into the subject as possible. In fact, some of Seurat's paintings almost seem to shimmer in a brilliant summer haze.
Georges Seurat is one of the most important post-Impressionist artists, as he largely initiated the Pointilist style, using these new techniques. He produced a huge body of work in only 10 or 11 years, because, sadly, he died at the young age of only 31. What an enormous loss to the art world.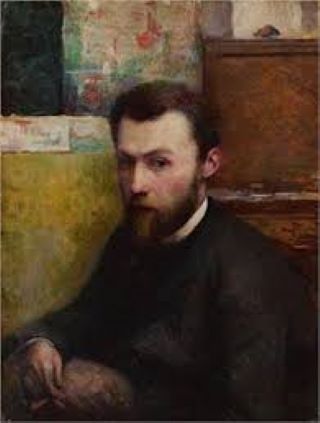 He was born on 2 December 1859 in Paris and had an older brother and sister. The family was well off as his father had become wealthy from speculating in property.
Georges Seurat first studied art at the École Municipale de Sculpture et Dessin, which was run by the sculptor Justin Lequien. In 1878 he moved on to the École des Beaux-Arts where he followed a conventional, academic form of training, drawing antique sculpture and copying drawings by old masters. His formal artistic education came to an end in November 1879, when he had to leave the École des Beaux-Arts for a year of military service, aged 20.1
After a year at the Brest Military Academy, he returned to Paris where he shared a studio with his friend Edmond Aman-Jean, while also renting a small apartment. For the next two years, he worked at mastering the art of monochrome drawing, mostly in Conte crayon on high quality textured Michallet paper. It was fortunate that the family wealth and support gave him the ability to concentrate on his art without having to work.1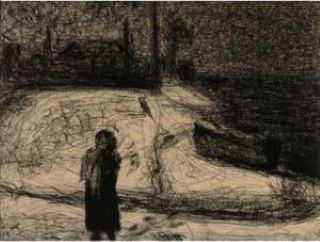 His first exhibited works, shown at the Salon of 1883, were Conté crayon drawings of his friend, Aman-Jean, below left, and another of his mother, on the right: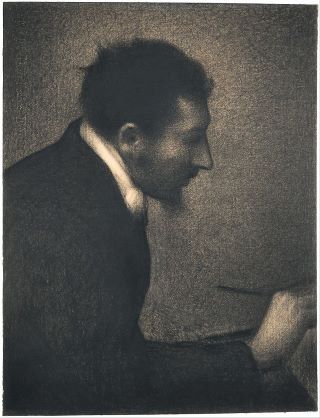 Seurat spent 1883 working on his first major painting, titled Bathers at Asnières, a large work of 2 x 3 metres, showing young men relaxing by the Seine in a working-class suburb of Paris. Seurat departed from the Impressionist ideal by preparing for the work with a number of drawings and oil sketches, below, before starting on the canvas in his studio.1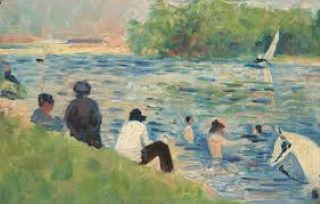 And here is the final work, below. Although influenced in its use of colour and light tone by Impressionism, the painting, with its smooth, simplified textures and carefully outlined, rather sculptural figures, shows the continuing impact of his neoclassical training.1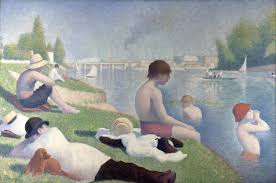 Bathers at Asnières was rejected by the Paris Salon, and instead, Seurat showed it with another artist's group in May 1884. However, he was disillusioned by the poor organization of that group and so he and some other artists, including Paul Signac, set up a new organization, called the Société des Artistes Indépendants.
Seurat then started work on his next major work, A Sunday Afternoon on the Island of La Grande Jatte, which he went about in the same way as The Bathers. It took Seurat two years to complete this 10-foot-wide (3.0 metres) painting, much of which he spent on this island of leisure on the Seine River, near Paris, sketching and painting some 60 studies in preparation.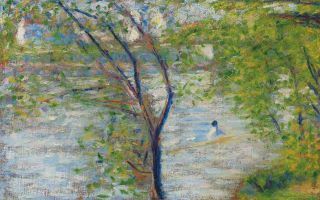 And here is the finished work, below. Seurat exhibited La Grande Jatte at the Eighth Impressionist Exhibition in May 1886. Its visual effects of light and colour, as well as its complex representation of different social classes established Seurat as the leader of a new movement.
It also aroused interest in his work internationally and some of his paintings were shown by the renowned art dealer Paul Durand-Ruel in both Paris and New York City.2 Paul Durand-Ruel had been involved in promoting the work of a number of the Impressionists in London and New York, for some years previously.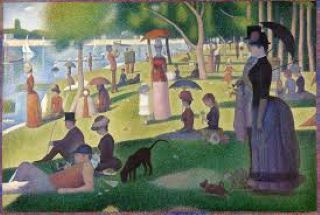 Both The Bathers at Asnieres and A Sunday Afternoon on the island of La Grande Jatte are arguably Georges Seurat's most well-known works.
Here are some more of his works in the style that he is so famous for. You will notice the brilliance of the colour, and the detail of the dots, (left) and how those dots come together into a picture of perspective, light and shade, when viewed as a whole picture, at a distance (right).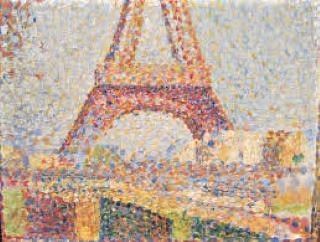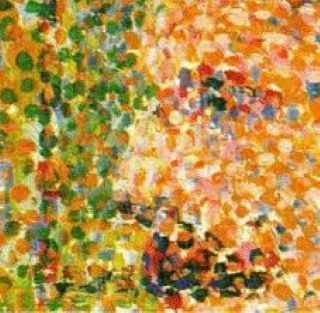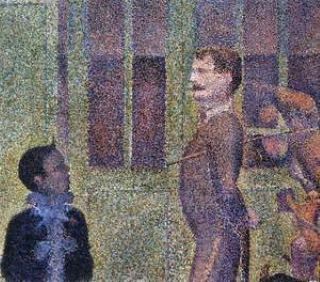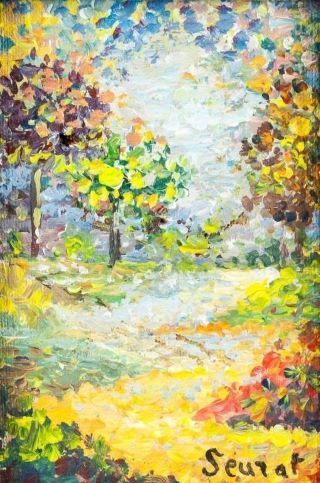 Seurat spent his summers on the Normandy coast, painting seaside scenes of Honfleur in 1886, Port-en-Bessin in 1888, Le Crotoy in 1889 and Gravelines in 1890, below. In winter he finished these paintings in his studio.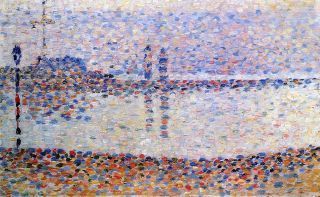 In 1889, Seurat met a 20 year old artist's model named Madeleine Knobloch, with whom he had a secret relationship.  It is unknown why she was kept hidden from his family and friends.  The only picture of her is his painting Jeune femme se poudrant, below.  On 16th February 1890, she gave birth to their son, who was named Pierre-Georges.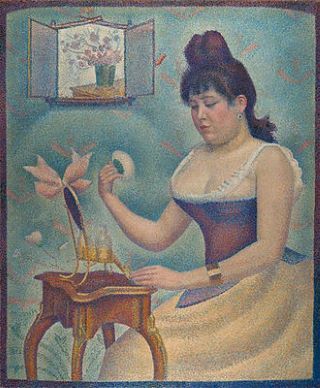 However, tragedy was soon to strike. Seurat died in Paris in his parents' home on 29 March 1891 at the age of 31. The cause of his death is uncertain, and has been variously attributed to a form of meningitis, pneumonia, infectious angina, and diphtheria.
His little one year old son died two weeks later from the same disease, on 13th April, 1891. At the time of Seurat's death, Madeleine was pregnant with a second child, and that baby also died, during or shortly after birth.  How very sad for Madeleine to lose all three of her new family within a few weeks of each other.
Seurat was buried in the family vault at the Pere Lachaise Cemetery, which I was fortunate to visit in September 2019.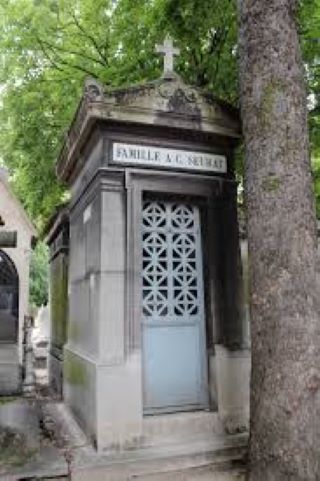 For some-one who died so young, Seurat left an important, influential legacy of over 290 paintings and drawings. In his short life he greatly influenced the development of modern art by his adherence to the 'scientific' principles of colour and an almost mathematical precision to the execution of his work using the Pointillist technique.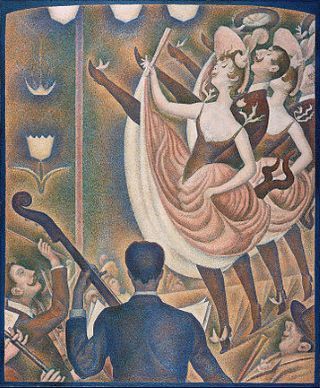 His friend, Paul Signac, who had work alongside Seurat for most of his short, adult life, continued on, gradually adapting the techniques Seurat had pioneered, till his own death many years later in 1935, aged 71.
Footnotes
Courtesy of Wikipedia
Courtesy of the Art Story.com