The Boyd Dynasty: William Merric Boyd marries the Australian Landscape and Creativity to Utility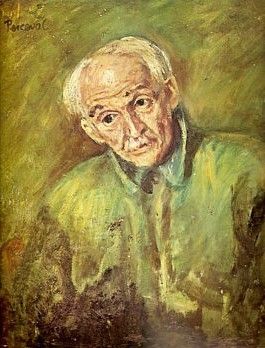 Last week I began introducing you to the Boyd Family who produced a string of artists from painters and sculptors to architects and writers. We have looked at the works of Minnie Boyd and Arthur Merric Boyd and now we will begin to learn a little more about their creative offspring.
Today it's the turn of William Merric Boyd (1888–1959) - predominantly a ceramacist and sculptor and the eldest surviving child of Minnie and Arthur. Known as Merric, he first tried farming (on the property his parents bought at Yarra Glen) and then considered entering the Church of England ministry. But in 1908 he found his vocation when he discovered he had the skill and passion to throw a pot! This event occurred in 1908 at Archibald McNair's Burnley Pottery, Melbourne, Victoria.
To be honest, the Boyd offspring had wealth on their side as the family was supported financially by Merric's maternal grandmother Emma à Beckett. She had inherited her fortune from her father, John Mills, an ex-convict who founded the Melbourne Brewery.2
So unlike many other aspiring artists of their times, the Boyds did not have to struggle financially. Minnie and Arthur purchased the property at Yarra Glen for their son to try out farming and then when Merric showed talent in producing pottery, his parents in 1911 bought a property (called Open Country) in Murrumbeena, a suburb of Melbourne, where Merric designed a workshop and pottery kilns. Sadly, the pottery workshop was destroyed by fire in 1926 but the Murrumbeena property became a meeting place for members of the Boyd family and their artistic friends.3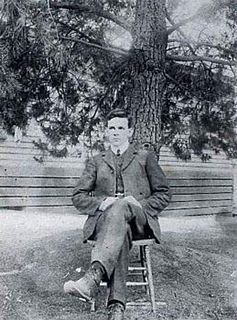 Merric studied at the Melbourne National Gallery School under Lindsay Bernard Hall and Frederick McCubbin.
He did dabble a little in watercolour1 (his father's favourite medium).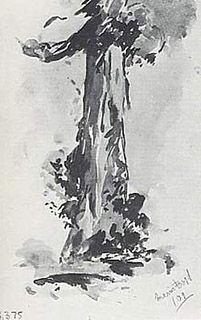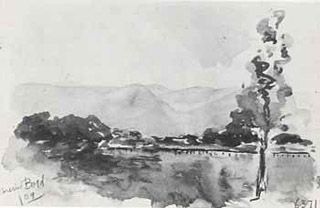 Merric held his first exhibition of stoneware in Melbourne in 1912 and a second exhibition soon afterwards, and was employed by Hans Fyansch of the Australian Porcelain Works, Yarraville.
Merric: prospective farmer, Dookie Agriculture College 1906; Merric: potter in young years and later in life(1)
The earliest pottery works of Merric Boyd that I could find are shown below.
From left to right:
An earthenware koala jug with branch handle, green textured glaze, incised designed by M. Boyd 1914 to base, 18 cm high;
An early stoneware koala vase, incised Boyd, 16 cm high;
Ceramic koala vase, signed and dated 1915, measures 18.2 cm high. 4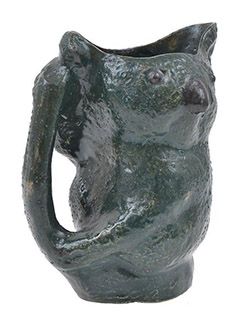 In 1915 Merric married Doris Lucy Eleanor Bloomfield Gough, also a potter.
Below are three examples of vases from this period. The vase on the far left is painted and applied with eucalyptus trees and the other two display a continuous landscape. The vase on the far right was most probably decorated by Doris.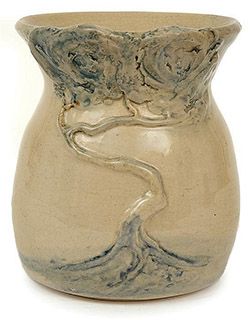 In May 1917, Merric joined the Australian Flying Corps but was discharged later in England. Before his return to Australia in September 1919 he undertook training in pottery technique at Josiah Wedgwood and Sons, Stoke-on-Trent.3
It would appear that Merric produced his best works in the 1920s and 1930s. All show a distinctive Australian theme within the tones of the glazes he used and the addition of eucalyptus leaves, gum nuts, Australian landscapes and the occasional koala.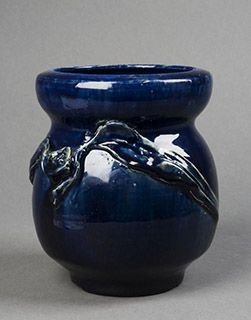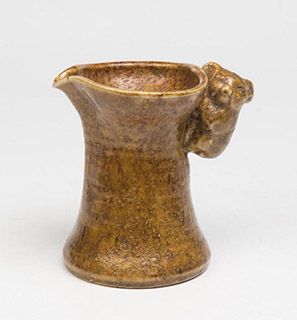 These were mostly pieces for domestic use, often decorated by Doris. Merric believed that 'the first impulse of the maker of hand-pottery is to obtain pleasure in making and decorating an article, and making that pleasure intelligible … the use of our own fauna and flora is of the first importance'.3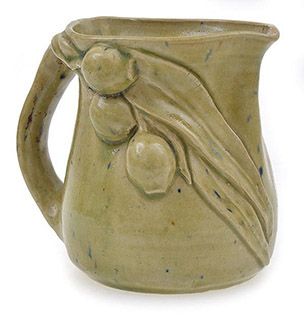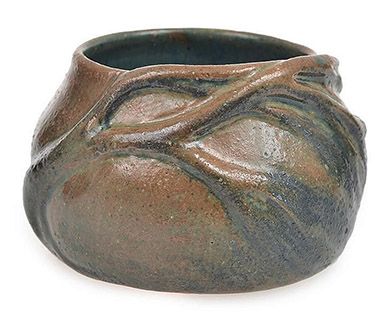 Apparently Merric had an aversion to creating art that would sell well, but he did work hard to provide for his growing family. In the 1930s he was employed at the Australian Porcelain Co. Pty Ltd, Yarraville, in the manufacture of Cruffel art porcelain. His wife, potter Doris, worked there also on a half-time basis.3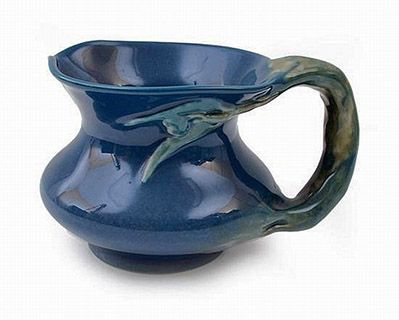 Merric turned to drawing in his later years and these creative pieces were collected and published by Christopher Tadgell as the Merric Boyd Drawings (London, 1975). Here is a small selection so that you can appreciate his style which is verging on surrealism.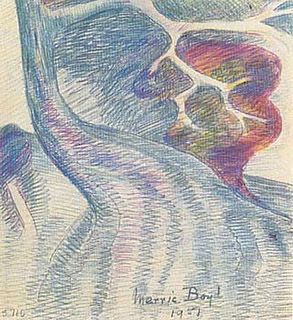 These appear to be sketches for some pottery pieces.You can see him working on incorporating the Australian landscape theme he so loved.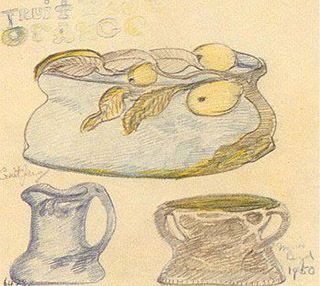 And now a little about Doris Boyd. I have discovered she decorated many of the pottery works created by Merric but unfortunately I could find only one piece attributed solely to Doris. It is a delightful sleeping cat and I so wish there were more of her pieces recorded for us to enjoy.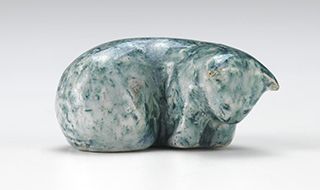 In his later years Merric became something of a recluse. He had adopted his wife's faith in Christian Science and from the 1930s read little beyond its teachings and the Bible. Subject to epileptic fits, he died at Murrumbeena on 9 September 1959. Doris died on 13 June 1960. They were survived by their five children, all noted artists: Lucy, Arthur, Guy, David and Mary.3
The names of Arthur Boyd, Guy Boyd and David Boyd are household names in Australia. We will return to explore the works of these artistic individuals and see if we can uncover a little more information about their sisters Lucy and Mary, the latter being known more for being first the wife of John Perceval and then Sidney Nolan - both famous names in the Australian art world.
And so the Boyd Dynasty grows and grows.
I have inlcuded a video for enthusiasts which gives you a greater insight into the work of Merric Boyd and how he made functional and decorative objects in a robust interpretation of the natural environment.6
When next we return to look at the Boyd Dynasty we will learn about Merric's brother Theodore Penleigh Boyd (1890–1923) who was a landscape artist of considerable talent before tragically dying young, and Merric's sister Helen Read à Beckett Boyd (1903-1999) who turned to painting and print making later in life.

Credit
members.optushome.com.au
en.wikipedia.org
adb.anu.edu.au
carters.com.au
ngv.vic.gov.au
National Gallery of Australia