John Pickup says: Reports of My Demise are Premature and Unfounded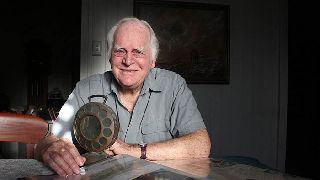 My phone rang. I answered. A deep male voice, after identifying that I was Anne Newman, said: I'm happy to report that I can paraphrase  Mark Twain   - reports of my demise are premature and unfounded.    
The voice belonged to one of my very favourite Australian outback painters- John Pickup- a member of the iconic group of artists known as the Brushmen of the Bush. Some time back I wrote several blogs on the Brushmen (see below for the links) and had implied that John Pickup was no longer with us! The phone call from John has erased my error irrevocably. With the death on Friday 22 March 2019 of Jack Absalom, John Pickup is now the last surviving member of the Brushman of the Bush.
It was easy to remember that John had been an ABC announcer (Australian Broadcasting Corporation) as his voice is as rich in quality as are his paintings. And as John McEwen commented: John Pickup specialised in 'sound pictures', so the fact he is also a painter is not surprising. ( Country Life, May 2, 2018).
John Pickup is not only a remarkable man, his paintings are magical. To quote John: I'm not a landscape painter putting on canvas an interpretation of a particular location. I prefer to let my imagination create a particular location- somewhere in the outback.... His style is so well illustrated in this image of an outback drover. His paintings ooze atmospheric and environmental emotion.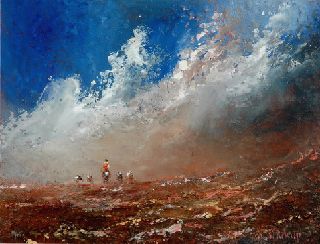 The wonderful British poet Pam Ayres is also a fan of John Pickup and her favourite painting, and mine also, is The Boundary Rider painted by John in 1968.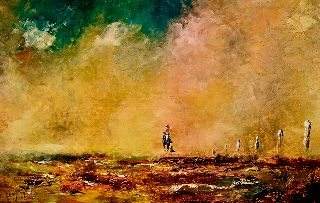 Pam Ayres says:
I met John Pickup in 1979. I was on my first visit to Australia, touring country towns for the South Australian Arts Council before visiting the major cities. I was petrified. John was in the audience when I played Broken Hill and afterwards he sent me a beautiful oil painting of me on stage with a little boy from the audience. We visited his studio and he gave me a print of 'The Boundary Rider'. I love it for its solitude and for the toughness of the man. Venomous snakes abound, his horse may stumble, bushfires may engulf them. Still he canters on, down the endless line of the fence. Pam Ayres in "Country Life" May 7, 2018
The toughness and courage of Rural Australians is highlighted in Canberra Bushfires as the towering inferno of the bushfires is fought by the seemingly diminutive fire fighters. John has captured the exquiste detail of the raging fire in a magnificent yet malevolent creation as seen below.
And then there is movement - be it of the country's favourite pastime - the horse race- here titled St Pat's Races...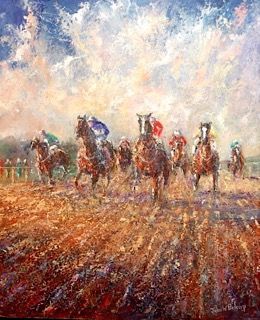 Or the swirling clouds above the parched and desperate desert.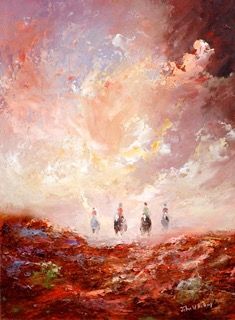 Tomorrow we will continue to enjoy the products from the palette and easel of John Pickup as he presents for us his Don Quixote pictorial narratives.
---
Check out my previous blogs on the Brushmen of the Bush.
Credit
All images produced here are done so with the permission of John Pickup.