Two More Brushmen of the Bush: John Pickup & Hugh Schulz
Today we will conclude our look at the Outback of Australia through the eyes of the Brushmen of the Bush. We are going to look at some of the works of John Pickup and Hugh Schulz.
John Pickup (1931- ) was born in Sydney and became a radio broadcaster. He first went to Broken Hill as a regional manager for the Australian Broadcasting Commission. In 1962 he started painting seriously. At some point he purchased and restored an old church in the gold mining town of Silverton (not far from Broken Hill) from which he ran a gallery and museum.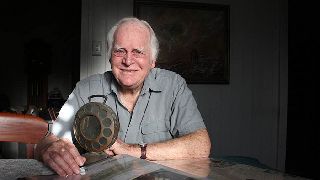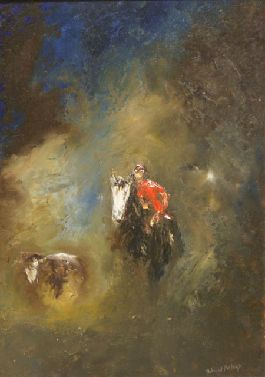 John Pickup has commented: "I find that literary work and films are a great source of inspiration - often in ways I didn't first expect," he says. (abc.net.au)
Characters from Peter Carey's 'Bliss', Patrick White's 'The Vivisector' apparently have been painted by John Pickup.  Don Quixote also features greatly in the Pickup paintings. Below were have Don Quixote at the Waterhole. As John Pickup said: "I'm just taken with the idea of a Spanish Knight coming to the outback of Australia on his impossible quest."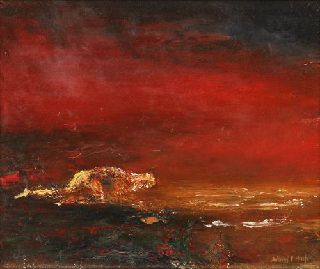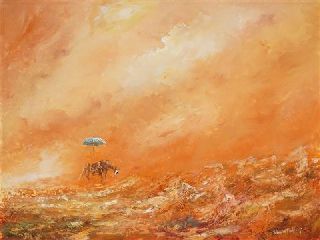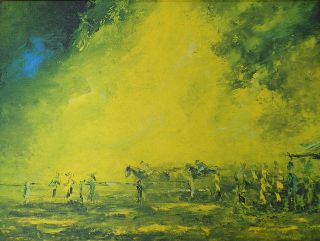 Fortunately At the Races is far more conventional and easily understood.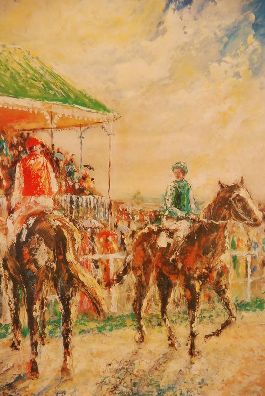 John Pickup's figures are full of character and history. This is a Nun Reading.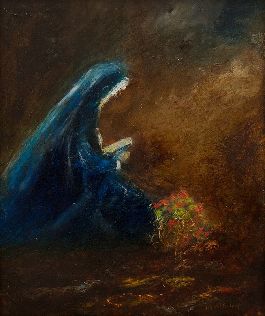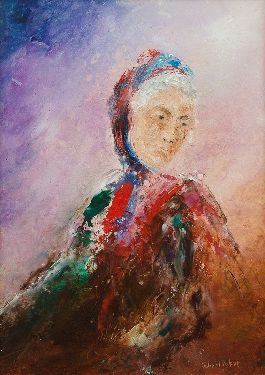 The Drover with his steely resolve.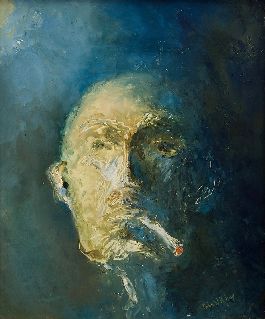 This is my favourite John Pickup painting titled The Boundary Rider. Again the use of the yellow/gold and green tones creating a very spectacular painting of the lone rider against the elements.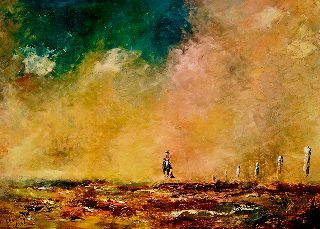 I believe that John Pickup was a balloon pilot for 18 years around Broken Hill and there are paintings containing images of hot air balloons which I have failed to find.
Hugh Schulz was a fellow Brushman of the Bush and painted in a very different style to John Pickup.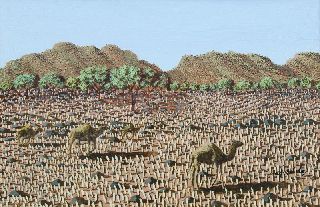 Schultz had a very different view of the outback employing his naive style to create enchanting landscapes with none of the fierceness or the strong dramatic contrasts present in the paintings of the other Brushmen.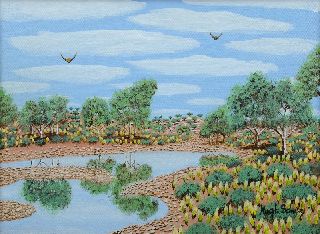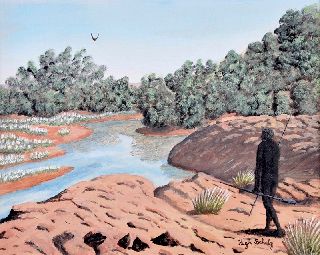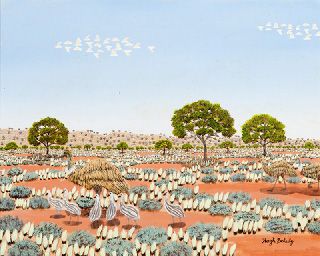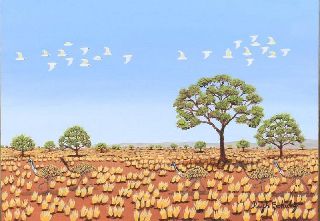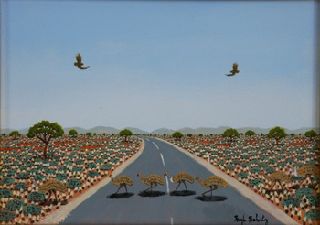 Schulz has made it blatantly clear however, that the birds of prey, the eagles, need no camouflage. In many of his paintings the eagles are flying confidently above the land as in Emus on the Plains.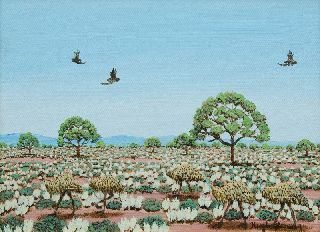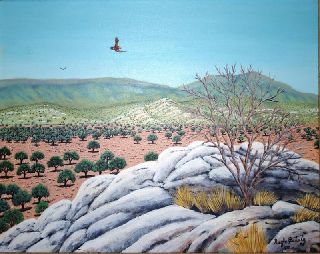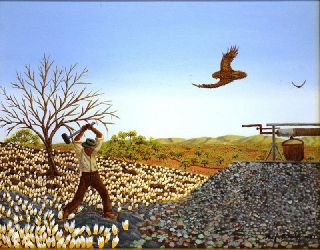 I think Hugh Schultz was the only Brushman to paint Spring in the outback which as travellers know is a  wonderland of colour as the wild flowers burst into bloom. The first of these images is Red Hops and Daisies Springtime on the Barrier Ranges.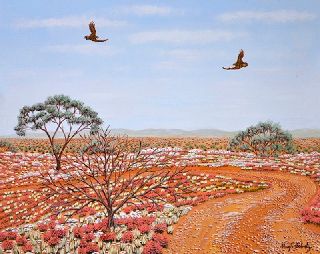 And this one titled simply Springtime. Outback Barrier Ranges.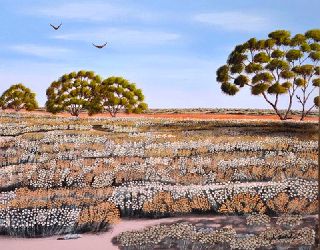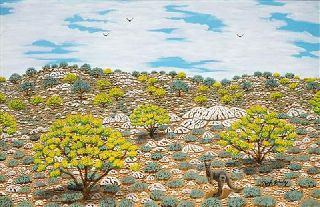 I found only one of the paintings done by Hugh Schultz that portrays a harsher environment with the red earth, sparse vegetation and wild brumbies struggling to find food. Here we see this scene in Western Horse Paddock. Notice the windmill symbolising the importance of water for survival.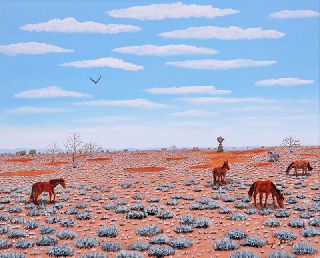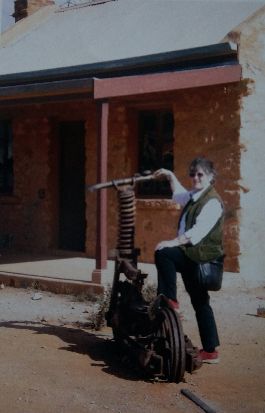 PostNote: Since writing this blog I have been contacted by John Pickup who is alive and well and still painting. I will be producing a blog post on John Pickup very soon. (Anne Newman 26 Mar 2019)