Another Brushmen of the Bush: Eric Minchin
Eric Minchin (1928-1994) is credited with having started the group of painters who became known as the Brushmen of the Bush and who raised over a million dollars for charities through the sale of their paintings. The Royal Flying Doctor Service of Australia was a major beneficiary of their generosity.
Eric Minchin has been described as an effervescent, energetic, lovable and colourful outback character and a truly great Australian...who was completely captivated with the sheer beauty and harshness of the outback.1
I am going to start with Minchin's Boolkamatta Creek which I consider his best painting. It captures the drama of the outback, the dryness of the earth in the background but the growth waiting to burst forth with the first drop of rain. And the iconic gum trees, so strong, so majestic against the elements.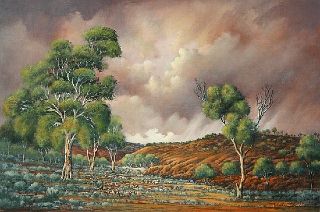 Eric Minchin painted mainly around Broken Hill (New South Wales) and like so many artists, was fascinated with the colours and shapes of the countryside and also the great sky above. The skies in his paintings, capturing the great variety of cloud formations, are magnificent. The painting on the left is titled Coach House but the clouds above are gathering, warning the coach passengers they might be in for an interesting journey. The landscape on the right again showcases an incredible array of gathering clouds.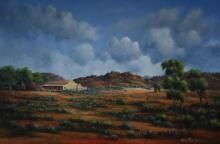 Some more images of gathering clouds are found in: Bijerkerno Country, Spring Hills and in Storm Over Mt Sturt (far right) the landscape is almost irrelevant as the threatening storm clouds dominate the scene.
Minchin creaters great drama in the sky above a relatively benign landscape which makes for an interesting contrast.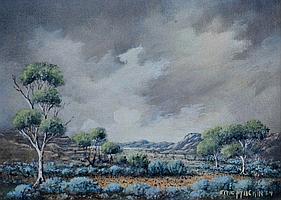 If you want to learn how to paint clouds over Australian landscapes, study the paintings of Eric Minchin.
I do love Minchin's interpretation of the Australian landscape which often borders on picturesque and certainly conveys the beauty of this land of extreme contrasts.
The patterns he creates especially in the vegetation has a naive style quality and adds to the overall impression that, although this is a land of contrast, there is a harmony of existence in the elements.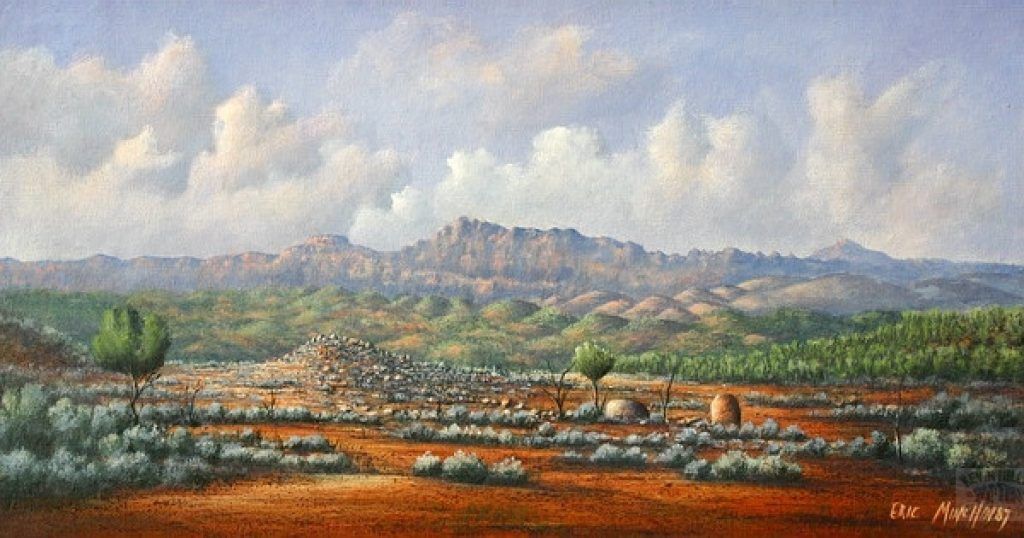 Hop in an off-road vehicle with Eric Minchin and me to journey through an Australian outback gallery - as seen through Eric's eyes.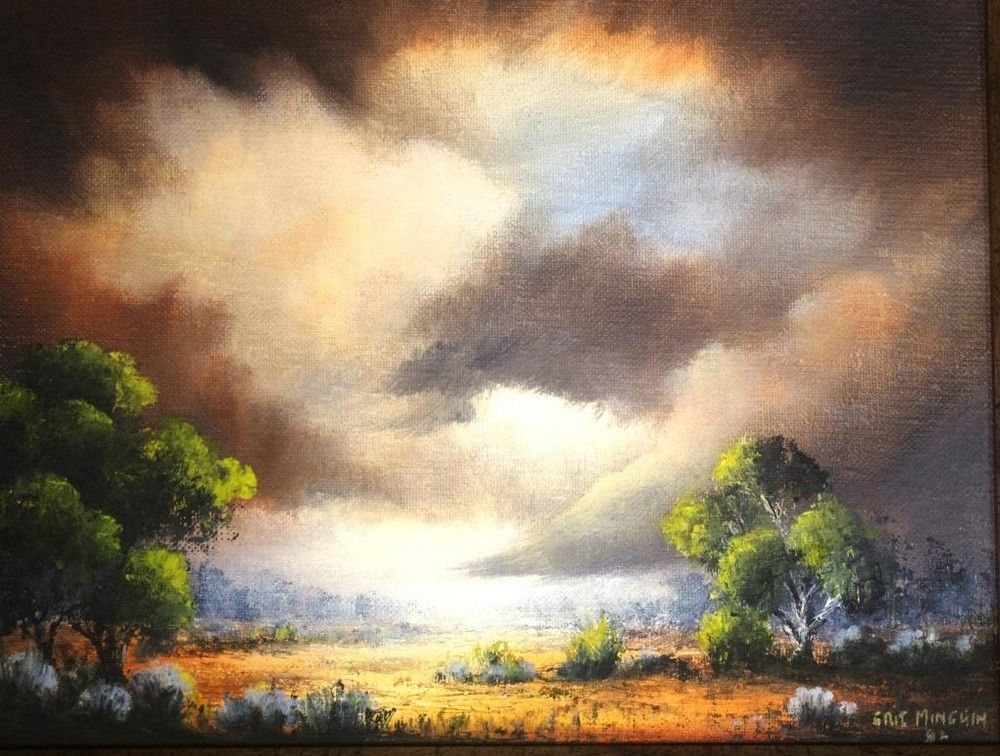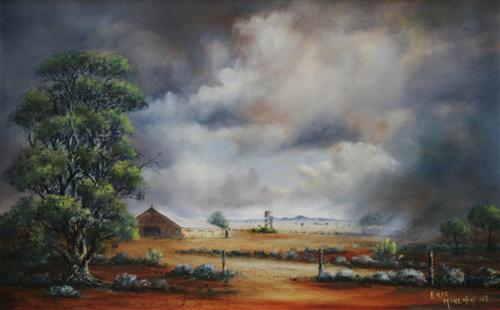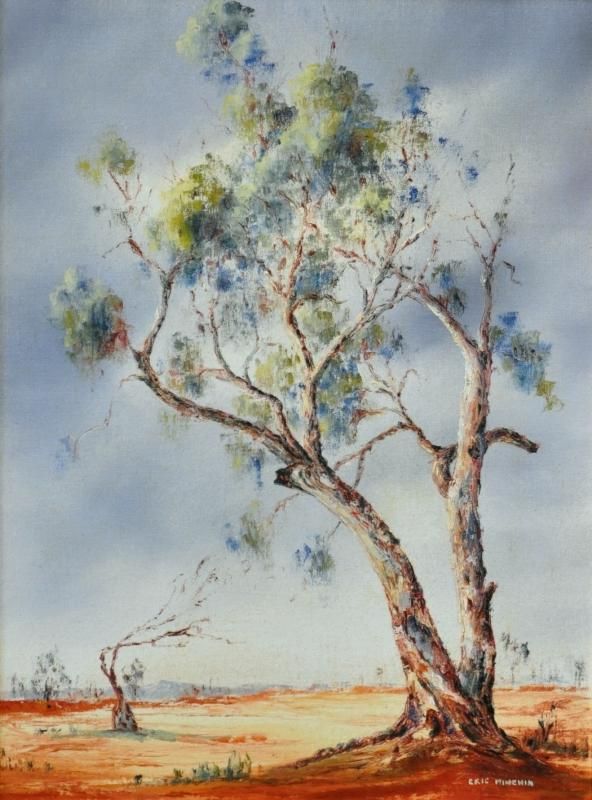 Although Minchin's paintings are all of the Australian landscape, occasionally he changes his palette. Below in Gum Vale and Barrier Range the different palette used by Eric conveys a vastly different impression.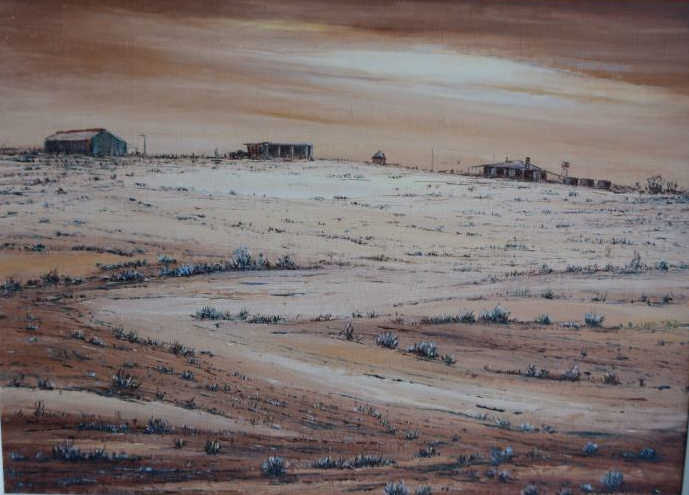 I am sure I will return at some future date to enjoy more of paintings by Eric Minchin.
Credits
en.wikipedia.org
kevinhillstopten.com.au
invaluable.com
nicolealexander.com.au
aasd.com.au