Ferdinand Cheval: the postie who built a palace
Back in September 2019 I brought you the story of how Rowena Cade, with only the help of her gardener, sculptured a stone theatre on the cliff near the tiny village of Porthcurno, in southern Cornwall, UK. You can read the story of the building of the Minack Theatre by clicking on the bookmark below.
But today's story is about Ferdinand Cheval (1836-1924), a French postman who became an architect and builder by spending thirty-three years of his life building Le Palais Idéal (the "Ideal Palace") in Hauterives (South East France). The Palace represents an astonishing example of Naïve Art Architecture or Outsider Art.
Ferdinand Cheval (en.wikipedia.org)
Why does anyone decide to create a mammoth work of art? Why does anyone decide to create singlehandedly a massive structure?
Rowena Cade's mission started with her searching for the right place to build a theatre as she was interested in the performing arts. When you see the magnificence of the Minack Theatre nestled in the cliff above the roaring waters below it is not difficult to understand why she chose this place to build. Why did she do the work herself - who knows? Probably quite simply "because she could". Maybe she didn't have the money to pay workmen. Quite likely anyone she approached thought she was "quite insane" to want to build the theatre in this precarious natural setting from local stones- which were huge!
In Ferdinand's case the story is quite different. In April 1879 (when he is 43 years old) Ferdinand is on his postie round:
...walking very fast when my foot caught on something that sent me stumbling a few meters away, I wanted to know the cause. In a dream I had built a palace, a castle or caves, I cannot express it well... I told no one about it for fear of being ridiculed and I felt ridiculous myself. Then fifteen years later, when I had almost forgotten my dream, when I wasn't thinking of it at all, my foot reminded me of it. My foot tripped on a stone that almost made me fall. I wanted to know what it was... It was a stone of such a strange shape that I put it in my pocket to admire it at my ease. The next day, I went back to the same place. I found more stones, even more beautiful, I gathered them together on the spot and was overcome with delight... It's a sandstone shaped by water and hardened by the power of time. It becomes as hard as pebbles. It represents a sculpture so strange that it is impossible for man to imitate, it represents any kind of animal, any kind of caricature. I said to myself: since Nature is willing to do the sculpture, I will do the masonry and the architecture.
(Becker, Howard S. Art Worlds. University of California Press (1982), pp. 263–64.
Pierre Chazaud, op. cit. (translated from French)/en.wikipedia.org)
And so Ferdinand set to work. I have found some early photos of the postie at work on his ideal palace and if you look carefully he appears to be dressed in his postman uniform.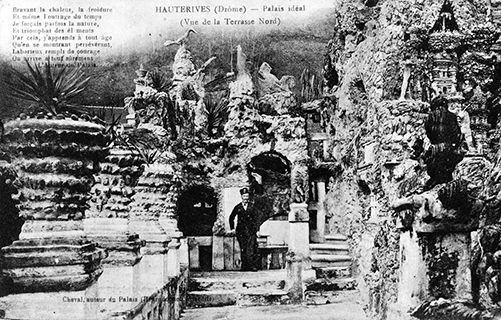 So, I hear you saying: Where did he build his palace?
A little about Ferdinand's life.
Ferdinand was born into a poor farming family and became a baker's apprentice at 13 years of age but at 31 years he changed to being a rural postman. He married Rosaline Revol when he was 22 and had two children. Rosaline and one of his sons died and he remarried Claire-Philomène Richaud and with Claire came a dowry including a piece of land where the Palais Idéal stands today. Claire and Ferdinand had a daughter who also died and some time later so did Claire and Ferdinand's son. All that he was left with was his palace.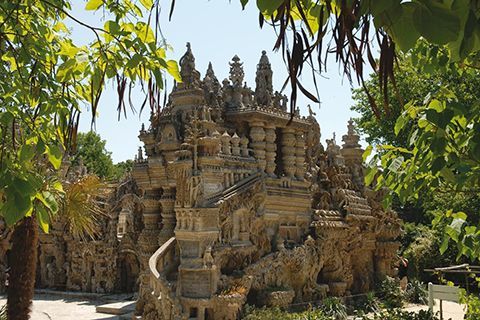 If you are thinking of building some kind of large structure you will need a wheelbarrow. Rowena Cade did all her hard hauling with a trusty wheelbarrow and so did Ferdinand. As he walked his postie round he wheeled his wheelbarrow and picked up stones and dreamt of where each stone would be placed in his palace.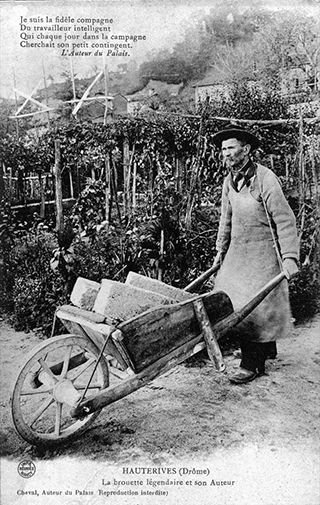 Here are some more images of Ferdinand's palace which hopefully some of you, one day will visit and pay homage to a humble postman who dared make his dream a reality.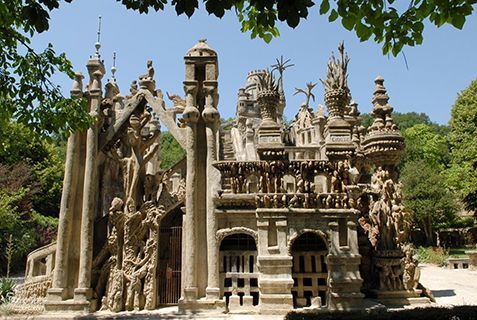 Cheval wanted to be buried in his palace. Because that is illegal in France, he spent eight more years building a mausoleum for himself in the Hauterives cemetery. He died on 19 August 1924, about a year after he had finished building it, and is buried there. (en.wikipedia.org)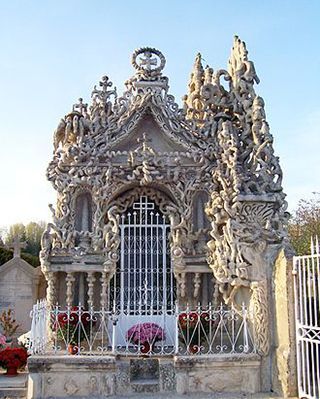 Just before his death, Cheval began to receive some recognition from luminaries like André Breton, Bernard Buffet, Jean Tinguely, Niki de Saint Phalle, Robert Doisneau, and Pablo Picasso.His work is commemorated in an essay by Anaïs Nin. In 1932, the German artist Max Ernst created a collage titled The Postman Cheval (below). The collage belongs to the Peggy Guggenheim Collection and is on display there. In 1958, Ado Kyrou produced Le Palais idéal, a short film about Cheval's palace. (en.wikipedia.org)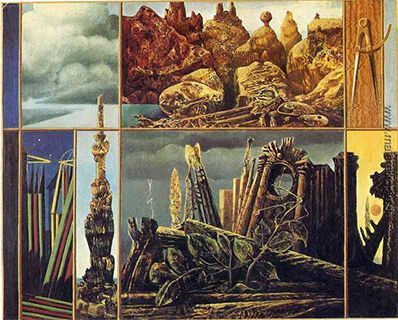 Picasso also created a series of drawings telling a narrative, in a cartoon fashion, which is now recognized as Facteur Cheval sketchbook in 1937. Picasso drew him as twisted, hybrid-like creature (or beast), carved with the initials of the french postal service (P.T.T) on his skin, dressed in typical postman's attire, holding masonry tools and a letter. The creature was standing in front of his creation. In the drawing, Picasso took a humorous route sketching Cheval's body in the shape of a horse and his head that of a bird. Picasso did this in an effort to make a sort of pun about Cheval's name and career given birds are messengers (as Cheval was a postman) and the meaning of Cheval is horse.(en.wikipedia.org)
Le Facteur Cheval sketchbook(facteurcheval.com)
In 1969, André Malraux, the Minister of Culture, declared the Palais a cultural landmark and had it officially protected. In 1986, Cheval was put on a French postage stamp.
Follow this bookmark below to learn more about Facteur Cheval à Hauterives.
What can you do when you always walk in the same setting, if not dream? As a distraction, in my dreams I built a fairy palace."
(Credit: facteurcheval.com)