Unlocking Margaret's House Still Life Challenges with Margaret Olley No 6: Poppies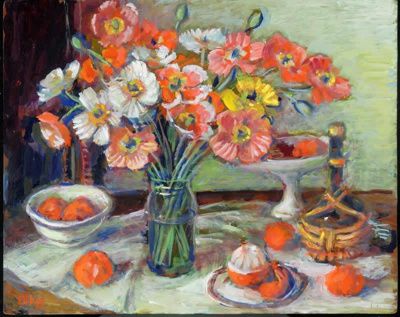 This wonderful painting as shown above by Margaret Olley (1923-2011) was painted the year she died and forms the stimulus for the sixth still life challenge.
Olley was 88 years of age when she painted this composition and no longer able to move freely from room to room as she once did. Instead her niece would visit and help her set up for a session of painting in a chair adjacent to her dining table in the Hat Factory.2
Margaret Olley loved flowers and her home was filled with fresh, dried and synthetic flowers - ready to be used as subject matter for painting. Poppies were among her favourites and even today, in the re-creation of her home studio, there are bunches of synthetic poppies in vases just as she had displayed them.2
Olley had always painted from life, but working predominantly from this one location during her final year meant that she had to paint more from memory. It's most likely that Poppies and peeled orange is an example of this. Elements of the composition are entirely suggestive of her green kitchen being the setting for this still life arrangement and yet proportions and perspectives differ from reality. The objects are reminiscent of actual objects in her collection but they vary in ways, such as colour or proportion. This final year, there is also a
noticeable change to her brushstrokes. Thin layers of paint are applied with swift, energetic brushstrokes and forms have soft, indistinct edges.2
Enjoy the video and don't forget to check out the activity sheet below even if only to read more about the painting and the background to Margaret Olley's remarkable artistic style.
For those of you interested in reading and learning more, here is the link to the Activity Sheet to give you some more enjoyment and insights into this wonderful artist - and to learn more about the significance of pattern.
Late Mail
A very warm welcome to our newest subscriber S.J. in Connenicut - we are delighted that you have joined up to receive the daily post from AnArt4Life.
Credit
1. ehive.com
2. gallery.tweed.nsw.gov.au