One of life's gentlemen- Hans Heysen
Today we focus on the enduring art of a well known Australian landscape artist, Hans Heysen.
(His daughter, Nora Heysen, is just as famous, but we need to understand a little about her father before we delve into the achievements of Nora in her own right).
The scenes by Hans Heysen are amongst the most loved, recognised and valuable of all Australian art, capturing the quintessential uniqueness of the Australian Bush in all its moods and light.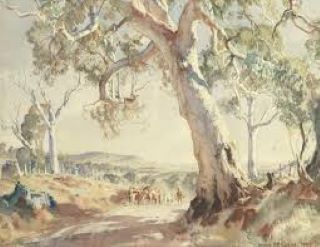 Sir Wilhelm Ernst Hans Franz Heysen (1877-1968), OBE, known as Hans, was born on 8 October 1877 in Hamburg, Germany. He was the sixth child in his family. When he was aged 6, his father migrated to South Australia to find work and become established before his wife and children followed him, a year or so later in 1884.
Initially, his father moved the family around as he moved from job to job and so Hans attended five different schools in Adelaide, acquiring a bilingual education and showing early signs of artistic ability. He left school at age 15, working first in a hardware store and then on one of his father's produce carts. At 14 he bought his first paints: "I saw a drainpipe with stalks and reeds … It seemed to me beautiful so I painted it," he later said. 1
He enrolled in James Ashton's Norwood Art School in Adelaide and quickly achieved distinction. At 16 he was painting so well that Ashton bought his water-colour 'The Wet Road'. It eventually was acquired by the Art Gallery of South Australia, where it remains to this day.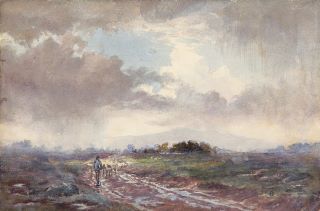 During the ensuing five years his work was exhibited regularly in Adelaide. From an early age he developed a deep love of the Adelaide Hills, tramping about with his paintbox and stool whenever he could. One of his favourite spots was the Onkaparinga Valley near the villages of Hahndorf and Grunthal, and many of his early pictures came from this area.1
He was fortunate to have some wealthy patrons. Robert Barr Smith, a successful business man and philanthropist, paid the fees for twelve months at the school of design at the Art Gallery of South Australia. In 1899 four prominent businessmen offered Heysen an astonishing £400 to finance his studies in Europe in return for the right to sell his paintings to recoup their costs. Hans jumped at such a generous offer!
He worked hard in Europe for four years in Paris under various masters and at the Académie des Beaux Arts and later in Italy. There were also summer painting excursions to Holland and Scotland, and Germany. He returned to Adelaide in 1903 and married one of his pupils, Selma Bartels, on 15 December 1904. Heysen continued to earn his living by teaching and painting to support an ever-growing family. 1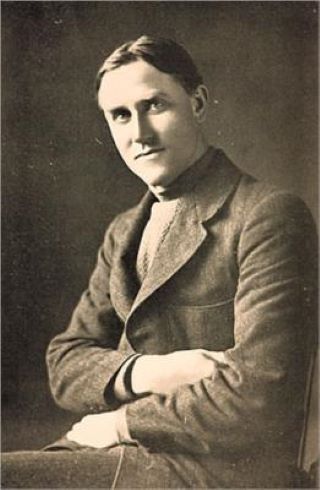 Heysen sold pictures to the State galleries in Sydney, Melbourne and Adelaide and to private buyers, but his one-man shows in Adelaide were failures. Finally some of his friends arranged a one-man exhibition in Melbourne. It was opened by Prime Minister Alfred Deakin on 8 August 1908 and was a phenomenal success. Encouraged by his wife, Heysen decided to give up teaching and rent a cottage in the hills to paint full time.
The success of the Melbourne exhibition brought commissions from prominent patrons such as (Dame) Nellie Melba and Victoria's governor. There was also increasing publicity and appreciation from critics and collectors. A second Melbourne exhibition in 1912 enabled him to buy The Cedars, a beautiful house set in thirty-six acres (15 ha) in the Hahndorf country-side, east of Adelaide in South Australia. He lived there for the rest of his life, recording the essence of the landscape and the labours of the German farmers in the fields.1
(The house and studio have been preserved to this day. You can visit The Cedars at any time and immerse yourself in the idyllic setting. You can imagine the lives of he and his wife and large family of five daughters, three sons and one adopted daughter in the well appointed rooms.)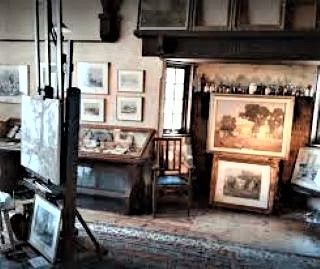 Heysen was fortunate in being able to mount a third successful Melbourne exhibition before the war intensified. It was opened by Melba on 4 March 1915 and sales were again outstanding.
Following on from the horrors of Gallipoli, Heysen and his family, along with other German-born citizens, were soon being subjected to much suspicion and insult, even though they were Australian citizens. Ironically he was a quiet, gentle man who loved Australia and was deeply opposed to war and violence. In 1918 he wrote to Elioth Gruner of the war's 'constant prey on one's mind'.1
After the war Heysen had many more exhibitions that were phenomenally successful. This, together with frequent publicity, made Heysen a household name. Although he maintained a lifelong love affair with gum-trees and pastoral landscapes, he also painted many still life studies.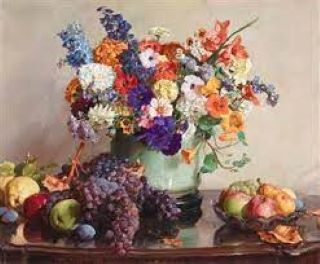 In 1926 he went to the Flinders Ranges for the first of many visits, from which he produced a prolific number of sketches and water-colours.
Heysen holds a distinctive place in the history of Australian landscape art. He was a fine water-colourist, etcher and painter in oils, and he sketched magnificently in charcoal and crayon. He was fascinated by the effects of light on land and sky, and on the apparent weight or weightlessness of natural objects under changing conditions of light, shadow, mist or sunshine.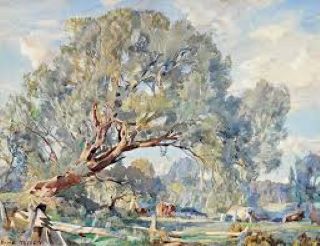 He won the Wynne prize nine times between 1904 and 1932, the Crouch prize in 1931, and the Maude Vizard-Wholohan prize in 1957. He assisted aspiring young artists unstintingly and gave 28 years of service as a trustee board-member of the National Gallery of South Australia. He continued to sketch and paint, holding periodic exhibitions and contributing generously to appeals and group shows.
In 1945, he was appointed an Officer of the Order of the British Empire for service as trustee of the Hobart National Gallery and in 1959, he was made a Knight Bachelor for service to art.1
It is important to note that Heysen was also a conservationist far ahead of his time. He fought to preserve the flora of the Adelaide Hills—particularly the great red gums and white gums—and repeatedly warned of the dangers of destroying the natural environment. He also recorded the human activities of the region in great detail. In this he has been compared with the Barbizon painters of France for his deep understanding of simple labour in the fields. No other Australian artist has preserved a regional way of life so fully and faithfully. He was not a religious man, but he had a deep reverence for Nature. 1
In recognition of his art and conservation advocacy, The Heysen Trail, a 1200km adventure hike trail along the South Australian peninsula, was named after him. It is a fitting tribute. With the first sections opening in 1976, it covers some of South Australia's most diverse and breathtaking landscapes, of coastal cliffs, beaches, native bushland, rugged gorges, pine forests and vineyards, as well as rich farmland and historic towns. You can walk from Cape Jervis in the south to Parachilna Gorge in the Flinders Ranges, through the Barossa Valley and the stunning Wilpena Pound, star of the Flinders Ranges.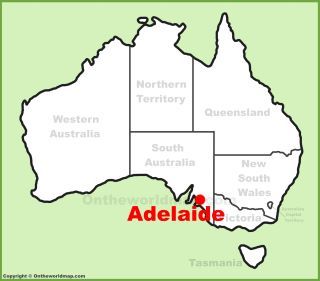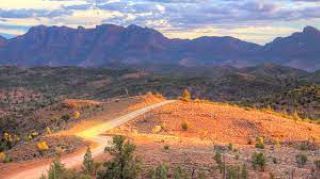 Hans Heysen died on the 2nd of July 1968, aged 90. He was a truly remarkable Australian who has left a wonderful legacy of the Australian bush, not to mention a very talented daughter who we will meet shortly.
Footnotes
With thanks to adb.anu.edu.au