"Our Coastlines are A-Changing" Part Two
If you missed yesterday's post on the changing nature of the causeways, jetties, wharfs along the coastline please click here before reading on.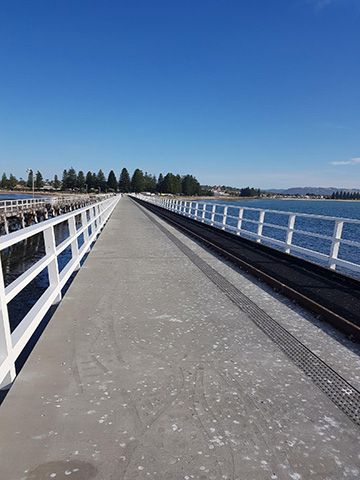 The era of the new low maintenance jetty is upon us!!
Rowdy Wylie explains:
Here in Victor Harbor southern South Australia we have a very unique "causeway/jetty" which provides access to our Granite Island ("Ngarrindjeri Country") via a "horse drawn tram" for tourists and lots of foot traffic for fishers, walkers and joggers…
Due to the "century old" causeway collapsing under the horse and tram not so long ago… we now have a new "purpose built & designed" concrete causeway alongside the "old timber" original… which will be demolished during 2022…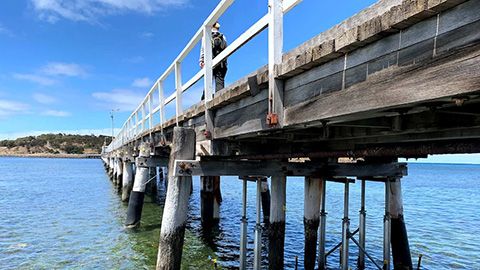 Rowdy recounts:
As a young lad we had family holidays in Victor Harbor each Christmas and New Year… so I have very fond memories of much freedom and great times… learning to swim off Granite Island and catching fish for the table… The causeway was always a "huge" attraction and exciting feature of our holidays… for us young lads to access the Island….
Locals… including myself have "mixed feelings" about seeing the magnificent old historic "causeway" demolished… but maintenance costs are exorbitantly high… the two "end structures" of the old causeway will remain in place for future tourists and generations to experience the historic "old world" charm of the early days of timber engineering!!...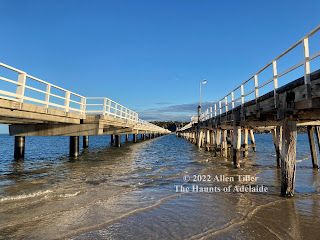 Future generations can now enjoy the safety of the "modern engineered" new concrete "causeway"… well into the future… which will hopefully have less long term maintenance costs…
But hopefully……and most importantly… the new structure will provide an educational opportunity… both on the "causeway" & the "Island" with "information boards"….
Information about our "First Nations People" the local "Ngarrindjeri Clan" sharing their magnificent stories of the Fleurieu Peninsula and the unique "Coorong" National Reserve…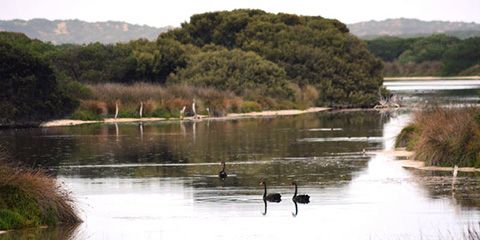 Located about a 2 hour drive south-east of Adelaide, Coorong National Park protects a wetland of international importance. It is where Australia's largest river system, the Murray-Darling flows out to the Southern Ocean and is home to over 200 species of birds as well as many migratory birds that arrive each summer.3
The beautiful textures and colours of the past etched in the weathering timber of the old causeway will slowly meet the sea and be washed away to become part of our historical past.
But the experiences will continue and all of this will encompass and provide lasting memories of years of fun… relaxation and recreational activities for young children and families… just like we enjoyed as young children when visiting Victor Harbor!!
Rowdy assures us that: I am sure…… "Our Coastlines are A-Changing"… for the benefit of all future generations…. including the environment!!!!....
If you missed the post you can check out the images on the site below and perhaps take one of the tours of Adelaide where you might meet some ghosts of yesteryear...
Or if you are more inclined to find a comfortable resting place to sit and reflect or to sketch ... or sculpt...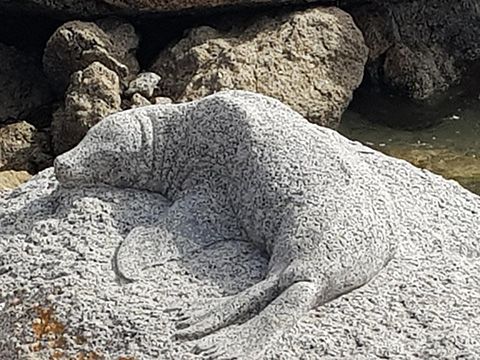 ... whatever helps you relax there is still plenty of pristine natural areas in which to block out progress.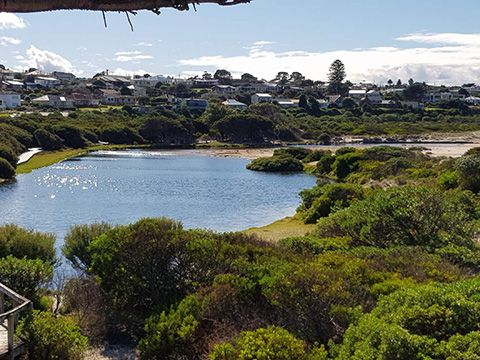 But best activity of all would be to set up your easel or sketch book and create a lasting impression of this seascape as did Harry Pelling (H.P.) Gill (1855-1916) back in 1904.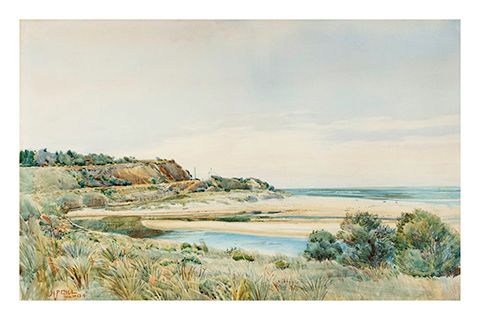 And Rowdy, whose family have their footsteps deep in this territory, is doing just that - painting the same scene. We look forward to seeing the end result.
If you have a sketch or a painting illustrating Coast to Coast please send it in to Anne at [email protected]. If it isn't your work but you want to share it please include the source for crediting.
Credit
1. abc.net.au
2. hauntedadelaide.blogspot.com
3. kidsinadelaide.com.au
4. pinterest.com.au