The vibrant paintings of Colin Willey
Here on the AnArt4Life blog, we have featured The Impressionists many times. You can read the various posts by accessing the Impressionist tag in our Tag Cloud click here.
As you know, most of the French, American and English Impressionists we are familiar with lived in the 19th and 20th century. However, today we meet a modern day Impressionist who lives in Dorchester in England, Colin Willey.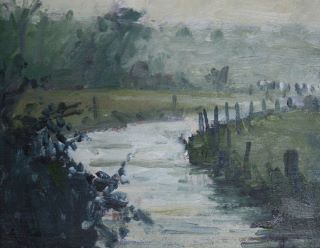 Colin follows in the footsteps of many of the early Impressionists, often painting "en plen air".
He paints both landscapes and seascapes outside in all weathers and at all times of the year, and has built up an understanding of the way the landscape changes. He says on his website: "The structure of the place can be relatively constant yet light, seasons and weather can have a dramatic effect on how they look." 1
And just like Monet, with his multiple views of Haystacks, or the Cathedral at Rouen, captured in different lights and times of the day, Colin also revisits the same places, "as each time they reveal something new". 1
He goes on to say "All of this calls for a gutsy approach, working quickly trying to capture something of the moment before it changes. It is about experiencing nature first hand being out in the elements, battling with the wind, the rain, the flies, the drama of an approaching rain storm and the approaching herd of inquisitive cows". 1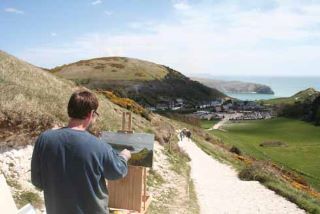 Colin paints in oil paints, using specially made synthetic brushes (in preference to using to animal hair brushes), which allow him to create a thick textured surface.
I particularly like that the beautiful, turbulent skies he paints at different times or weather conditions. Colin says they are a favourite of his to paint! Don't you agree they are just spectacular?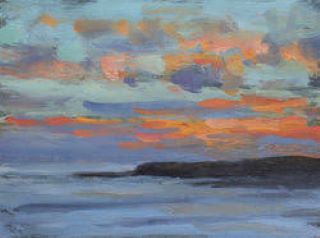 Working outside is all about trying to infuse the paintings with this life and excitement, to capture a fleeting moment. Back in the studio a more selective, considered approach can be taken and the paintings can be viewed on their own merits away from the subject. Some are left as they are, others are worked on further away from the subject or reworked onto a larger canvas, others are discarded or painted over another day". 1
But like many of the earlier Impressionists, Colin doesn't only produce landscapes, he also paints still lifes, particularly flowers.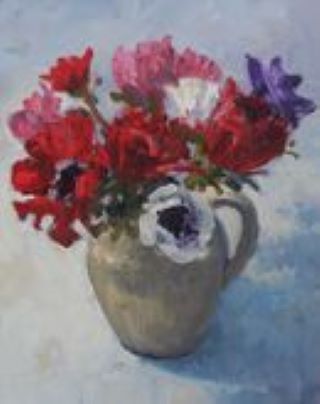 Colin graduated from Cheltenham College of Art with a BA (hons) in Fine Art (painting) in 1995. He then went on to do a PGCE (a post graduate certificate in education).
In 1997 he moved to Dorchester and has been painting professionally ever since. 1
I heard about Colin and his work though a relative of his who I worked with for many years here in Melbourne. Born in England himself, it is Tom's ambition to get back to the UK and catch up with his talented cousin!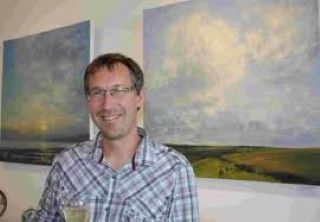 Colin is still involved in art education and promoting appreciation of art. He has written articles for 'The Artist' magazine and a chapter on his work is included in the 'Art Class' book, published by Harper Collins. One of his paintings also appeared on the front cover of the February 2003 issue of the 'Ideal home' magazine. In 2005 he won the Diana Brooks Prize at the 'Art for Youth' exhibition, Mall Galleries, London. 1
He has also received many awards and accolades over his career, being among the 1997 and 2001 finalists in the Windsor and Newton Young Artists Competition held at the Mall Galleries, London. He has also exhibited at the Mall Galleries in the Laing Landscape Exhibition, the Royal Society of Marine Artists (RSMA) Exhibition and the New English Art Club (NEAC) Exhibition. 1
In 2011, four of his paintings were selected for inclusion in the 'House of Lords' permanent collection. He also has a painting in the collection of HRH Princess Anne. 1
You may care to browse through more of Colin's work on his website, click here.
© Thank you to Colin Willey who kindly gave permission for the images of his work to be shared on AnArt4Life.
Footnotes
With thanks to Colin Willey, colin-willey.co.uk