Unlocking Margaret's House: Still Life Challenge No 3: Wallpaper
Our third challenge in the Margaret Olley Still life series is inspired by the painting Bedroom still life painted in 1997. In this painting Olley has used wallpaper to form an intriguing background. Far-reaching branches, flowers and butterflies frame the mirror that captures Olley's reflection, turning this still life into a self-portrait. This striking, hand-printed wallpaper that lined her bedroom walls is the focus of this week's challenge.1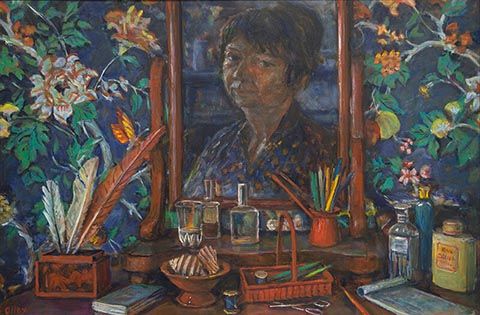 Every room in Margaret Olley's home was a studio first and foremost – even her bedroom was a space in which she choreographed objects to create compositions for painting...
In 2014 Brisbane-based artist Monica Rohan undertook a residency in the Gallery's onsite Nancy Fairfax Artist in Residence Studio. During this time she responded to patterns in the re-creation of Olley's home studio – patterns on cushions, clothing, and tablecloths and on this wallpaper. First she made watercolour studies from life and then developed these studies into resolved compositions of oil on board – another self-portrait – but this time the artist depicts herself overwhelmed and indeed consumed by the wallpaper pattern that has taken on a new form.
We hope you enjoy exploring the vibrant pattern and colour of this wallpaper. Perhaps you will create a self-portrait, a still life or something else of your own invention.
Enjoy the video and then have a go at the Activity Sheet given below.
To participate in the challenge please follow this link to the Activity Sheet
If you missed the second challenge which was focused on the blue banded jug please click here.
Credit
1. gallery.tweed.nsw.gov.au
2. qagoma.qld.gov.au/
Image credits from the video:
Margaret Olley (1923–2011), 'Bedroom still life' 1997, oil on board, 61 x 91 cm. Maitland Regional Art Gallery Collection. Purchased by the Art Gallery Society, 1998 © Margaret Olley Art Trust
Margaret Olley (1923–2011), 'Dressing table' 1982, oil on board, 76 x 101.5 cm. Private collection © Margaret Olley Art Trust
Monica Rohan (b.1990), 'Swallowed' 2014, oil on board, 49.8 x 34.9 cm. Tweed Regional Gallery collection. Gift of the Friends of Tweed Regional Gallery and Margaret Olley Art Centre Inc., 2015 © the artist
Bedroom on 2nd level of the Hat Factory section of Olley's home studio, Duxford Street, Paddington, 2012 © Roslyn Sharp