The Battle of Hastings - a Marriott Monologue!
Showcasing Jan Beaumont's fabulous poems1,2 recently reminded me of a thin little book that had been in my family's bookcase for as long as I can remember, and is now in my bookcase as one of my most treasured possessions.
It's a bit tattered, but I could never part with it, because these poems made the whole family laugh, when we could prevail upon my father to read one or two of them to us, in a broad Lancashire accent that he so enjoyed doing! (These are my own photos from my book).
The book is called "Albert, 'Arold and Others", contains 12 poems written by Marriott Edgar and was published in 1930.
George Marriott Edgar was a performer, poet and writer, born in Scotland in 1880. He began his career as a scene-painter, but from 1907 until his death in 1951, he was known to the public as a comedian who played "pantomime dames", (caricatured female characters in British pantomimes/plays).3
Marriott Edgar wrote many humorous poems, particularly for Stanley Holloway, who he met when he joined a long running variety revue called The Co-Optimists. Holloway performed the poems with Edgar in Hollywood and Britain, to a piano accompaniment, which had also been composed by Marriott Edgar. These became known as "Marriott's Monologues" and were extremely popular. There were three books in the series.
Stanley Holloway was a well known actor and comedian himself. You may remember him as the character of Eliza's father, Alfred Doolittle, in the Audrey Hepburn/Rex Harrison version of the film My Fair Lady, in December 1964. Whilst there are numerous photos of Stanley Holloway around, I could not find one of Marriott Edgar to show you, (other than one of him in female costume).
The book was published in England in 1930, with a price of three shillings. Our family copy is an edition produced For Australia and New Zealand Only by Special Arrangement, in about 1950, but had gone up to three shillings and sixpence by then!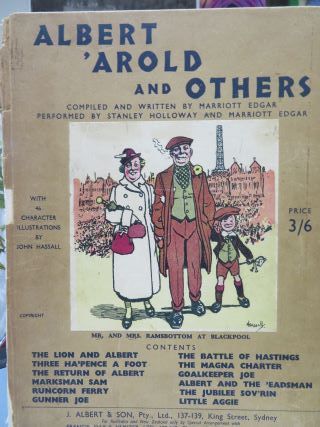 There are twelve poems in the book. Some are about life in Lancashire England, in the 1920s and 30s. But some also poke fun at various historical figures such as William the Conqueror and Richard the Lionheart, but are quite historically accurate.
I have to say, I learnt all about the signing of the Magna Carta because of one of these poems, and I've never forgotten it!
There are also 46 illustrations drawn by John Hassall, and they are very clever too! Here are a few examples: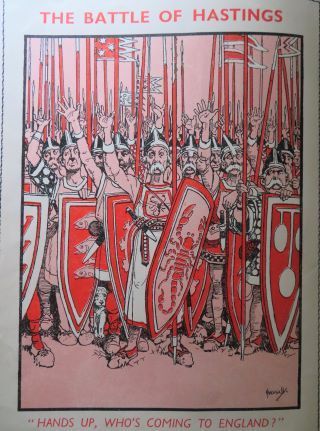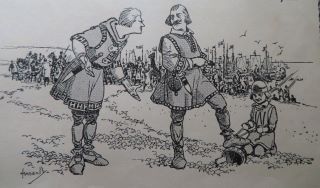 Today I would like to present you with one of the poems in the book, called The Battle of Hastings, which recounts the story of how William the Conqueror became King of England in 1066. Here are both the words (click on the bookmark below) and a recording of it by Stanley Holloway (click the little red YouTube play button in the box next after the bookmark). I hope you enjoy it!
Do let us know if you would like to hear more of the Marriott Monologues!
Footnotes
1: Let's All Drink to Lockdown - Jan Beaumont.
2: Mother's Day - Jan Beaumont.
3: Information sourced from Wikipedia.