Portuguese textile techniques
Today we look at the artworks of two contemporary Portuguese textile artists who both incorporate ancient, traditional techniques into their work, albeit in very different styles.
The first, Vanessa Barragão, uses her work to make statements about the effects of consumerism and consumption and its effect on our fragile world. Born in 1992, she studied fashion and textile design at the Lisbon University. She promotes environmentalism to try to influence individual behaviours to make changes that will improve the state of the earth.
She is particularly concerned about the decline of coral reefs and marine ecosystems as a result of global warming, pollution, ocean acidification and overfishing.
Barragão incorporates ancestral handcrafted techniques such as latch hook, crochet, felting, weaving, embroidery, and macrame using discarded materials such as leftover woollen yarn from Portuguese factories.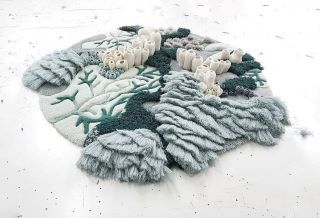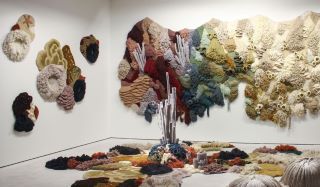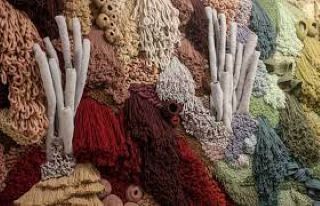 A further example celebrates the partnership between Heathrow Airport and the Royal Botanic Gardens, Kew, in the UK. Vanessa created a handwoven world map tapestry called The Botanical Tapestry, using traditional materials of jute, cotton and wool. In keeping with her ongoing objective to increase environmental awareness, Vanessa has highlighted areas of the world where threatened species live. This amazing project took her almost a month to complete.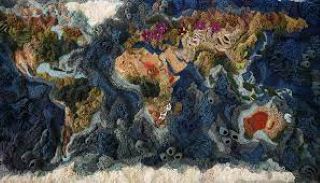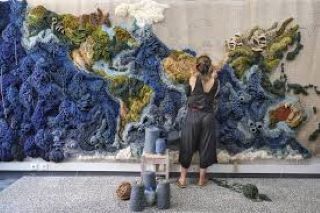 Whilst initially making pictures and indoor exhibits, Vanessa has now expanded to outdoor art installations as part of her statements about humanity's impact on the world.
The following 3 minute video shows the making of one such installation in Albufeira, a coastal city in the southern Algarve region of Portugal, Vanessa's hometown. The video is accompanied by the following description:
"As part of the GeoPalcos event, the Medieval Bridge of Paderne in Albufeira has gained a new life with an 'outdoor' installation by Vanessa Barragão . The motifs for the textiles of her new work, made especially for GeoPalcos and at the invitation of the Municipality of Albufeira, focus mainly on the local flora, the power of nature and its adjacent beauty. On the old bridge where medieval predecessors once passed with spices, crafts and flowers for seasonal parties, there is now an artistic textile installation made from natural wool of local sheep, recycled yarns from the textile industry up North, resin and other materials, whose process, in addition to washing and carding wool also led the artist to opt for felting, crocheting, and other textile manipulation techniques. The surreal and dreamy textures, very appealing to the touch and taste through one's senses, raises a set of emotions where olfactory references mix with both visuals and tactile ones, making Vanessa Barragão's large scale works a real invitation to a multidimensional experience through our gaze." 1
Vanessa's work is now seen all over the world, from New York City to Taiwan, and in the Official Residence of the Portuguese Prime Minister.
By contrast, the second artist we will look at today, João Bruno Videira uses only coloured yarn in his creations. He creates a variety of objects, big and small, by weaving colourful threads into harmonious geometric patterns.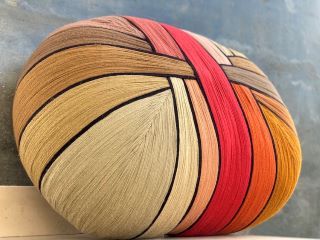 He says that he grew up surrounded by wool and learnt the ancient craft from his mother. "My mother used to be a teacher but she was very passionate about making Arraiolos rugs, a traditional kind of carpet we have in Portugal. And the wool I use is exactly the same," Videira tells My Modern Metin an interview. "Its characteristics—resistance, malleability, texture, and color—make it special and distinct from other natural fibers. And my work reflects this difference."2
Videira says that "Geometry is something that seduces me and can be seen in all of my work."From abstract geometric wall hangings to yarn-covered benches and chairs, Videira finds many ways to incorporate traditional craftsmanship into furniture and design. He told MyModernMet that "Nature and its multitude of forms obviously play a crucial role in terms of creative stimulus." 2 The blending of the bright, vibrant colours draws you in to a feeling of peace, relaxation and harmony.
João was born in Portugal in 1973, and used to work as a TV journalist, till, in 2006, he found art and design gave him a much greater sense of expression and fulfillment. Since then he has concentrated on this work and has represented Portugal in several international design fairs such as the London Design Fair in 2017 and 2019, the Dutch Design Week in 2019 and the Dubai Design Week in 2020.3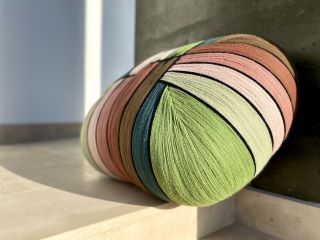 Footnotes
With thanks to Algarvensis - Studio Vanessa Barragão

With thanks to MyModernMet

With thanks to joaobrunodesign.com
Late Mail
A very warm welcome to R.G. in Kansas who has joined the AnArt4Life online community. I was reviewing our list of subscribers and followers recently and I am amazed at the number of you who have been with us for years!! Thank you so much for your ongoing support.
As we approach the festive season, and the holiday season for those of us in Australia, you will notice that you will not be getting a daily dose of an art post.
In the new year we will continue to bring you art news but again there will be some days when there is no post - and this gives you the opportunity to explore our past posts through our TagCloud or by using the search icon on the menu bar at the top of each post.
Anne Newman
Editor in Chief
AnArt4Life