Image Challenge No 4: Night Developments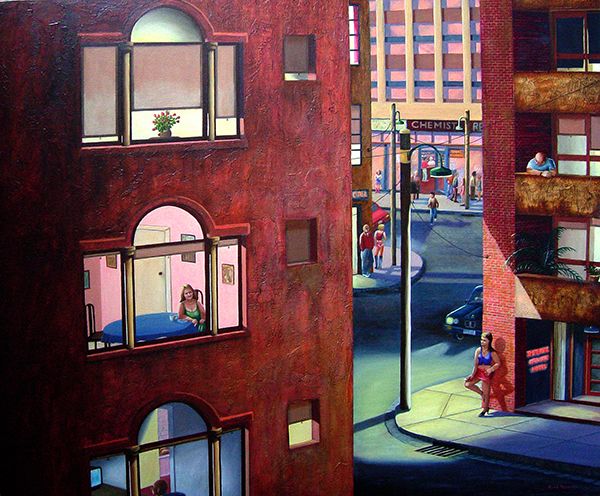 The challenge in today's Image Challenge isn't so much about the viewer but the artist - me!
The challenge was for me as I set out to create an image of those people whom come out at night especially the night workers. Hopefully I made them feel very much at home and comfortable in their surroundings.
You might think this a strange statement - wanting the subjects of my painting to feel at home. But as a genre artist - someone who loves to paint everyday scenes of people in their own environment - it is very important to maintain the integrity of the composition.
I often wonder where the ideas for my paintings come from. Sometimes I see a scene as I move about and think - "Oh, that would make a good painting". But most times I start with a basic format -in this case - a painting with lots of buildings - and just start painting and see where it leads.
I grew up in country Victoria so the buildings definitely aren't from this period in my life, unlike the many miner's cottages I love to paint. The buildings in this painting come from holidays in Melbourne in the Red Light District where one of my mother's sisters lived. And no, to my knowledge she wasn't a prostitute but definitely some of the neighbours were. I remember my sister telling me that the man in the next building was one of Melbourne's most notorious criminals. But we knew all about criminals as my maternal grandfather was the country mechanic for the notorious Squizzy Taylor. Perhaps he is one of the characters in my Night Developments.
This painting was chosen as a finalist in the Inaugural MacarthurCook Art Award in 2007 where it was exhibited with the title "Innercity Homes for Everyone."
Postscript
One of the greatest challenges with this painting was that it was very large being
w126cm x h106cm. One of the main challenges faced by an artist is carting the paintings from one exhibition to another seeking to show and sell. Fortunately for me the painting was sold very early in its life!
And as it was one of a pair - I had two very large paintings to cart about from exhibition to exhibition. I will show you the other painting in the next Image Challenge.
Late Mail
A very special welcome to our newest subscriber who lives in Italy. Welcome to the AnArt4Life blog J.R. - we are delighted you have joined us and hope you enjoy the journey we are having through the many aspects of the art that is all around us.