Els Quatre Gats, Pere Romeu, Shadow Puppets & Lighting the Way
Since commencing my research on the Spanish theatre cafe which we learnt about yesterday - Els Quatre Gats - I have discovered a most wonderful book Red City, Blue Period: Social Movements in Picasso's Barcelona by Temma Kaplan who gives an in-depth analysis of life in Bacelona in the late C19th and early C20th.
According to Kaplan, Els Quatre Gats (The Four Cats) became a kind of secular shrine, filled with objects of devotion peculiar to its own religion. There, where artists mixed with artisans, and where Pablo Picasso had his first exhibit in 1900, the same artists who introduced avant-garde art from Paris resurrected forgotten artists like El Greco and promoted interest in ancient regional crafts such as ceramics.1
It seems apt to show you A Boy Blowing on an Ember to Light a Candle (El Soplón) by El Greco, painted in about 1570. The artists who inhabited Els Quatre Gats lit the light on modernism.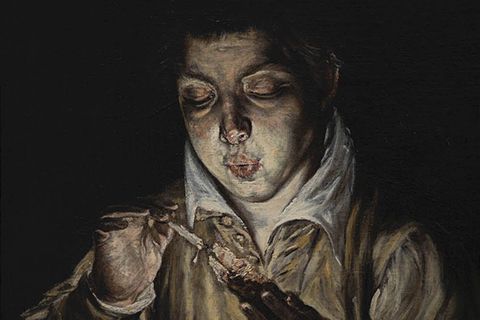 Kaplan goes on to say: Popular local pastimes such as puppet shows became aesthetic rites. Not just a bastion of lost arts, The Four Cats functioned as a clearing house where budding artists like Picasso learned about the artistic trends of the time in a community free of snobbism about artistic hierarchies... Barcelona's new artistic movement was based on the union of bohemians and artisans and on their recognition both of the merits of past artistic styles and of crafts and entertainments popular among common people but never before considered art.1
It was the ancient craft of shadow and hand puppets, never before regarded as Art, which provided the backdrop to the environment in which the likes of artists such as Pablo Picasso began to create their special view of the world.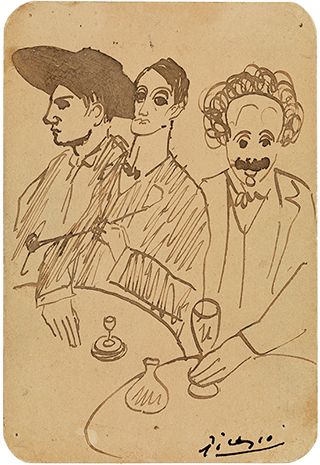 Popular entertainments such as shadow and hand puppets were certainly never regarded as art until Pere Romeu and Miquel Utrillo re-examined puppet shows in a new light representing a blend of sound and illusion just like movies and videos do today.
According to Kaplan, Shadow Puppet Theater resembled cinema in other ways as well. Sometimes lewd, puppetry was not considered cultivated - though, like film, it could be arty. Unlike stage plays, shadow puppet acts were seen on a white screen in a darkened room, thus promoting the dreamlike state that morphine users like the artist Santiago Russinyol (one of the founders of the Els Quatre Gats cafe) sought.1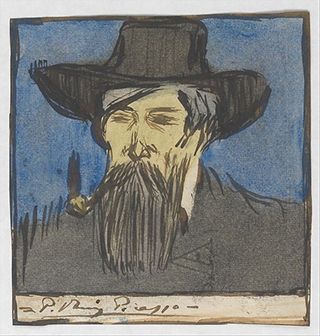 Predomantly behind the shadow puppet plays was Pere Romeu, but from my reading it would appear that it was the artist Ramon Casas (who painted the image of Pere Romeu and himself on the tandem below5) who made the puppets for the performances in Els Quatre Gats.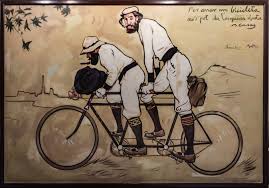 Here are a couple of his shadow figures: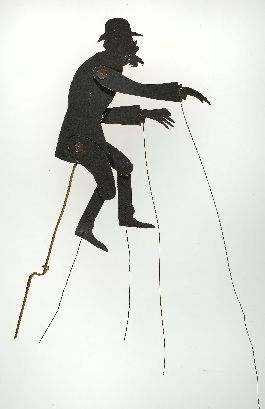 Pere Romeu, (along with his friend and fellow cafe owner Miquel Utrillo), brought to life Russinyol's dream of using aesthetic experiences to create a sense of artistic community.1


Pere Romeu i Borras (1862-1908) Puppeteer, auto mechanic, roller-skating rink operator, gym owner, cabaret proprietor, and sportsman - was just the kind of artistic entrepreneur Russinyol was looking for to guide the project. Lincolnesque in both height and homeliness, he was also short-tempered and brusque. He looked like a habitué of the Parisian Latin Quarter; according to the visiting Nicaraguan poet Rubén Darío, "he had a long face surrounded by stringy black hair, below which was a huge tie that trumpeted its loud colors to shock the bourgeoisie". He was a late-nineteenth-century bohemian who believed that his life was an attack on bourgeois materialist values and that he was born to make art.1

Image:(5)
Romeu was seen by the local painters and caractiturists as an art work too strong to resist. His image was used for the promotional posters for the cafe as you saw yesterday. Here are some more images of Pere Romeu for you to appreciate.
Pablo Picasso's use of the silhouette view in his painting of Pere Romeu is very apt considering his role in bringing shadow puppets to the Barcelonian art scene.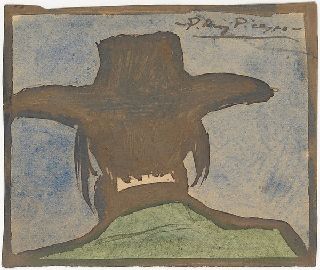 But Picasso also saw Pere as a dreamer and emphasised his long, bony figure, his unworldly eccentric temperament. In the painting below Romeu is buried waist-deep in a field of purple irises (a symbol of innocence) with eyes raised to heaven in soulful communion with nature. Picasso used gouache and pencil on paper and titled the work Pere Romeu in a Field of Irises, 1900.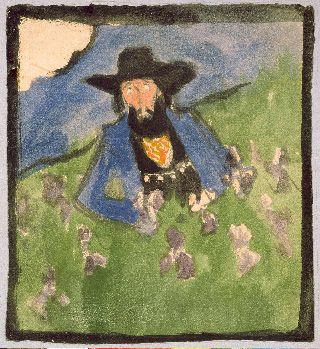 And definitely my favourite painted by Ramon Casas of Pere and Ramon in an automobile.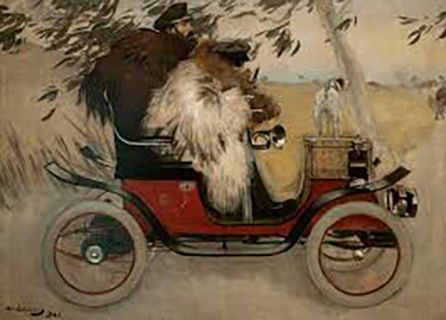 Kaplan details a wonderful image of the bohemian artists whom Pere Romeu attracted to the café; a few of them independently wealthy but most lower middle class. They came largely from artisanal families ranging from noodle and button makers, who lived above their shops, to jewelers and iron-mongers. There was the tailor Benet Soler Vidal, nicknamed "Scraps," who traded suits and pants to young dandies like Picasso in exchange for individual and family portraits. Juli González, whose whole family were wrought-iron workers responsible for balconies, door knockers, lamp posts, and gates patterned on ancient motifs, also frequented the Four Cats, as did the jeweller Lluís Bonnin. González moved to Paris and became a sculptor; Bonnin, who tried his hand as an illustrator and a painter, moved to Nice in 1900, where he remained a jeweller. Other habitués were Julià Pi and his father, Juli, who doubled as a messenger for the borough of Gracia when he was not creating the plays for hand puppets that he and his son performed together at theaters and cafés. And I must add that the architect of the Church of the Sagrada Família, Antoni Gaudí, was also a frequent visitor.
And there is no better place to end with today than a painting of Antoni Gaudi by Gabriela Ehrling. Gaudi through his famous Church of the Sagrada Familia in Barcelona exemplifies all the unbridled creative passion that Pere Romeu and his friends encouraged. And on reading about Gabriela Ehrling I find that her painting style with its intensely colourful powerful images...creates a symbiosis between reality, spontaneity, fantasy and painting. 8
If Gabriela Ehrling wasn't so young (born 1962) you could believe she was a member of the Els Quatre Gats community of artists loved and encouraged by Pere Romeu.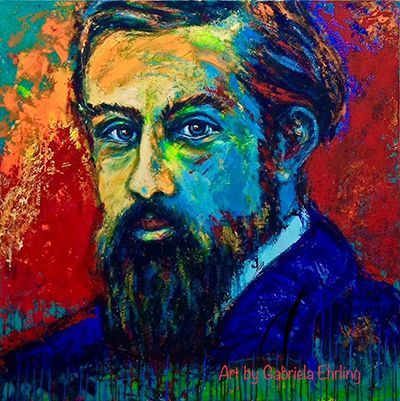 Here is some more information for those of you interested in the Puppetry Heritage of Catalonia.
Reference:
1.Red City, Blue Period: Social Movements in Picasso's Barcelona by Temma Kaplan. University of California Press, Berkeley, Los Angeles, Oxford, 1992
2. apollo-magazine.com
3. mdenisecostello.com
4. metmuseum.org
5. en.wikipedia.org
6. docplayer.net
7. bcn.cat/museupicasso/eninterest.com
8. excellenceartgallery.com