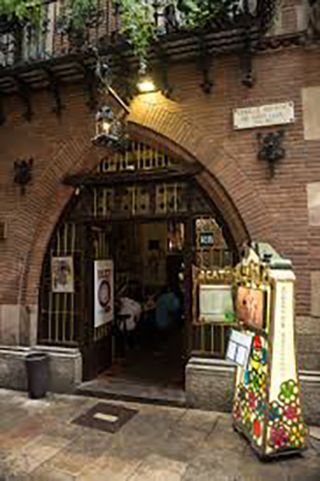 Els Quatre Gats (The Four Cats) is a café in Barcelona, Catalonia, Spain that became a popular meeting place for famous artists throughout the modernist period in Catalonia, known as Modernisme - roughly covering the years 1888 (the First Barcelona World Fair) to 1911. 1
The café opened on June 12, 1897 in the famous Casa Martí, and served as a hostel, bar and cabaret until it eventually became a central meeting point for Barcelona's most prominent modernist figures, such as Pablo Picasso and Ramon Casas as shown below.
The bar closed due to financial difficulties in June 1903, but was reopened and eventually restored to its original condition in 1989.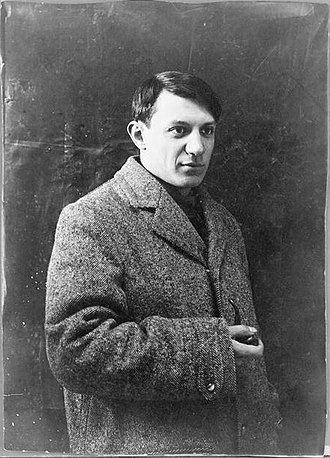 But let's retrace history and see how it all began.
In the mid 1890s Spaniards Pere Romeu, artist Miquel Utrillo i Morlius (father of the Parisian painter Maurice Utrillo) and sculptor Frederic Homdedeu organised Shadow Plays in Chicago and New York.
Their company failed and they returned to Barcelona and began work on opening Els Quatre Gats based on Le Chat Noir in Paris.
We will learn more about Shadow Plays tomorrow but as a little background - shadow puppetry is an ancient form of storytelling and entertainment from many countries which uses flat articulated cut-out figures (shadow puppets) held between a source of light and a translucent screen or scrim.1 This form of theatre became popular in Spain towards the end of the C19th.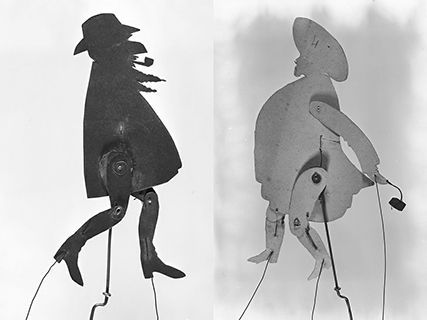 Pere Romeu had worked in le Chat Noir situated in the bohemian Montmartre district of Paris.
Le Chat Noir translates to The Black Cat in English, but the name is a little different in Catalan. Els Quatre Gats means The Four Cats which is derived from a Catalan expression which means only a few people. The phrase is usually used to describe people who are a bit strange, or perceived as outsiders.1
Romeu was taken with this Parisian café and decided to model the décor of his café after it. Romeu was financially supported by three of his friends, Ramon Casa i Carbó (self portrait above), Santiago Rusiñol and Miguel Utrillo, three major modernist Spanish artists of the time.1
Casas even painted something specifically for the interior of the café, his famous painting called, Ramon Casas and Pere Romeu on a Tandem. You can see the painting on the wall in the images below of the interior of Els Quatre Gats.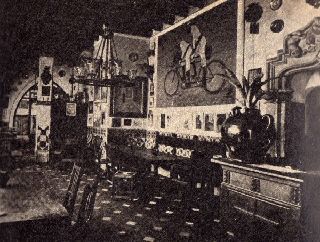 The painting depicts both Casas and Romeu riding on a bike together with the Barcelona skyline visible in the background. On the right side of the painting there is an inscription which reads, To ride a bike, you can't go with your back straight.
This quote reflects the attitude of the founders that in order to make progress and make something great, you must break tradition. As the original is in a museum, a copy of the painting now hangs in the café.1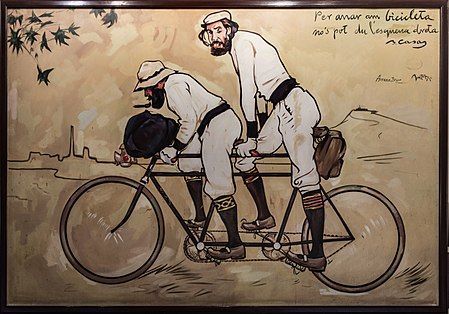 The café opened on June 12, 1897 in Casa Martí, an important modernist building designed by the Barcelona architect Josep Puig i Cadafalch. The four men wanted the café to be known not only for having good food and drink, but also, as Rusiñol described it, for having food of the spirit, or an ambiance where artists could meet to discuss their work and the news of the day.1
Pere Romeu designed the poster for the cafe and it is his figure that symbolised the unbridled ambience that all devotees sought and enjoyed. More on this tomorrow.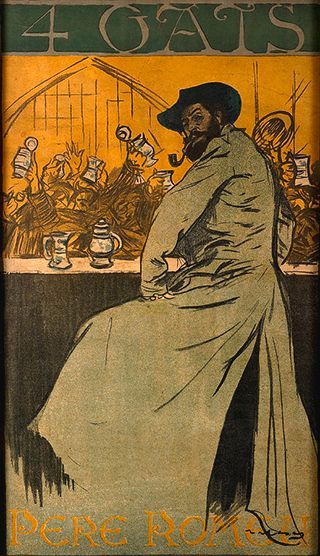 Els Quatre Gats quickly became a meeting place for the modernist artists of Spain and in 1899, a 17 year old teenager turned up: it was Pablo Picasso.
Very soon Picasso was in his element in the crowded café, among the bohemians and artists who fired his admiration. Among them, Ramón Casas stood out, whom he admired right from the beginning, like all the young people of his time. Picasso believed that Casas was exceptionally gifted, so he tried to emulate his skill as a poster artist and portrait artist.7
Picasso designed the poster design that served as the cover of the Els Quatre Gats house menu, in which you can see a group of clients sitting in front of the façade, although it mimics the more spontaneous style of Casas.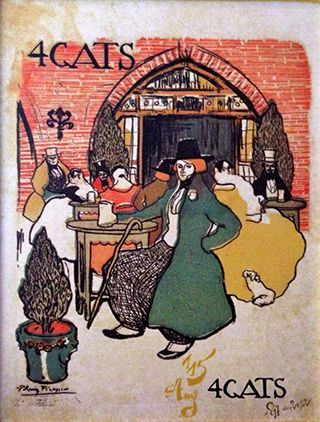 In 1900, Picasso held his first exhibition in the main room of Els Quatre Gats. It consisted of twenty-five charcoal and watercolor portraits, nailed with thumbtacks on the wall. There are also innumerable drawings and paintings that bear witness to the time Picasso spent in Els Quatre Gats, among them the picture that the young painter drew to celebrate the birth of Pere Romeu's son in 1902.7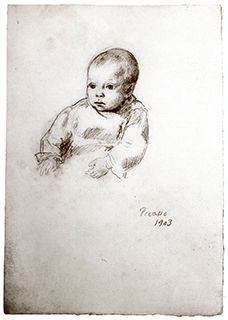 Through Picasso's sketches and hastily painted images we have a record of the artists who frequented Els Quatre Gats. Below are four examples. Whilst you probably will not know the artists except for Miquel Utrillo it is interesting to study the style Picasso used to create these images.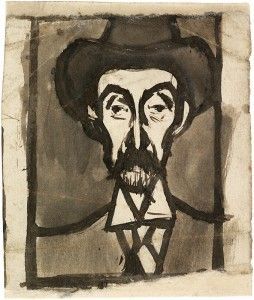 Els Quatre Gats was closed in 1903. According to some sources, the cafe had become out of fashion and artists moved to other occasions. According to others, Pere Romeo was more interested in the tertulias (gatherings) than in the money and there was bad entrepreneurship.  
Today there's a new Quatre Gats. Instead of cobwebs, there's a painstaking reproduction of the original décor by Puig, with copies of the original paintings, many of which are now in the Museu Nacional d'Art de Catalunya (MNAC).  
Credits:
en.wikipedia.org
pictorem.com
barcelona-metropolitan.com
museunacional.cat
majiang.ru
fineartsamerica.com
4gats.com
blogmuseupicassobcn.org