I am proudly a Bendigonian though I now live in Melbourne. For my overseas readers, Bendigo is a city in Central Victoria settled in the 1850s when gold was discovered. Thousands of potential miners and their families arrived from all over the world to find their fortune. Some did, but what is more important, the legacy they founded was a great city, a beautiful city, a multicultural city.
Here is an old photo of Bendigo showing the Alexandra Fountain at Charing Cross. It is named after Alexandra, the Princess of Wales, and opened in 1881. Yes, we brought some of our English heritage with us!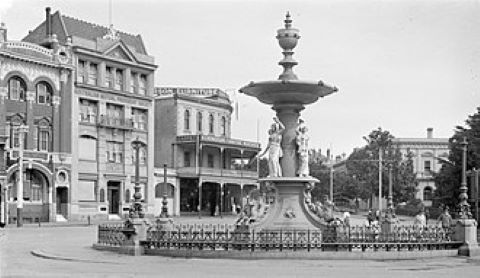 At Easter time I get nostalgic feelings about the celebrations that have occurred in Bendigo since the late 1800s on the traditional lands of the Dja Dja Wurrung and the Taungurung Peoples of the Kulin Nation and which have been part of every Bendigonian's life.
Of special significance is the involvement of the Chinese community who made up such a large part of the Gold Rush community. Since 1871 onwards, the Chinese Bendigonians have brought their old dragon dancing traditions to the festivities. To my Chinese friends, please correct me if I make any errors.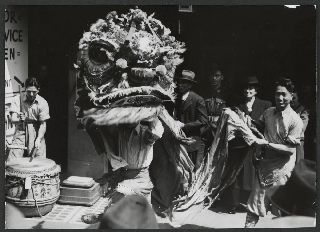 Bendigo's first Chinese dragon, Loong, appeared in 1892 in the Bendigo Easter Procession. He was imported from China by the Bendigo Chinese Association. The photo below is from the 1930s.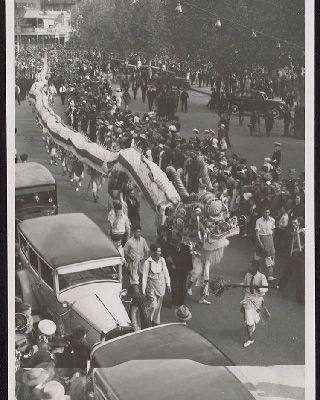 Loong is entirely handmade and is the oldest imperial dragon in the world. He also took part in the procession in Melbourne to celebrate Federation in 1901, when all Australia's independent States joined to form one federated country.
I believe Bendigo's festival is the longest (pun intended!) cultural celebration of its type running in Australia. Here is a close up image of Loong.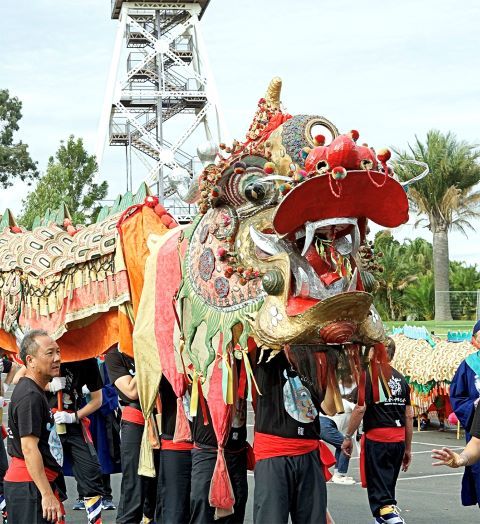 Loong has five claws denoting royalty and thus giving him the highest status amongst all dragons. Loong is built from colourful silks, mirrors, bamboo and papier mache. When he was first made he was about 60 metres long. It took 46 men to carry his legs, and another six to carry the head.
When I was growing up in Bendigo every Easter Sunday we would go with our Dad to watch Loong being woken from his sleep. The Waking the Dragon ceremony took place behind what is now the famous Golden Dragon Museum which is seen as the Chinese Cultural Centre of Australia and opened in 1991. The dragon is woken with the banging of drums and a 100,000 firecrackers.
Once awake, Loong would take part in the Easter Monday procession that wound its way through the Bendigo streets. This photo of Loong I took myself in 1958.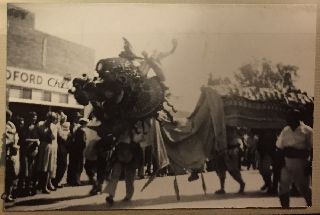 Loong (whose name simply means Dragon) was retired in 1970 though he did make an appearance, I believe, in the parade in Melbourne in 2001 for the Centenary of Federation.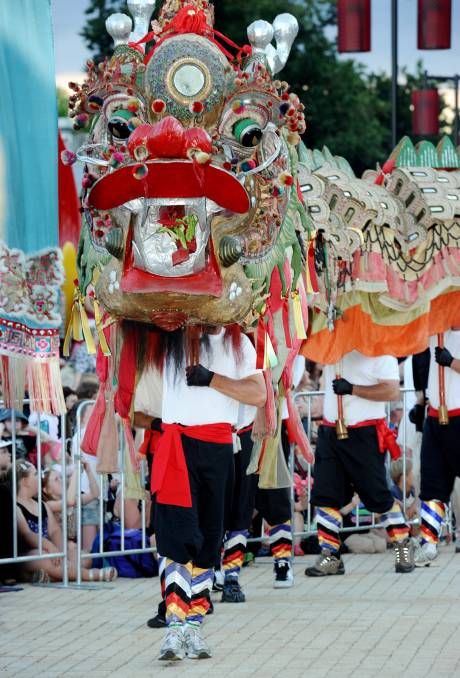 But like all dragons, after more than 80 years of service, Loong became old and eventually the decision had to be made to retire him and replace him with a younger dragon! Sadly it happens to us all, even dragons!
He was retired in 1970 and is permanently on display in the Golden Dragon Museum in Bendigo. He is heritage listed as the oldest complete parade Imperial Dragon remaining in the world,
So, in the lead up to Loong's retirement in 1970 there began a huge fund raising campaign to get Bendigo a new dragon. But not any dragon would satisfy the proud Bendigonians. We had to have the best. The Loong 100 Committee of local Bendigo businessmen were instrumental in raising the money for the purchase of Sun Loong who made his first appearance in 1970. And he is beautiful.
Sun Loong was made by a traditional dragon maker from Hong Kong, the Lo On Kee (羅安記) owned by a man called Lo On (羅安). He undertook to build Bendigo the longest imperial dragon in the world at 100 metres (330ft). Here he is making his way through the streets of Bendigo.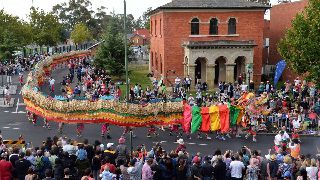 Sun Loong (simplified Chinese: 新龙; traditional Chinese: 新龍; pinyin: xīn lóng) is the Cantonese pronunciation of "New Dragon".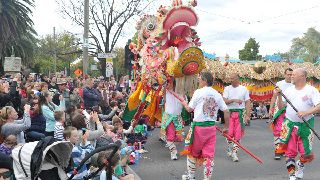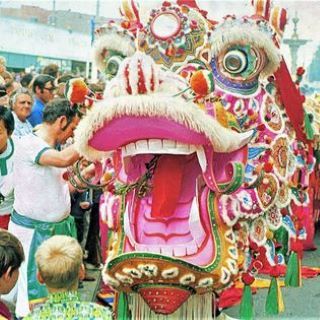 There are 7 sections to the present Chinese part of the Procession, which displays the costumes of the Lead, Philosophy, Military, Princess, Student, Dragon, and Dragon attendants. Some of this regalia can be seen in the Museum today.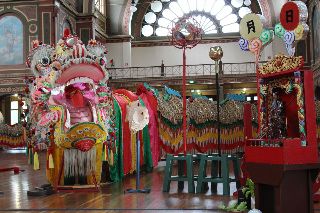 Sun Loong is covered in 6,000 silk scales, each decorated with 23 tiny hand cut mirrors, totalling 90,000 mirrors. When out at work, in a procession, Sun Loong is accompanied by little dragons, dancers and musicians.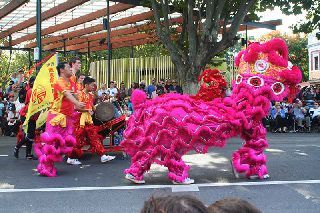 Chinese dragons, a symbol of China's culture, are believed to bring good luck to people. The longer the dragon in the dance, the more luck it will bring to the community. The dragons are believed to possess qualities that include great power, dignity, fertility and wisdom. Although the dragon's appearance is fearsome and bold it has a benevolent disposition and is seen to represent imperial authority. 1
Sun Loong, now over 50 years old has also been retired, and a new dragon Dai Gum Loong made his first appearance at the Easter Parade in April 2019. As previously mentioned, Bendigo was famed for gold in the 1850s. Early Chinese immigrants called it Daai Gaam Saan (大金山, "Big Gold Mountain") and it is for this that Dai Gum Loong is named. The dragon's silken body measures 125 meters and is covered in 7,000 scales. He is the longest imperial dragon in the world. He was built in Shau Kei Wan by Master Hui Ka-hung of Hung C Lau workshop.2
The following 6 minute video shows the unique Easter Parade in 2019, where all three! Chinese dragons were on parade to farewell the outgoing Sun Loong, and usher in the new Daai Gum Loong!
Also in this video, Yar Loong, the night dragon, appears as the fourth dragon! This 80-year-old lantern dragon comes from Hong Kong's famed Kum Yuk Lau workshop. Abandoned by a Sydney group, Yar Loong first appeared at the Bendigo Easter Parade in 1939. Severely damaged in a fire, he was furloughed and only rediscovered in the 1970s then restored in 1996; he is beloved! 2
It is well worth watching the video to see these four unique works of art, three of which are now no longer seen in public!
Like his two predecessors, Daai Gum Loong sleeps at the Golden Dragon Museum when he is off duty. And in 2023, as always, he will be awaken from his slumbers in The Awakening of the Dragon Ceremony, using 100,000 firecrackers, to take part in the Bendigo Easter Parade......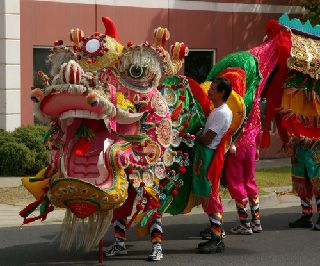 Footnotes
With thanks to Wikipedia
With thanks to Zolima CityMag