We have mentioned the beautiful Basque country in previous posts, in connection with a portrait of a lady who came from the French town of Arette click here.
The Basque countryside straddles both France and Spain. Inland, it is beautiful countryside which lies at the foot of the Basses Pyrenees click here.
Whilst we have featured a sand artist once before click here, today we are going see sand art taken to the next level! On the beaches of the Spanish side of the Basque country an artist named Andoni Bastarrika makes incredibly realistic sculptures of animals and people.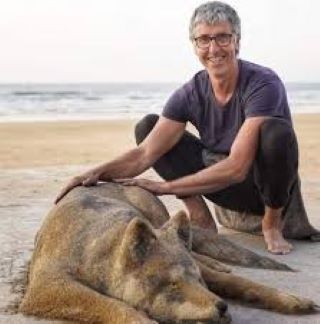 Andoni is from a town about 20 minutes inland from the coast, called Azpeitia. (As an aside, Azpeitia is the birthplace of St. Ignatius of (nearby) Loyola, who was the founder of the religious order of Catholic priests called The Jesuits.)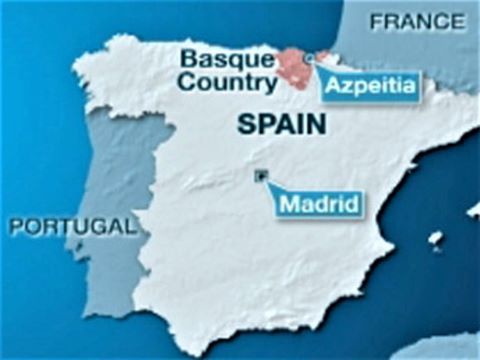 Andoni first began working with sand in 2010 whilst playing on a beach with his two daughters. He first created a simple mermaid sculpture and discovered that he had a real talent for this unusual art form.
He says that working with sand has been an on-going learning journey, as he always discovers new ways in which it can be shaped and moulded.
In order to create his intricate sculptures, Andoni brings together large piles of wet sand and makes the main shape just with his hands. For the fine detail he then uses simple tools such as a brush, small sticks, or toothpicks. Sometimes he adds pigment to the sand, and makes other features such as eyes, teeth or hooves from items he finds lying around. His projects can take up to two days each to finish. Over time he has learned much about different types of sand as a medium and built up his own techniques and skills.
He has now made a name for himself as a sand sculptor, and runs workshops to pass these skills on to anyone interested to learn the secrets of sand sculpting.
We present some of his amazing work in the following AnArt4Life video, with thanks to Andoni Bastarrika, via Facebook, for the images. I think you will agree his sculptures are incredibly realistic and life-like…....