Hi Everyone, sometimes I am alerted to an image from the past which is worth its weight in marble or bronze, or whatever medium the artist was working in.
D, who is Our Roving Reporter for Central Victoria, Australia recently forwarded me this wonderful photograph of the artist Ola Cohn working on one of her scuptures. Isn't it just wonderful and portrays the talent, determination and passion of this remarkable artist who was born in my home town of Bendigo in Central Victoria.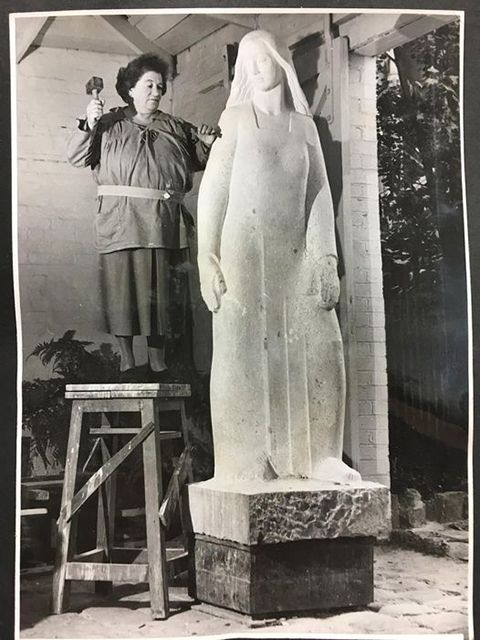 Ola Cohn (1892-1964) was a pioneer of modernist sculpture in Australia. She was the first Australian sculptor to carve large commissioned pieces freehand in stone, and created one of her most famous sculptures, the Fairies' Tree, as a gift to Australian children. 1
Born in Bendigo, Cohn studied drawing and sculpture at the Bendigo School of Mines and Swinburne Technical College. Following graduation, she travelled to London in 1926 where she took up a scholarship at the Royal College of the Arts. It was in London's Kensington Gardens where she found inspiration for her Fairies' Tree.1
On returning to Melbourne in 1930, she established a studio in a converted coach house in East Melbourne, which quickly became a centre for artists and sculptors. Cohn exhibited frequently and her works are held in public collections across Australia.1
On her death in 1964, she bequeathed her studio and a collection of her works to the Council of Adult Education. Her fairies' tree in Melbourne's Fitzroy Gardens still delights generations of children today.1
Credit: This photo is from an album within the Papers of Ola Cohn, held in the Library's Manuscripts Collection. The collection includes personal and business correspondence, many sketches, photographs and an album of pictures of European sculptures. Thanks to our Preservation team for sharing with us.
From the Facebook page for Lost Axedale, Bendigo and Country Victoria.
As referred to above, Ola Cohn is best known locally for her Fairies Tree in the Fitzroy Gardens, Melbourne.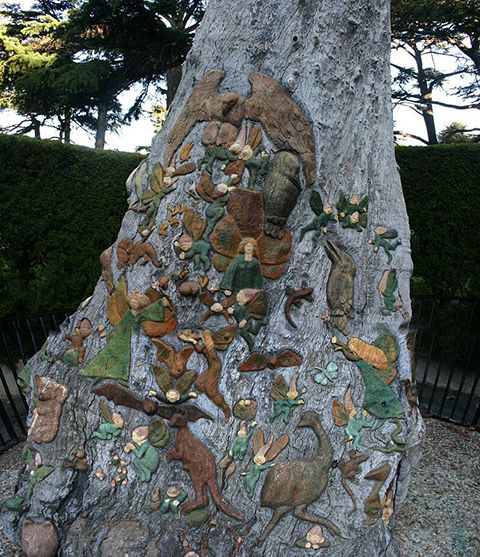 Ola explained in her own words: I have carved in a tree in the Fitzroy Gardens for you, and the fairies, but mostly for the fairies and those who believe in them, for they will understand how necessary it is to have a fairy sanctuary - a place that is sacred and safe as a home should be to all living creatures. 2
The carvings were done years after the death of the tree and so the problem of the trunk's preservation presented a problem. In 1977, the trunk was extracted from the ground for chemical treatment and the removal of rotted wood, and during the process, a mummified brush tail possum over 40 years old was found perfectly preserved within the trunk. The tree was remounted on a concrete base to prolong its life. 2
Of interest is that Ola's trees were inspired by the Elfin Tree in London's Kensington's Gardens. The Elfin Oak is the stump of a 900-year-old oak tree in Kensington Gardens in London, carved and painted to look as though elves, gnomes and small animals are living in its bark. The hollow log, donated by Lady Fortescue, originally came from Richmond Park, and was moved to Kensington Gardens in 1928 as part of George Lansbury's scheme of public improvements in London. Over the next two years the illustrator Ivor Innes carved the figures of the "Little People" into it. These included Wookey the witch, with her three jars of health, wealth and happiness, Huckleberry the gnome, carrying a bag of berries up the Gnomes' Stairway to the banquet within Bark Hall, and Grumples and Groodles the Elves, being awakened by Brownie, Dinkie, Rumplelocks and Hereandthere stealing eggs from the crows' nest. 3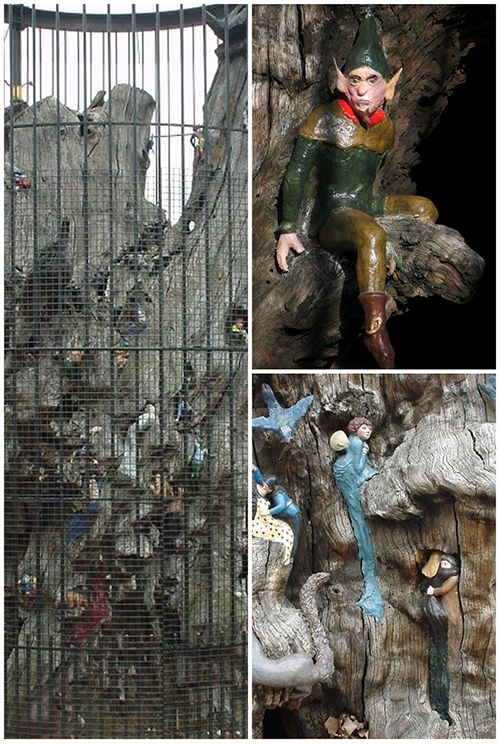 At the risk of being flippant- there was much more to Ola Cohn and her art than the creation of fairies and other small folk in trees. I couldn't find many examples of her more serious works online but I did find this plaster with bronze patina sculpture of a Young Boy made by Ola in 1921. I love the expression on his face, wondering just what this world is all about.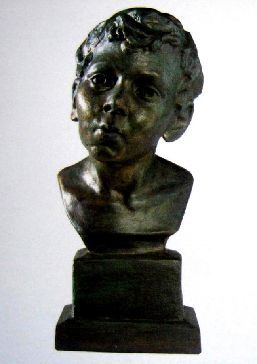 In 1926 Ola went to London and studied at the Royal Collage of Art and learnt from the master himself Henry Moore. She began producing sculptures in stone, wood, terracotta and bronze, reducing the human form to very simple shapes- a technique which was considered to be very modern at the time. I am not sure when this delightful figure was created but from the style I would think early in her study.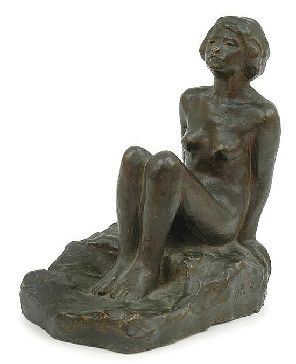 And this interesting sculpture is Ola Cohn's Head of a Virgin created in 1926 showing the influence of the study classes in Egyptian, Assyrian and archaic Greek sculpture Ola undertook at the British Museum.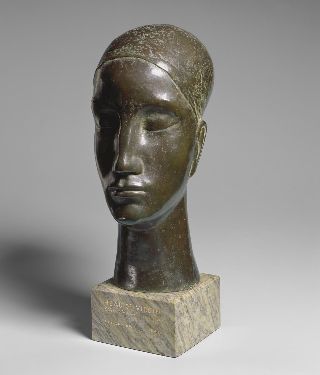 In the late 1930s Ola Cohn returned to live in Melbourne where she set up her studio and supplemented her income with teaching at the Geelong Church of England Grammar School and the Melbourne Kindergarten Teachers' Collage. I know Ola Cohn carved two wooden angels to flank the entrance to the Chapel of Our Lady and the Angels, St Peter's, Eastern Hill and I found an image of one: the Archangel Michael standing on top of the post framing the screen to the left of the entrance.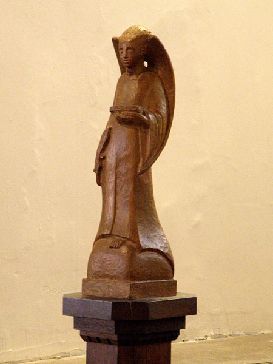 Ola Cohn was a grand mixture of whimsical and spiritual creations. If any one knows more of her works please let me know. I will leave you with this delightful pen and ink on paper illustration titled I Did 'Em.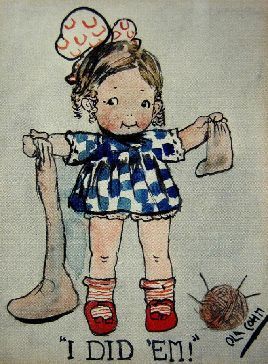 Bendigonians associate the Cohn Family with cordial and preserves as a family business was established in Bendigo during the Goldrush by the three Danish Cohn brothers. And those of us who like a beer will know that it was the Cohns who introduced lager (served very cold) to the Australian public in 1882. 4
How many of you know that the daughter of Julius Cohn (one of the brothers) was a modern sculptor, writer and illustrator of stories of considerable talent? If I unearth any more of her wonderful creations I will bring them to you.
Those of you who are interested in the story of Ola Cohn will enjoy this little extra information which came my way back in 2019. Please follow the link below to learn a little more about the Ola Cohn Fairies Tree.
Credit
1. This photo is from an album within the Papers of Ola Cohn, held in the Library's Manuscripts Collection. The collection includes personal and business correspondence, many sketches, photographs and an album of pictures of European sculptures. Thanks to our Preservation team for sharing with us.
From the Facebook page for Lost Axedale, Bendigo and Country Victoria. 2.fitzroygardens.com
3. en.wikipedia.org
4. vic.gov.au