Monday's Feature Art Work: Sand Sculptures by Matt Long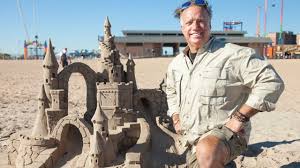 Today's feature art work is a little different as it is made by a lover of sunshine and sand and perhaps a strong attachment to his childhood!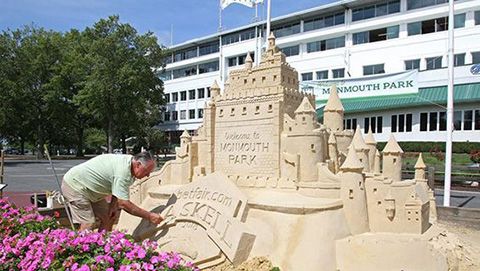 The artist is Matt Long and he is a professional Sand Sculptor and from my research I have learnt that each year he is commissioned to create a sand sculpture outside the Monmouth Park racetrack (above) in New Jersey.
Today we are going to watch Matt Long create a sand sculpture of The Making of American Pharoah.
A little about American Pharoah (foaled February 2, 2012) - an American Thoroughbred racehorse who won the American Triple Crown and the Breeders' Cup Classic in 2015. He was the 12th Triple Crown winner in history, and in winning all four races, became the first horse to win the Grand Slam of Thoroughbred racing. He won the 2015 Eclipse Award for Horse of the Year and 2015 Champion three-year-old. He was bred and owned throughout his racing career by Ahmed Zayat of Zayat Stables, trained by Bob Baffert, and ridden in most of his races by Victor Espinoza. He now stands at stud at Ashford Stud in Kentucky.3
If you do want a sand castle, Matt Long is definitely the artist to do it for you.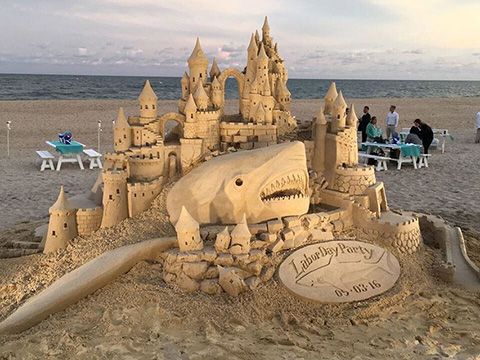 Let's see what Matt Long (aka: Sandman Matt) as to say about his passion.
I carve beautiful things in the sand just about anywhere you can imagine from rooftop gardens and the beaches of Southeast Asia to Times Square, New York City. Every sculpture is custom designed to meet the needs of my clients, from hair care product marketers to swimming pool manufacturers. I create fascinating, one of a kind displays using nothing but sand and water. Commercial sculpture inevitably includes the client's logo expertly carved into a sculpture. We have many to look at here on the site!
***As much as I have mastered the art of carving sand, I have also learned this very special thing you will want to understand about the gritty stuff when it comes to marketing and when we were all kids! The fascination with sand and the childhood fairy tale like whimsy it inspires is in us all makes it the ultimate presentation medium. I have often said I have stirred as many people to smile as I have carved grains of sand! (Well… not quite!) What I know is that connecting a product, upcoming event, or brand to these deep set feelings is almost a spiritual dream for marketers, PR companies, advertisers and hence, so it is for the end clients from any area of commerce! 4
The versatility of this artist is amazing: he can create any conceivable shape or concept from sand.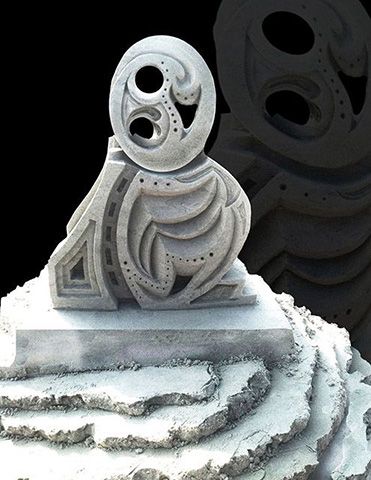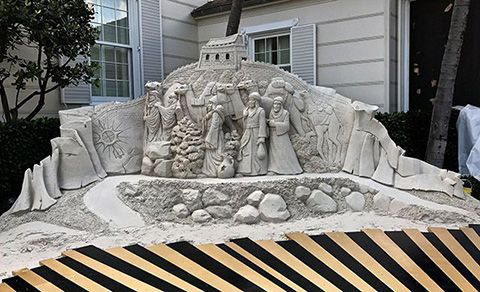 If you would like to check out the complete gallery of Matt Long follow the bookmark link below.
For those of you who are near the beach or at least near some sand, here is a set of instructions on how to build the perfect sand castle brought to you by the Australian Academy of Science.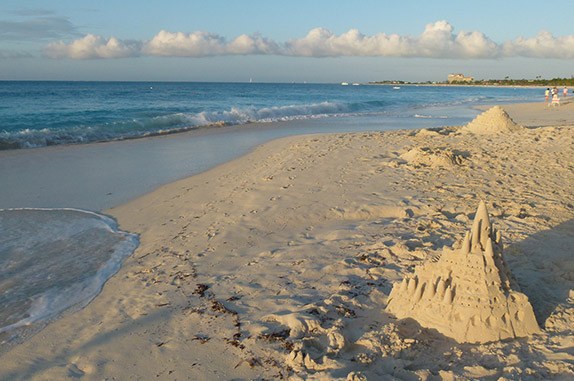 Credits
youtube.com
app.com
en.wikipedia.org
sandsculptor.com