December 2022 Mailbag No 1
As we hurtle towards the festive season for many of us, the little voices around me have started: Annie, when are you going to put up your Christmas Tree and decorations?
I'm thinking about it!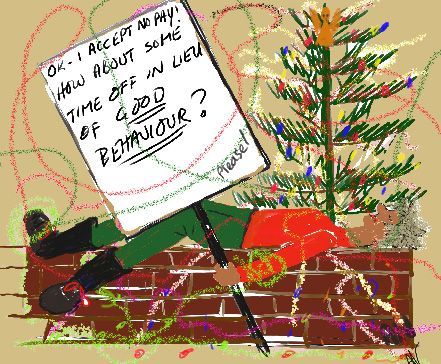 I know Santa and all the little elves are opening the mail and busily filling up the sacks of presents but we have our own sacks of mail to open - so on with the show.
And right on top of our mailbag is a new subscriber and how exciting as it is someone from New Zealand - welcome aboard the AnArt4Life blog T.C. - we love our cousins from across the ditch!
Over in Port Elliot, South Australia - Rowdy, Suzanne and Digger are ready for Christmas. Digger has been trying out his latest outfits and accessories. There are more fabulous shots of this very handsome boy to come and if you have a favourite pet Christmas photo please send it in to me at the regular email of: [email protected].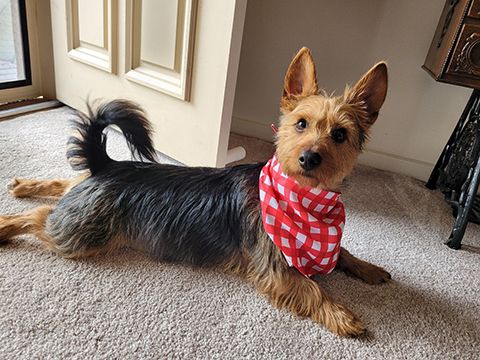 And still over in Port Elliot, Digger's companions have also been hard at getting ready for Christmas. Especially delightful are the teapot sewing pin cushions prepared as Christmas gifts for Suzanne's sewing group. And she has also made some gorgeous Christmas gift bags which I am sure will be very popular. The creativity and ingenuity of anyone who can wield a needle and thread always impresses me.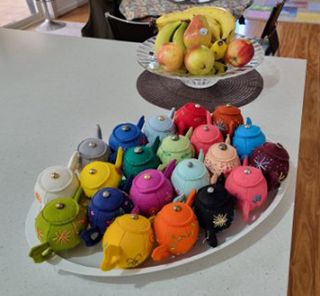 And not necessarily for Christmas Sue has made some fabric paintings which will possibly sewn together as a wall hanging - what a great idea.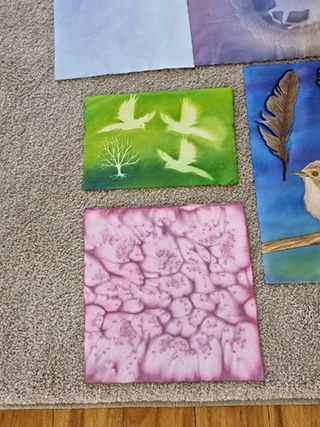 Susanne is also known for her amazing quilts so please follow the link below to check out some more of her work we showcased in a past post.

Our next item comes from marine artist - Robert Carter - who has a new book of his paintings which encapsulates the work of a life-time – not just the hours that Robert has spent in creating these superb paintings of the last sailing ships, but in his study of their construction, features, and history, so that they are faithfully portrayed and able to withstand the scrutiny of the most learned of critics.1
The book also reflects the countless hours that Robert has spent with hundreds of ex. sailing ship mariners, from many different countries and backgrounds, recording their stories about their time under sail and revealing hither-to unrecorded aspects of the culture that existed in the last commercial sail-driven ships.1
Also included are other marine subjects by Robert that demonstrate the versatility of his painting skills.1
The book has a Buckram hardback with a printed dust jacket. Size 250 mm x 280 mm, landscape format. Number of pages: 240, printed on 150 gsm silk art paper, displaying 103 of Robert Carter's paintings as illustrations.1
Supporting the paintings are the narratives that highlight salient features and aspects of the vessels portrayed and describe a 'happening', as well as being just a portrait of the ship.1
If you would like to know more about Robert's latest book please click here.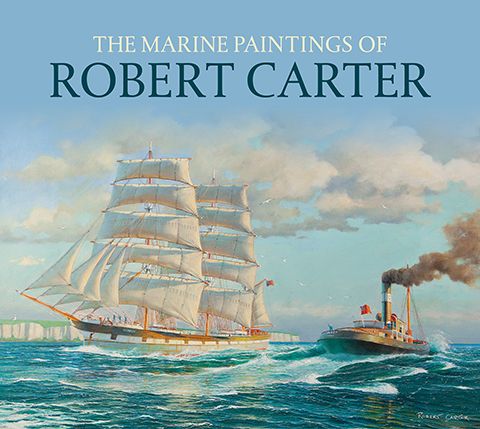 Last month we celebrated our Fifth Birthday of sending out a daily post about art to all our subscribers and followers. Our wonderful subscriber Monica in Tanzania sent us these words to make us glow with pride!!
Hello Everybody. I cannot express enough the admiration that I have for your essentially beautiful features, but also for the inspiration, information, eye opening nuances that are here in our everyday lives, and that we exist in too mundane modes to notice them, that you have revealed. I have learnt so much and see beauty and craftsmanship in so many many things that I have just previously taken for granted. The love and joy that emanate from your topics is for me an early morning tonic that spurs me through the day. Your varying view points and methods of revealing them are a pleasure to appreciate...
CONGRATULATIONS on your HALF DECADE of providing wonderful vistas of our beautiful planet, and the glorious talents of the persons who grace it, in more ways than one. M.B. Tanzania.
Thank you Monica - we have every intention of continuing into 2023 with the AnArt4Life blog though the daily post will drop off a bit. But don't forget that if you go to the Home Page of the blog you can scroll through nearly 2,000 past posts!! You can also use the TagCloud (icon in the menu at the top of each post) to search for posts on your favourite topic.
November saw many interesting posts but Rowdy's commemoration of the sacrifice made by the ANZAC troops and those who supported them stands out.

Again, Monica expressed the thoughts so many of us have:
Hello Rowdy! Your feature is immaculate, and I just wish to pay tribute to people like yourself who desire to keep the memory of our fallen men and women in war, forever present and alive. Nothing, absolutely nothing, justifies the heinous reality of war and bloodshed. It is to mankind's eternal disgrace that greed, hatred and violence cannot be resolved with discussion, compromise and compassion. The persons who perpetrate the wars do not suffer the horrific conditions, the wounding, maiming, death and the grievous mental damage that is caused in this process. Men cannot return home without being scarred by their experiences and resume their normal family lives! Your triptychs are unique, meaningful and subtle, because they encompass all the aspects of war- the preparing of machines to achieve horrendous bloodshed and death; the noble and sacrificial men who provide, in very dangerous circumstances, the equipment, medicine and caring for the stricken; and the flowering of camaraderie and love for their fellow soldiers, alive and dead. May there be a revival of conscience to the precious gift of life, and may war be one day recorded by our descendents as the barbarity that once prevailed on planet earth. M .B. Tanzani
And I too want to add my thoughts and thank you to Rowdy for the wonderful contribution he makes in so many ways to the AnArt4Life blog and for his on-going commitment to express in a painting the sacrifices made in times of war which here in Australia we commemorate on 25th April and 11th Novemeber each year.
We are so very fortunate to have you as a member of the AnArt4Life team bringing your love of country with its many narratives from your studio shed to our homes. Your wonderful commemorative paintings in remembrance of the ANZACs make this significant period in our history so real and so personal - reminding all of us to keep the sacrifices made to protect our freedom close to our heart. A huge thank you for the effort you put into making these historic days so special. EiC
Did you catch up with our post on the incredible David Bignell – photographer- who is achieving spellbinding effects through his considerable knowledge of digital technology?
Rowdy was particularly impressed:
The creativity & exceptional photographic effects of David's works are truly "Out of this World"… with each photo telling an amazing story.. about wild life.. portraiture images… & a very creatively composed photo… titled "Data Miners" with the miners pictured using their "picks" while standing on top of "electronic circuit boards" how imaginative!!!
But…. my favorite photo is the post "Hero Photo" that Anne chose… "Heavenly"…. this says it all.. the amazing expression on the peoples faces… with two of them looking skyward… while enjoying a wonderful "melting" ice cream…. I wonder what they are thinking at this indulgent moment in time???....
Congratulations Anne & David for a "cool" refreshing post…..Rowdy..
Thanks Rowdy - and if you did miss the post on this out of world photographer please follow the bookmark link below -- and be amazed!!

There will be another December Mailbag in a couple of days. I'm having tomorrow off to put up my Christmas tree!!!
Credit
1. Correspondence from Robert Carter