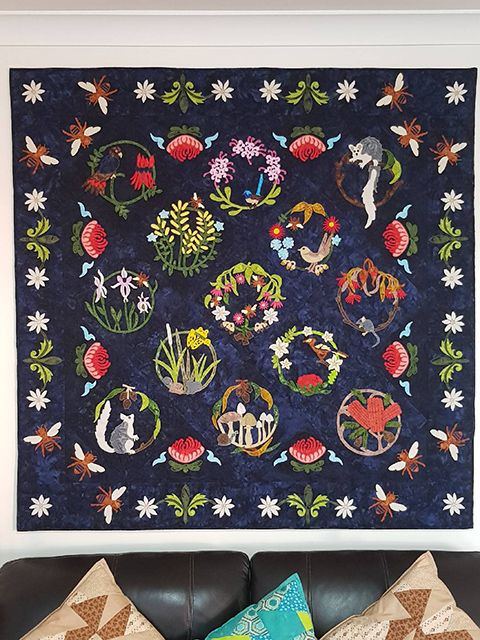 Hi, my name is Suzanne I am a quilter. I began my quilting journey many years ago, very eager and extremely naive. I was introduced to it by a work colleague and thought to myself this can't be too difficult so I went online found a design I liked and ordered it. Extremely unfamiliar with tools and terminology I struggled through. To this day I still look back on that quilt with very fond and special recollections. Today I attend a local Patchwork and Quilting shop in Victor Harbor SA called "PennyLane Patchwork" owned and operated by Penny Vanderwal.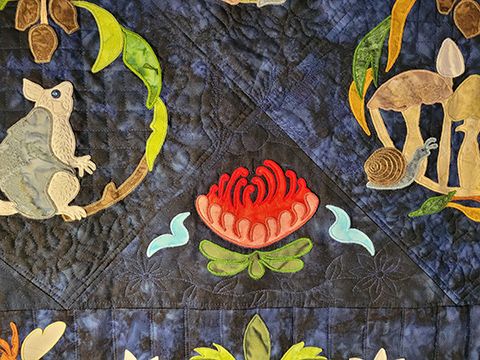 The "Bee Mindful" quilt is designed by Michele Hill has been a delight to produce with its very colourful array of Australian Flora and Fauna, although somewhat exhausting. The quilt, with a portion of proceeds from the sale going to assist in the aid of raising funds for the World Wildlife's - "Australian Wildlife" and "Nature Recovery Fund" benefiting all states of Australia that have been affected by the 2019/2020 bushfires.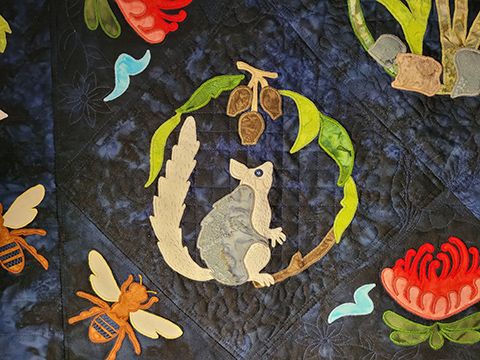 I purchased the "Bee Mindful" quilt as a BOM – Block of the Month. This quilt was part of a 12 monthly program. It is like receiving a private quilt class/lesson in the mail each month with full directions and fabrics to sew just one block or one section of the quilt at a time at your own pace. Each month you receive a full instruction sheet, clearly describing the fabrics supplied and where they are to be used for that month. This method enables you to learn a variety of patchwork techniques and often gives you access to a community/group (possibly through a sit-n-sew class at a patchwork quilting shop or online groups) where you can share experiences, options and encouragement.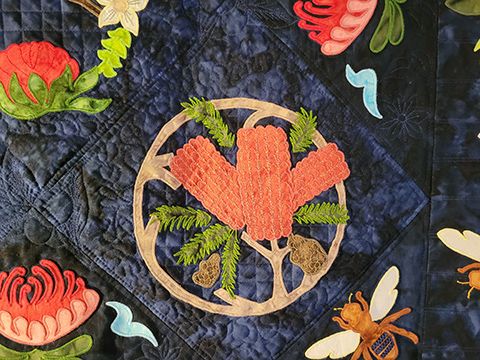 All the Flora and Fauna shapes are appliqued. You trace all applique shapes from the pattern sheet onto paper side of fusible webbing (a fibre that will melt when heated). Cut around each shape and apply to underside of appropriate fabric. Then cut out on drawn line. Peel off backing paper and apply to background material and iron press. This is known as Raw Edge Applique. You can applique by Machine or Hand; this is a personal preference. My preferred method is Hand Stitching which is by far a much longer approach, but to me is a much more relaxed and satisfying method. The most common stitch used is Blanket Stitch/Buttonhole Stitch. Work the buttonhole stitch from left to right, pulling the needle through the fabric and over the working thread; this action forms a row of vertical straight stitches joined together by a looped edge at the bottom.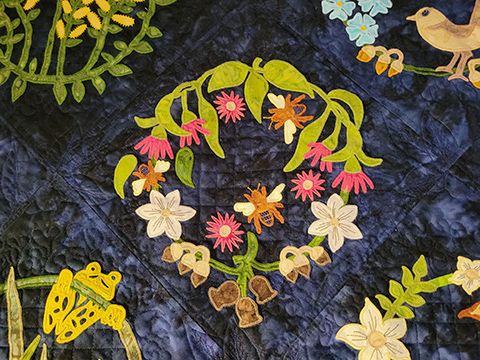 The stitches are placed closely together so that no ground fabric shows between them. If they are widely spaced, the stitch is known as blanket stitch. Second stitch used is Stem stitch. This is an outline stitch more commonly it follows curves and intricate linear details. It is simply worked with a forwards and backwards motion along the line, the stitches should be worked evenly and be equal in size. The blocks are placed "On -Point" meaning they are assembled in diagonal rows with the block being on-point or taking on a diamond shape. Once the quilt centre blocks are joined on-point and side and top borders added, the quilt is sandwiched together with the top layer, wadding/batting and background fabric, I then pinned the 3 layers together and machine quilted.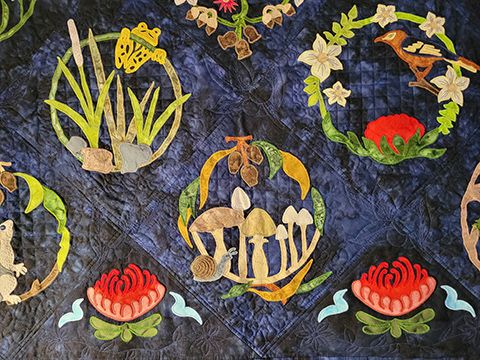 In the centre of the applique designs I did, I cross-hatch around the diamond shapes, proceeded by stippling (free-motion straight stitching done in small, soft, curvy, puzzle-like shapes, where line of stitching does not intersect or touch). Just for a little extra adventure I attempted my hand at a little free-motion embroidery of some gumnuts and leaves in-between the diamond blocks and on the half diamond a couple of flowers joined by vine and leaves.
Quilting provides the opportunity to socialize with other quilters and to "show and tell" stories about our work. It's challenging, exciting and most rewarding, a form of stress relief that boosts confidence and creative abilities. Sometimes it's not perfect, but failure is not permanent, just the best way to learn and grow!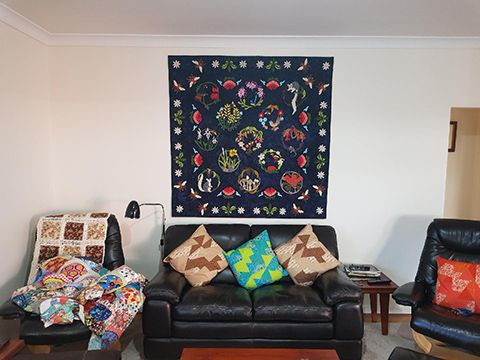 A very special thank you to Suzanne Benson for sharing her magnificent Bee Mindful quilt with us and for explaining the process involved in producing such a creative work.