Surreal photographer – Erik Johansson
About a year ago, we featured an artist named Rob Gonsalves, whose art was categorised as Magic Realism. (Click here to revisit that post if you missed it.)
Today we feature a contemporary photographer named Erik Johansson who cites Rob Gonsalves, as well as Salvador Dali, M.C. Escher, Rene Magritte, and Bob Hund as having a large influence in his own work – that of surreal photography.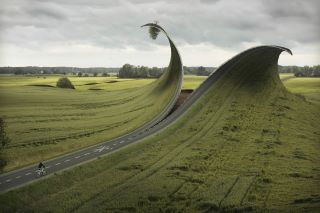 Erik was born in the rural south of Sweden in April 1985, and is now based in Prague.
A number of factors coincided to direct his interest in creating surreal worlds using photography. Firstly, he had an artistic bent himself from an early age. His mother said that when she asked him how his day at school was, he would draw her a picture instead of answering her in words. Secondly, his grandmother was a painter, and talked to him about her art. Thirdly, his father was given a computer for his work in the mid-eighties, which introduced Erik to technology very early in the development of computers. Erik was very interested in the escape to other worlds that was made possible by computer games even then. Fourthly, Erik was given his first digital camera when he was 15. Whilst it was just a simple "point and click" model at the time, Erik said that the camera opened up a whole new world to him, and made him wonder "if pressing the trigger could just be the start of the artwork, rather than the final step." 1
In 2005, aged 20, Johansson moved to Gothenburg, Sweden, to study Computer Engineering at Chalmers University of Technology. He began to experiment with retouching and photography, publishing some works online and receiving requests for retouching from local advertisement agencies. 1
He became self-employed in 2010, doing freelance work for advertisement agencies and began to receive international commission requests. In 2012 he moved permanently to Germany, living in Berlin for several years, then eventually moved to the Czech capital, Prague, where he is currently based. 1
Currently, Johansson works as a full-time photographer on personal and commissioned works. He combines images to create what looks like a real photograph, but creates logical inconsistencies to impart an effect of surrealism. 1
Take a minute or two to study each images below. What thoughts come to your mind when you look at these?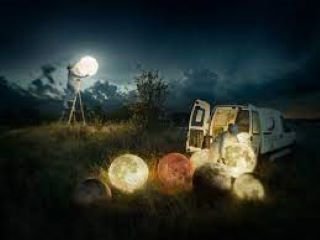 On Erik's website it says "In contrast to traditional photography, he doesn't capture moments, he captures ideas with the help of his camera and imagination. The goal is to capture a story in a single frame and to make it look as realistic as possible even if the scene itself contains impossible elements. In the end it all comes down to problem solving, finding a way to capture the impossible."
But of course, with this particular brand of art, there is bound to be controversy. Whilst his photography skills are generally agreed to be exceptional, some of his creations have been defined by some critics as impossible photography. He is sometimes called a Photoshop artist because most of his work occurs in Photoshop where he manipulates multiple photographs to create that single image which defies the gravity, logic and the real world to create his surreal image.
His website includes a "Frequently Asked Questions" section where Erik talks more about what motivates him, along with many video'd examples of his work:
Erik has held many exhibitions around the world since 2016, and won a number of awards, despite sometimes having the controversy of whether he is an artist or not. He has also undertaken a range of commissioned projects with clients such as Adobe, Volvo, Toyota, Google, Microsoft and National Geographic. He says he enjoys the challenge of bringing someone else's bringing someone else's idea to life!
What do you think? Does his work inspire you or frighten you? Let us know your thoughts in the Comments box below!
Footnotes
With thanks to Wikipedia.