Robert Carter: Marine Artist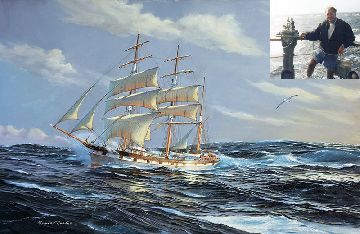 I have chosen the Polly Woodside to introduce you to Australian marine artist Robert Carter because this ship now resides in dry-dock in Melbourne, Victoria. Only a few weeks back I enjoyed an afternoon with three little boys on board the Polly Woodside learning about life aboard a sailing ship.
Polly Woodside was typical of the thousands of barques that emerged in the post clipper period, when iron and later steel, replaced wood, at least in British shipyards. She was built in Belfast in 1885 for the shipowner W.J.Woodside who named her after his wife. She entered the trade with Chile, taking out coal and returning with nitrates. In 1904 she was sold to A.H.Turnbull of Dunedin, New Zealand and renamed Rona. She became part of what was colloquially known as the inter-colonial fleet, taking timber to Australia and returning with coal, loaded at Newcastle NSW. She made her last voyage under sail in 1922, when she was rigged down for use as a coal hulk in Melbourne.
Follow this link for a detailed description given by Robert Carter of the Polly Woodside.
Robert Carter was born in Sydney in 1931. He claims that his genes were well soaked in salt water as his father was a shipwright and naval architect and his grandfather was a master mariner in British sailing ships. Growing up in Manly on the foreshores of Sydney Harbour during WW2 he developed a strong interest in ships and the sea. Robert recounts:
My interest in ocean-going sailing ships started at the age of 11, when the American barque Kaiulani dropped anchor in Port Jackson, at the end of the street where I lived. It kindled a life-long fascination which fuelled my interest in writing and illustrating maritime history.
I'v found an old photograph of the Kaiulani.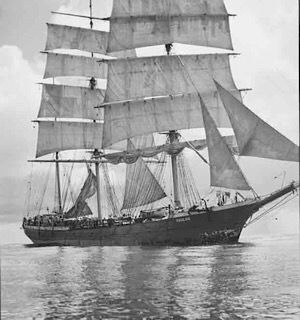 (Credit: National Park Service.gov)
As a result of result of 50 years study and maritime research, Robert Carter is considered by many to be a world authority on the square-rigged sailing ships, particularly:
Today is just the first blog to introduce you to this remarkable artist and to whet your appetite to see more. And to learn more- as I will be bringing you some of the finer details about how to paint a sailing ship! This might encourage some of you to pick up a paint brush for the first time. But let me showcase some of Robert Carter's amazing paintings.
the Gustaf Erikson Grain Ship
the Laeisz Nitrate Ships
the A D Bordes Bounty Ships of France
the 19th century Tea Clipper Ships also feature in Robert Carter's portfolio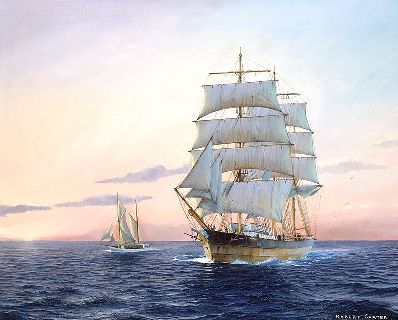 This one is for our New Zealand cousins.
The barque White Pine (above) makes landfall off the Grey River, New Zealand on her 76th crossing of the Tasman Sea and the end of her sailing career.
It was 1922. She was the last of a fleet of sailing ships that traded between Australia and New Zealand. She was a fast sailer and once made the crossing in 7 days. This iron hulled vessel was built in 1879 for the Natal trade with Great Britain. She was named Quathlamba after the mountain range in South Africa which was later renamed Drakensberg. Auckland shipowner J.J. Craig bought her in 1899 and renamed her Hazel Craig after one of his daughters.
She usually carried white pine to Australia, returning with coal loaded at Newcastle. In 1917 Craig sold her to a Captain Proctor who named her after the timber she usually carried. This painting is named to describe the end of what would be her last commercial voyage. She had just completed a fast passage from Australia and with a fair wind and favourable tide was able to sail up the Grey River to her discharging berth in the fading light without the aid of a tug.
White Pine was bought by James Patterson & Co. a lighterage company in Melbourne for use as a coal hulk. In 1947 she was towed to sea and sunk off Barwon Heads. (robertcarter.com.au)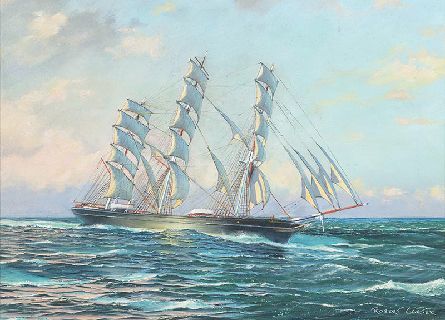 For my English subscribers this one is for you. Yes, the Cutty Sark (above) the most well-known of all the famous sailing ships. The Cutty Sark traded from 1869 when she was built at Dumbarton on the Clyde until 1922.
Built specifically for the tea trade with China she only worked in this trade until 1877. The Suez Canal was opened in the year in which she was built. This halved the time for steamships to make the journey back to the London. Sailing ships could not use the canal and had to go around the Cape of Good Hope. A short passage time was important in getting the season's tea back to the London markets in order to get the best price.
Cutty Sark then entered the Australian wool trade, taking out general cargo and returning with wool, hides and tallow.
In 1895 she was bought by the Portuguese, cut down to a barquentine and renamed Ferriera.
In 1922 she returned to British ownership, being bought by a Captain Dowman. He had her re-rigged as a ship and she became a stationary training ship in Falmouth Harbour.
In 1938 Mrs Dowman presented Cutty Sark to the Thames Nautical College.
In 1953 she was handed to the Cutty Sark Preservation Society who installed her in a dry dock at Greenwich where she resides to this day.
Cutty Sark has been painted by the world's marine artists many times over, particularly those of contemporary times. Perhaps this is why she remained missing from my portfolio until only recently. I never found her internment in dry-dock at Greenwich particularly inspiring nor the few photographs that were taken of her during her trading days with China. Instead, the photographs of wool bales being screwed into her hold at Circular Quay allowed an imagined mixture of aromas of Stockholm tar and greasy wool to create the inspiration necessary to compose a painting that I could relate to. (robertcarter.com.au)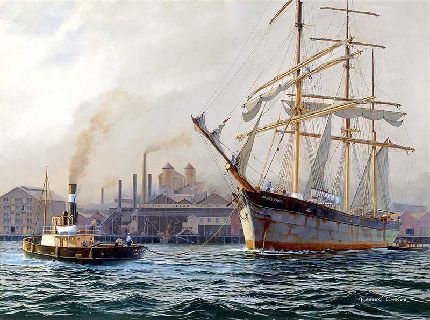 And this image is for me. I must confess that I have had a love affair with sailing ships most of my life believing them to be the most beautiful structure ever made by man. But if I win the lottery I am buying a tug! For me they are the ants of the sea. The people closest to me know I greatly admire ants! Yes ants. They are little, tough, work together to carry burdens far in excess of their weight, communicate. And so do tugs. They are little compared to the ships around them, tough, communicate with each other and those around them... they are adorable. But back to Robert's description of the James Craig.
The year is 1920 and a newly rigged James Craig prepares to leave her anchorage in Johnson's Bay for Newcastle to load a cargo of coal for Hobart. Riding high out of the water she only carries the ballast that is necessary to get her there. The crew is making final preparations for her departure.
The tug has taken the tow rope and the mate peers over the rail to see how much anchor cable has still to come in. It was customary for some sail to be loosened but not sheeted home until off the land and the tow dropped. This departure would be the last she would make from Port Jackson until her complete restoration by the Sydney Heritage fleet.
I wanted to record this happening which was described to me by Bob Hewitt a crew member on that voyage and had to decide on a background that would identify the location. I chose the Colonial Sugar Refining Company as it appeared in 1920. Apart from the Glebe Island Bridge the CSR complex was the logical choice. I searched through my files on early Sydney without finding anything that would help me portray this scene. On contacting the Colonial Sugar Refining Company I was informed that all archived records now resided in the Noel Butlin Library at the Australian National University from whom I was able to obtain some aerial photographs. I assembled a ground level elevation which had many features that have changed little in 80 years.
James Craig had many colour changes during her life time, as well as a name change. Built as Clan McLeod her hull had been black, white and had also been decorated with painted ports. The latter was a feature of the fleet of New Zealand ships owned by J.J Craig & Co. of Auckland. I had to make sure that I chose the correct one for this period. Her last colour scheme was the grey and black which I have chosen.
The tug in the foreground is a composite of features of tugs of the period as I was unable to determine the identity of the tug that took her to sea. The name Janet is a whim that I employ in such cases. The letters are an acronym for Jonathan, Andrew, Noni, Timothy, my children and Elizabeth my wife. (robertcarter.com.au)
Postscipt
When John Pickup mentioned that he had a friend who was probably the best marine artist in the world I jumped at the chance to make contact with Robert Carter.
The information recorded here has been taken from the Biography of Robert Carter OAM and from the artist's website.
Please visit the website for Robert Carter and feast on his wonderful images of sailing ships, prints of which are available for sale.
You will be seeing many more of Robert Carter's sailing ships, learn about the awards he has won, books he has written and why he is highly regarded in Mariehamn!
And yes, we might even learn a little about how to paint a sailing ship in all its glory.