Kevin McKay: recognising artistic talent in the young
The other day we featured a post on a maritime painting by Sydney artist Kevin McKay - but there is more to Kevin than meets the eye!!
Apart from being an exceptionally talented artist, Kevin devotes time to teaching and mentoring young artists. He is also keen to recognise talent in young artists which became apparent to the AnArt4Life team when Kevin introduced us to the works of his friend - the remarkably talented Troy Quinliven who tragically died on 10 March 2017 at just 33 years of age.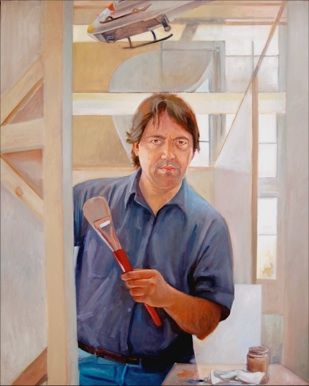 Kevin decided to repurpose a panel in memory of his friend and colleague Troy Quinliven and if you missed this post please follow the bookmark link below to read about the way Kevin used his painting talent to begin to pay tribute to Troy.

So that Troy's name and talent was never forgotten the Troy Quinliven Exhibition Award was initiated by Troy's parents Matt and Sue Quinliven and to be administered by Kevin McKay each year to a student from the National Art School, Sydney. The recipent of the award would not only show outstanding artistic talent but represent in their art work much that can be identified with the artistic perception possessed by Troy and Kevin.
The first recipient was selected from the 2017 graduate assessment at National Art School, which has been the model for each subsequent year. Students present a selection of their work for their final assessment in their work space, the Head of Painting escorts Kevin through from which he makes a selection. 1
Kevin introduced us to Daniel Bodey who was the fourth recipient of the Troy Quinliven Exhibition Award in 2020. Daniel shared Kevin's studio for over six months as he prepared for his exhibition and where I am sure he received much valuable advice from Kevin as a mentor.
I think it is important for us to recognise the significant role art teachers and older and more experienced artists play in developing the skills of talented young people and helping them get a start on a career path. Artists do not grow in a vacuum and often we forget the unsung artistic people in our communities who help foster interest and skill in all the mediums of art.
You can view Daniel's urban landscapes by following the bookmark link below.

The fifth recipient of the Troy Quinliven Exhibition Award is Alice Xu selected by Kevin McKay from the graduating students at National Art School, Sydney, Decemeber 2021.1 Tomorrow you are going to meet Alice and view her figurative paintings which will amaze you with their vitality - a very worthy winner in memory of Troy.
My favourite painting genre is urban landscape and therefore I will take the opportunity before I sign off today to share a couple Kevin's works with you. I love Kevin's urban scenes because every now and again there is a touch of the maritime - my second favourite subject matter!
First Summer Hill silo, 2017 an oil on canvas work (76 x 61 cm). The narrative here says so much about contemporary urban life.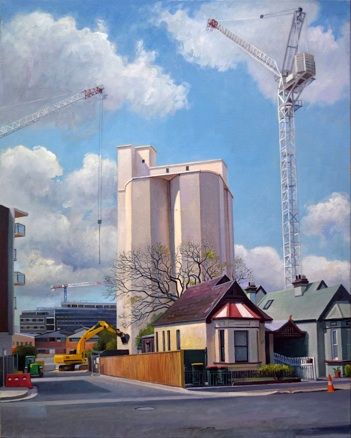 And for my touch of maritime I have chosen Gaerloch corner - Tamarama, 2017 oil on board (30.5 x 40.5 cm). This scene reminds me so much of the Sydney I visited as a teenager spending time with my beloved uncle prowling the urban streets followed by a dip in the sea and a late afternoon walk along the beach. And like Kevin, I too love telegraph poles which in this painting appear to be dancing!!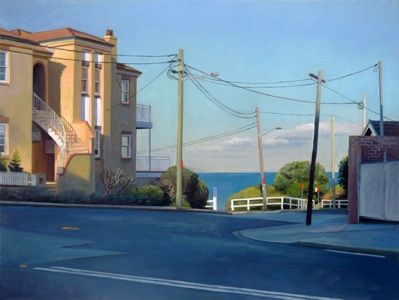 ❁A very special thank you to Kevin McKay who kindly gave permission for the images of his work to be shared on AnArt4Life. To see more inspirational works please visit KevinMcKayArt.
And hot off the press I can inform you that Kevin will be having an exhibition at Flinder St Gallery (Darlinghurst) at the end of October 2022. I promise that we will be bringing you a preview of works to be included in the exhibition which I believe will revolve around a Sydney Harbour/beach theme.
Credits
1. Correspondence from Kevin McKay
Late Mail
As our Jane leaves Africa bound for the UK we have just been joined by our newest subscriber M.A.vG. in Kenya and we are thrilled to have her become part of our subscribers and followers from Africa. We value everyone who follows us so much as we share our love of art that is all around us -- and sometimes, as Jane is illustrating, far beyond but still accessible thanks to modern technology.
PS - there are still a couple more posts from Africa at the hand and eye of Jane coming up so watch out for them!