Daniel Bodey: Pounding the Pavement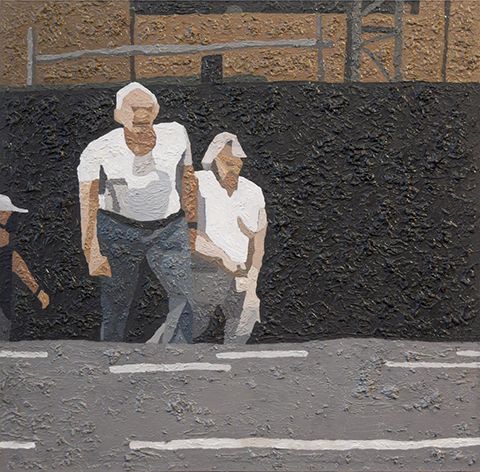 I'll let this exciting young artist introduce himself through explaining The Daniel Bodey approach to creating a view of his world.
My work is based on images that I take from my iPhone when I'm walking around the city. They are images that capture my attention; things that I think would make a good composition or reflect an idea or feeling. I guess the focus of my paintings are the figures: people going about their day to day. Daniel Bodey 2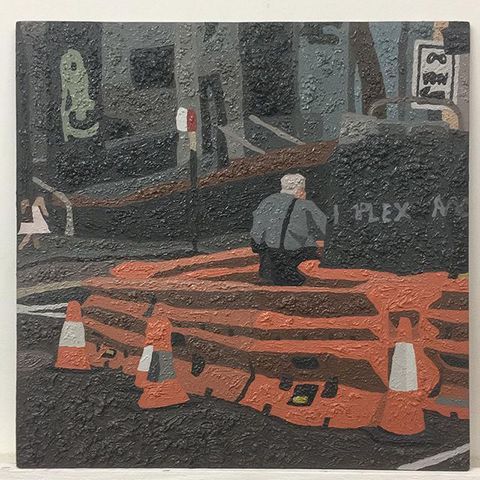 Daniel Bodey was a recipient of the Troy Quinliven Exhibition Award in 2020, the year he graduated from National Art School, Sydney. The award, sponsored by Troy Quinliven's parents, was accorded to Daniel by Kevin McKay who introduced me to this exciting young artist.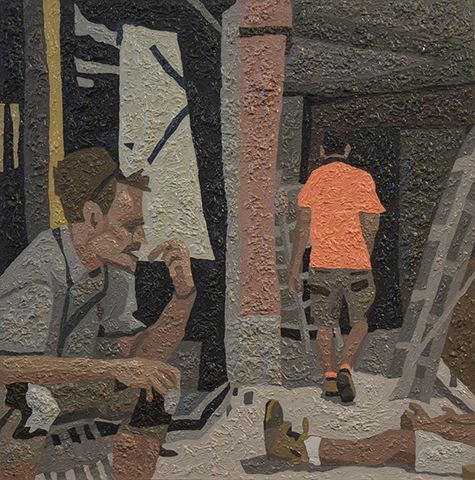 Kevin McKay explains:
One of the reasons for why I chose Daniel to receive the Troy Quinliven Exhibition Award was that I saw his work as synthesising aspects that interested both Troy and myself, (i.e. Troy's interest in the human subject, the organic, transient moment, and materiality of medium, and my own interest in the urban landscape genre and psychological tension associated with graphic hard edge realism. I immediately recognised echos of John Brack whom I admired and influenced me in my youth. 3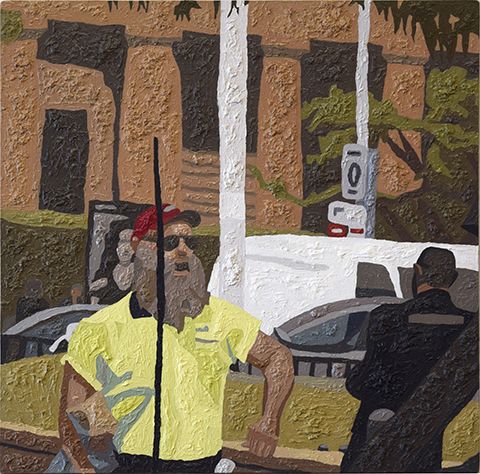 What is remarkable about Daniel Bodey is that he has developed his distinctive and unique style even though only in his early 20s. Daniel continues:
My technique originated when I was at NAS (National Art School) and I have been expanding upon it ever since. I print out the photos and work from them. I use a thick application of paint mixed with dried paint to give the textured look. 2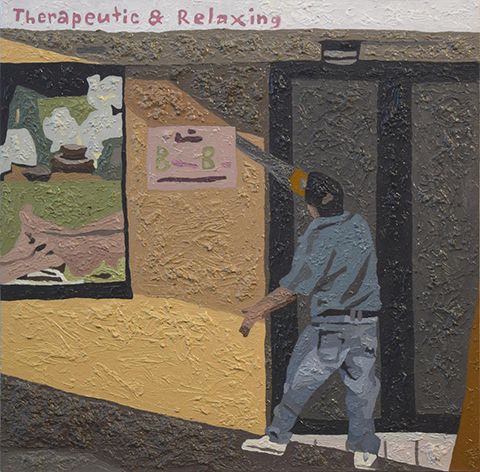 Daniel Bodey paints figures in urban settings. His subjects are
captured in transient moments and rendered in textured paint,
cementing them as elements in the street environment, even as
the architectural forms are animated by their presence. Daniel's
intimate paintings speak of a symbiotic engagement with one's
environment and the challenge of living in the city. Kevin McKay 2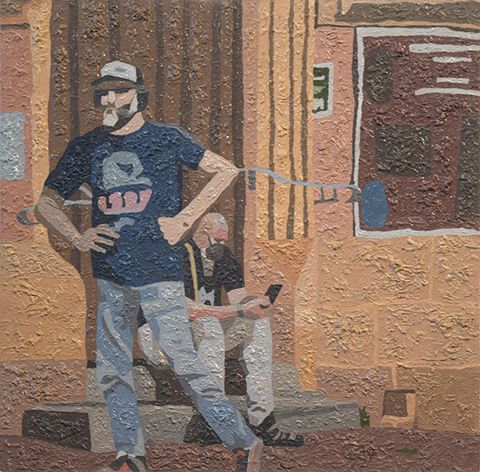 I have included the link (at the end of the post) to an interview Daniel did with Willy Russo and from listening to this I have gleaned a little more about the creative processes maturing in this very talented young artist.
Where do his ideas come from?
I just draw in my book, just anything ...not hold any kind of value to what I'm doing ... just let it out, paint whatever... hopefully something comes out of that..but generally .. oh ok this is interesting ... I think it is when I'm least invested in something that I find stuff that I actually like. 5
How did he find his style?
Daniel drew cartoons as a child and won a local Woolongong, NSW prize in primary school and never considered doing anything else than going to the National Art School, Sydney to become an artist. He describes his style thus:
My style is sort of cartoonish, kind of humorous as well. I guess I use a unique way of applying paint - a textured technique - I guess it kind of came about through experimenting in my final year (at NAS) - something that stuck! 5
How would you describe your paintings?
I paint scenes from everyday, recognisiable scenes, things that I see day to day that I'm interested in. I see compositions that I want to paint like certain colours, or certain movements that people are doing, a composition of a background in relation to people moving through spaces. 5
Which artists have influenced you?
I like John Brack... particularly people on the streets ...a cartoonish sort of style... I like the "Kitchen Sink" painters from England - Jack Smith who is similar to John Brack... 5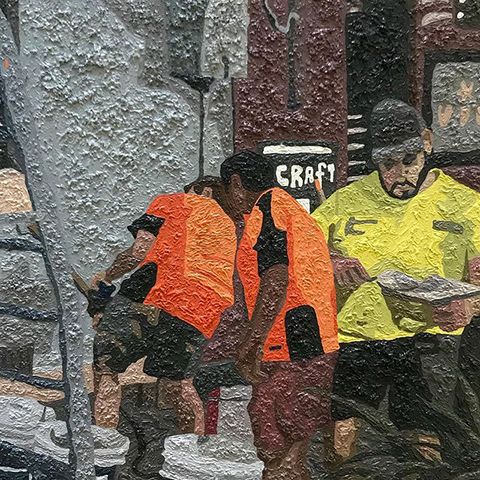 The impact of Daniel's painting is brought about, as Kevin McKay has explained - he builds up a curdled texture with the paint, that contrasts with the graphic nature of the images. 3
And from another Australian master of the canvas, John Pickup:
I'm extremely impressed by the quality of his work and the general direction he has taken himself. Yes, there is similarity of subject matter with artists such as Brack but Daniel's work is showing excellent mastery of figures, texture and colour ... I forecast that he will become one of Australia's leading artists as long as he is not too heavily influenced by other artists wanting to change his style. I'm a believer in the words. "If it aint broke - don't fix it!". 6
To see more paintings by Daniel Bodey please follow this link to his Instagram Account.
For those of you who would like to know more about Daniel's creative thinking processes please follow the link to the interview with him conducted by Willy Russo who hosts a weekly show where she chats with a range of art world players. The interview takes about 16 minutes.
I have been told that Daniel also dabbles in radio broadcast, running a late night show on community radio in Wollongong where he grew up.
To hear more interviews where Willy Russo talks to art world players, please click here.
© Thank you to Daniel Bodey who kindly provided the images for the post and gave permission for the images of his work to be shared on AnArt4Life.
Thank you also to Kevin McKay who provided background information on Daniel's paintings.
Late Mail
The aim of the AnArt4Life blog is to provide a platform for reviewing and discussing art in all its forms because we believe art is one of the most important interests that binds people of all communities together. It is with delight that I welcome H.W in Texas who has decided to join as our latest subscriber.
Credit
1. instagram.com/bodey_daniel_art/
2. Correspondence from Daniel Bodey
3. Correspondence from Kevin McKay - kevinmckayart.com
4. We have written one post on John Brack and will return very soon to review more of his style.
5. Transcribed from interview with Daniel Bodey conducted by Willy Russo
6. Correspondence from John Pickup