Troy Quinliven remembered with love and admiration - Part One
The remarkable talent and courage of Australian artist Troy Quinliven (1983-2017) came to my notice through my contact with artist Kevin McKay who painted the portrait below of his friend.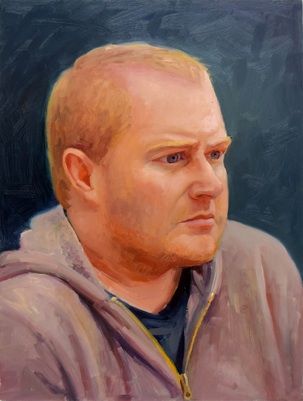 Kevin has said:
Troy Quinliven was straight out of high school when I met him at art school. He was a talented and passionate artist and, despite a physical disability that at times required him to strap his brush to his dysfunctional painting hand, was an Archibald finalist in 2014. We were sharing a studio when he passed away suddenly at just 33 years of age.2
This is Troy's Archibald finalist painting of Rodney Pople.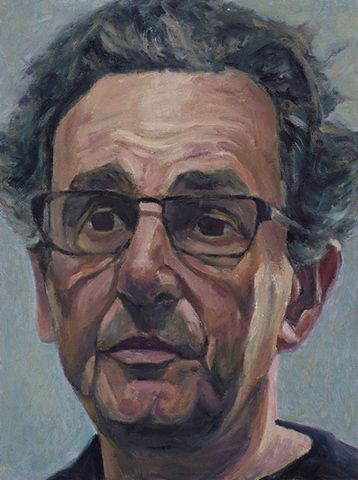 The painting Thinking of the next move (above) is an oil on canvas board, 40.6 x 30.5 cm.
Troy's explanation of the painting states:
'I asked Rodney if I could paint his portrait when I was his student at the National Art School,' says Quinliven. 'Six years later I finally followed through. Despite his bad boy reputation as "Australia's most controversial artist", he was always a kind and generous teacher'.
'He was working on a large painting of an African elephant when I visited at his Marrickville studio, and during the sitting his gaze kept returning to his work, as if contemplating his next move. I hope my painting captures this reflective side of Rodney, as an artist's mind is never far from his work.' 4

And these words ring so true in these portraits expressed by Troy in his work Happy Hour (below) where we can see - an artist's mind is never far from his work or play.
Kevin McKay explains:
These were mates that Troy would meet at his local pub at the end of the day. His objective in portraiture was to catch unguarded moments that revealed the inner person. He would put the camera on the table to catch these moments as reference for his paintings. 2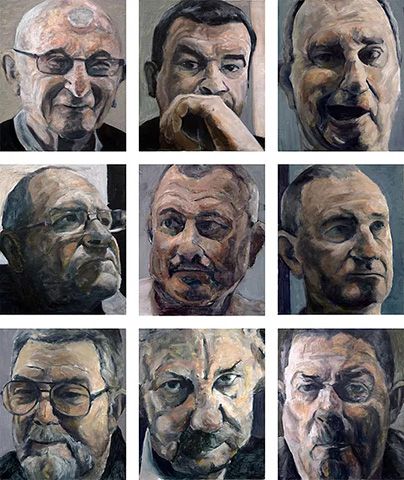 Born in Sydney in 1983, Quinliven has overcome disability to complete seven years of art training. He paints in his St Peters studio. He has had two solo exhibitions and has participated in many group exhibitions. He was awarded the John Olsen Drawing Prize in 2006, the Parkers Prize for outstanding achievement in painting in 2007, and the 2012 Waverley Art Prize for oil painting. He was a recent finalist in the Glencore Percival Portrait Painting Prize. 4
Below is Troy's winning painting for the 2012 Waverley Art Prize - Birthday Cake - an oil on canvas, 76 x 91 cm.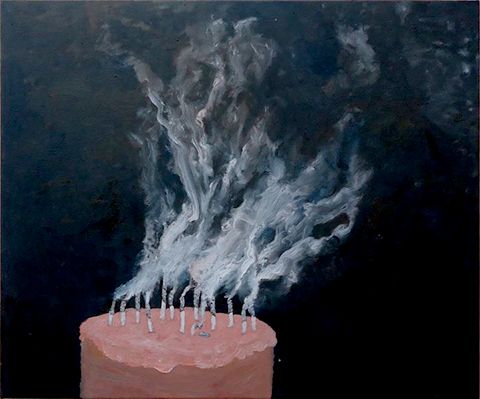 Kevin gives us more details about Birthday Cake:
Troy discussed the idea of still life and traditional "vanitas" genre as reflecting the transience of life, which he had fun contemporising with ciggie ash and smoke in contrast with the cake's pink icing.2
The artistic strength possessed by Troy plus his outstanding knowledge of human anatomy is very much present in this painting of pugilists. The intensity of the fight, the movement, the passion - are palpable.
Evening the Score and The Right Cross, come from a series that honoured his father's history as a boxer, and as a metaphor for the struggles of life. At this time Troy was at peak fitness working out at a gym and had moved into his own unit. Kevin McKay 2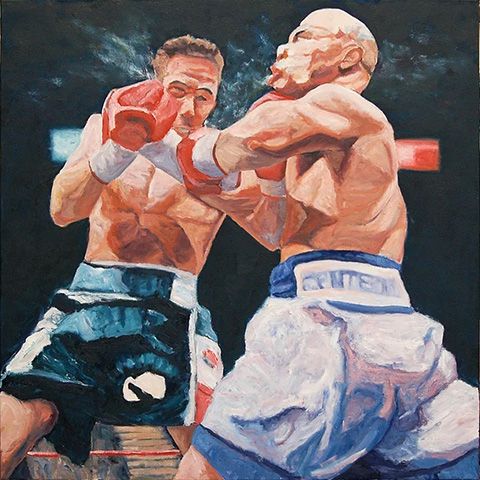 Troy as a painter worked expressionistically and ... experimented by including materials such as ash, salt and sand in his work (examples of which you will see in tomorrow's post). Quinliven completed an Advanced Diploma in Fine Arts at St George Tafe in 2004 and then attended the National Art School where he completed his degree in 2007 and graduated with Honours in Painting in 2008.... In 2009 Troy travelled through Europe studying the masters in the flesh. 4
Troy painted a few portraits in what Kevin McKay has termed a tighter realism including the one shown below of his famous uncle George Piggins AM, who is well known in Sydney as a former rugby league player, coach and administrator of the South Sydney Rabbitohs club. The painting was a finalist in the 2016 Percival Portrait Prize in Townsville. Troy was also a finalist in this prize in 2014.
The skill of the brush work is amazing as is Troy's ability to capture the depth of character of his subject.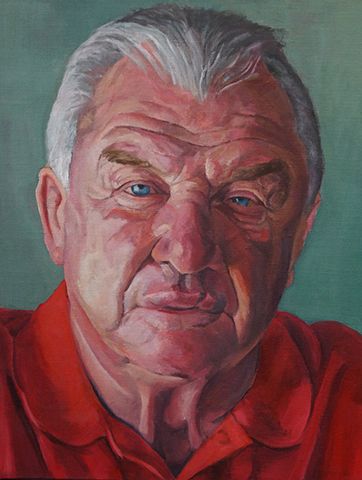 Join Kevin McKay and me again tomorrow as we continue to pay tribute to the life and talent of a wonderful young man.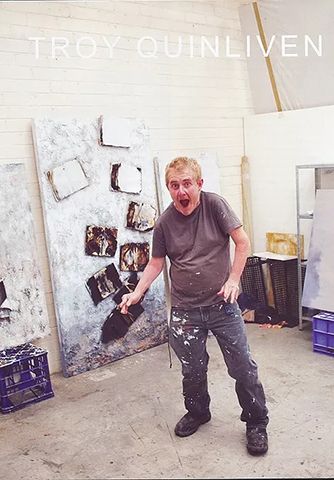 ---
❁ A very special thank you to Kevin McKay for his assistance in preparing this post on Troy Quinliven, for providing explanatory notes to accompany the images, and who kindly gave permission for the image of his portrait of Troy to be shared on AnArt4Life.
Credits
1. kevinmckayart.com
2. Explanatory notes provided by Kevin McKay
3. troyquinliven.com
4. artgallerynsw.gov.au
5. Image provided by Kevin McKay