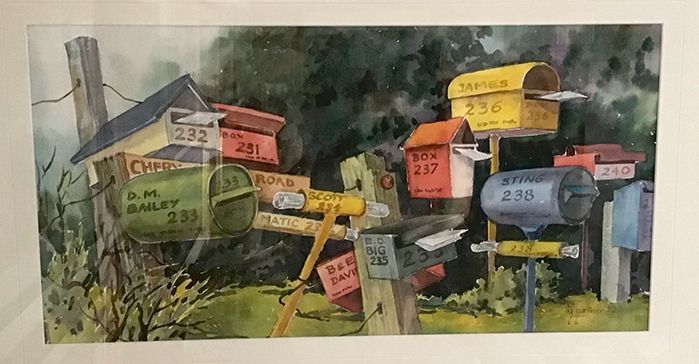 I feel quite shocked that the New Year has come around so quickly so thought the shocking colour would be a good match!! But diving immediately into the Mailbag I find that D. our Roving Reporter for Central Victoria has her ears to the ground - in fact to the tram tracks!!
Yes Bendigo still can boast a tram or two!! And D wants to share with us murals by known Bendigo artist Frankie O, one of which features the famous Bendigo trams. As Frankie explains:
In 2018, I worked with the Bendigo City Council on a commission for the Bendigo Visitor Centre. My design was based on a Tram Journey through the centre of Bendigo past all my favourite old buildings including the Shamrock Hotel, Soldiers Memorial, the Colonial Mutual Life Building and the Alexandra Fountain.1
To enjoy a tram ride through Bendigo, follow the link and scroll down the page and you will come to the Bendigo Visitor Centre Mural and the video: Tram Journey by Frankie O. Please also take time to watch Frankie in the other videos on her site as she creates the most amazing murals.
For Facebook Followers you can go directly to the tram journey by clicking here.
D our Roving Reporter for Central Victoria also spotted on social media a remarkable image of Bendigo born sculptor Ola Cohn (1892-1964) at work.
Ola studied drawing and sculpture at the Bendigo School of Mines and Swinburne Technical College and became a pioneer of modernist sculpture in Australia - she was the first Australian sculptor to carve large commissioned pieces freehand in stone, and created one of her most famous sculptures, the Fairies' Tree in Fitzroy Gardens, as a gift to Australian children.2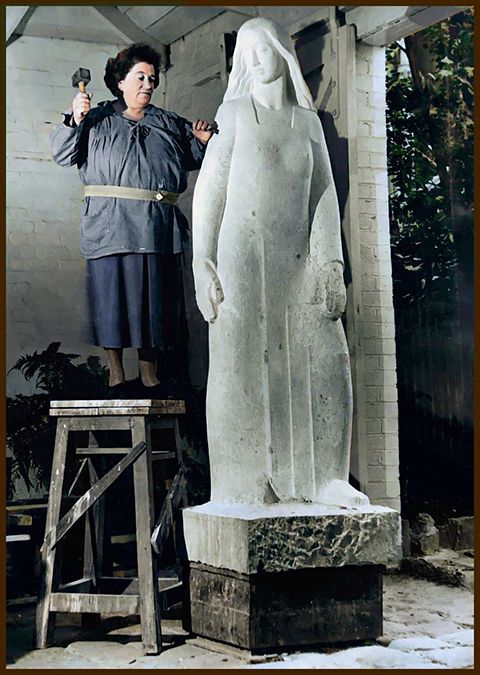 Our next item also comes from Victoria - a little further north than Bendigo in a vibrant country town named Birchip where one of our devoted subscribers lives. M corresponded to Julie's posts on the Heysens with:
Such wonderful artists. I first knew of Hans Heysen at boarding school in Ballarat in the 1960's, then spent a wonderful day at Hahndorf in the Barossa Valley on my honeymoon in 1974 where I had a wonderful time at the gallery. My husband also began his love of Australian landscapes there and bought me a print. We took our four children there in the 1990's and saw Nora's work for the first time. A few months ago I visited Canberra on a bus trip and saw those military paintings "for real". It was like meeting an old friend. Thank you so much for those wonderful posts today and yesterday Julie. Such wonderful memories.
And if you missed Julie's posts on Hans Heysen and his daughter Nora Heysen here are the bookmark links for you to follow.


Rowdy also added his congratulations to Julie for her tremendous post about Nora Heysen daughter of Sir Hans Heysen… It is fascinating learning about the creative children of great artists and their families… the home environment contributes so much to their development….
Nora Heysen's story is very inspirational…. her dedication to her craft… and her achievements in "trying times" of world crisis is absolutely remarkable. I feel Nora's most significant works came from her role as an "Official Wartime Artist" and being based in New Guinea with the commission of sketching / painting the women's war effort for all the relevant services…
Thankyou Julie for a tremendous story…. Rowdy…
Our team member Andrew from the Hunter Valley Region of New South Wales has jumped onboard with our TagCloud Day post where we showcased the past posts on The Impressionists. Andrew says:
The brilliance of Georges Seurat and Paul Signac epitomize not just the sheer beauty of the art of The Impressionists but how The Impressionist movement changed how we look at art and continue to enjoy it in ways that no-one could have ever perceived.
Andrew and I wrote a couple of posts on Alfred Sisley when we were doing our Art Crime series. Perhaps you missed these and would like to catch up now on where have the Sisley paintings disappeared to?


Andrew also sent in two paintings from his collection to highlight an interesting comparison. As Andrew comments:
Two men of the same generation, both sadly no longer with us, both painted similar subject matter but in different styles and colours, both lived most of their lives in the outback, both who became members of the group "Brushmen of the Bush", one the artist Hugh Schulz born 1921 (on the left below) the other Jack Absalom born 1927 (on the right).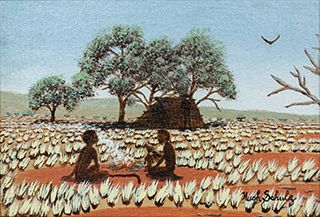 And over in South Australia Steve Cook has been busily channelling the Hermansberg painters from outback Australia following our series of posts on his collection of Hermannsburg Paintings. If you missed this series it starts by clicking here.
Here is Steve's Hermannsburg painting which I think is pretty grand with an enticing composition leading the viewer into the depths of the image and he has certainly captured the great contrast of colour you see in the interior of Australia.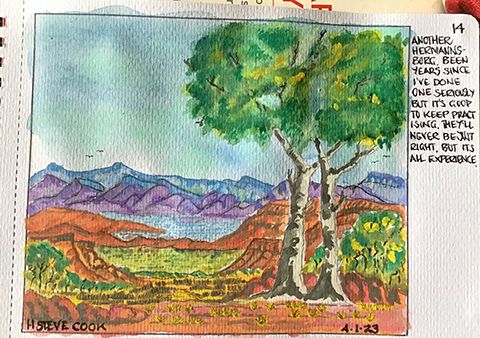 Steve has undertaken a new job for us and that is to help provide the Hero image for our monthly mailbag. He has the perfect credentials for this undertaking as Steve, before his retirment was a Post Office Manager - and so he knows the mailing system inside out and has painted many of the old quaint buildings which we will enjoy over the coming months when the mailbag post is on show.
Today's hero was painted by professional artist Elizabeth (Liz) Gartner titled Sturt Letterboxes. The painting is in Steve's collection.
Willie Takatosi Cox and his remarkable movable paper figures concludes today mailbag. Willie creates these figures with only paper, scissors and glue.
Credits
1. frankieo.com/pages/videos
2. facebook.com/lostbendigo/posts/2479730592194376