Mystery, intrigue and crime surrounds Alfred Sisley and his beautiful Impressionist paintings: Part Two
Recently we presented some of the mysteries and crimes associated with the paintings of French Impressionist Alfred Sisley in Part One. Today we delve a little deeper into the disappearance of a large number of his paintings.
First we need to go to the small village of Moret-sur-Loing about 85 kms south of Paris. This beautiful village was the inspiration for Monet, Renoir and Sisley. In fact, unable to afford the rent in Paris, Alfred and his family moved to live there and he painted many scenes of the local area.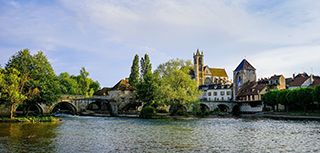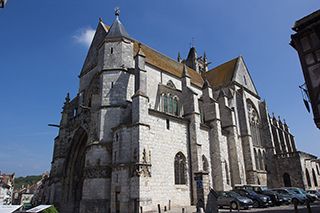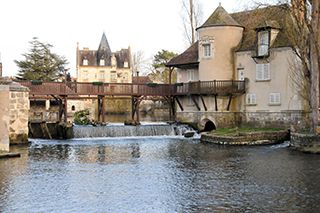 In an article in 1999 Paul Webster believes very strongly that Sisley's ghost demands his due.
Webster argues that the village of picturesque Moret-sur-Loing and his adopted country of France has largely ignored Alfred though there is a statue (which I find a little strange) in the town in his memory.
To commemorate the 100th anniversary of Sisley's death (in January 1899), the town attempted to make up for the years of neglect with a giant reproduction of a study of the bridge ... hung on the Porte de Bourgogne, the entrance to a maze of streets decorated with other huge reproductions in an open-air museum...plus Conferences, a sound and light festival, an Alfred Sisley theatre and an exhibition add up to an impressive tribute to the painter and his French wife, who are both buried in the local cemetery.2
But Webster states: If Sisley's phantom still haunts the riverbank perspective, it might also be contemplating some material injustices.2
On one side of the bridge is a spacious mansion converted by a 19th century miller from a row of cottages. The purchase of each cottage was subsidised by a painting which the impoverished Sisley had swapped for provisions for his wife and two children. During his lifetime, the top price for a Sisley was roughly the equivalent of three months rent for his house at 19 rue Montmartre in Moret where the painter spent his last 10 years. Four months after his death, a painting fetched 43,000 francs (£4,343). Today art dealers talk in millions.2
Christian Recoing, co-ordinator of the Sisley celebrations, whose great, great-grandfather was the astute miller, believes that the town of 4,500 people has only begun to touch the painter's legacy...there is the invisible heritage of an unknown number of hidden masterpieces. "Nearly 900 works by Sisley have been identified, scores of them are studies of Moret," Mr Recoing said, referring to estimates that Sisley might have produced up to 1,500 paintings. "There are many paintings of Moret which have never been traced, but some he used for barter with local shopkeepers are being hoarded here. Their value has risen so much that the owners are afraid to declare them because of unpaid death duties. 2
Christian Recoing was not romanicising stating convincingly:
"When we were searching for exhibits, I saw four which have been owned by local people since Sisley's death, including two oils that will never be exhibited publicly," he said. "They'll stay in bank vaults." 2
So when you are able to travel again and staying in a small family hotel in Moret-sur-Loing don't be surprised in you see a Sisley painting on the wall. But also don't be surprised if you are told it is a reproduction!!! Just to make sure the secret is maintained.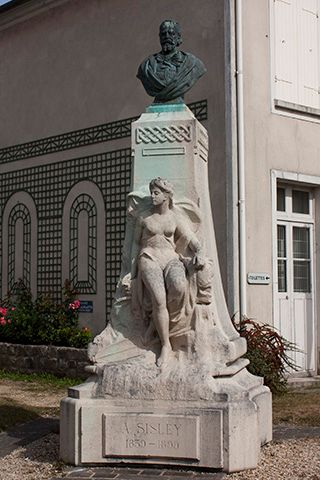 And while we are talking about missing Sisley paintings Andrew reminded me that the Russians confiscated thousands of paintings looted by the Germans during WWll.
Russia did lift its blanket ban on returning thousands of precious works of art looted at the end of the second world war, in an overture by President Vladimir Putin's administration towards the west.2 But I haven't heard that any paintings have been returned. So if travelling in Russia perhaps it would be worth while checking out the barns there as well!!
This painting (below) however isn't missing and isn't hanging in a French barn: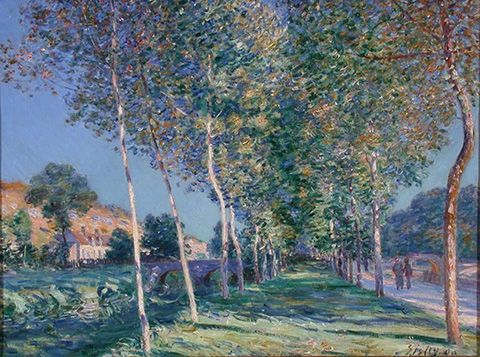 This beautiful painting by Alfred Sisley has been so much admired that it has been stolen three or is it four times.
First it was either stolen or bought on the black market by Herman Brandl during WWll and rediscovered in a private house in Kölblöd, Bavaria, Germany in 1949. With it was also The Small Meadows at By, Stormy Weather.5
The Allée des peupliers de Moret was returned to France and assigned to the Louvre. In 1978 it was stolen when on loan in Marseilles and recovered a few days later in the city's sewers. Then in 1998 it was stolen yet again, this time by the museum's curator with two accomplices. Finally in August 2007, hooded and armed men staged a brazen afternoon heist in the Musée des beaux-arts de Nice and stole two Bruegels, a Monet and Sisley's Allée des peupliers de Moret.5
It's a beautiful painting and I'm sure you will be relieved to know it is now safely housed in the Musée d'Orsay in Paris.
Andrew and I will return with some more art mysteries and crimes very soon.
Credit
1. itravelwithart.com
2. theguardian.com
3. commons.wikimedia.org
4. sartle.com
5. en.wikipedia.org