Mystery, intrigue and crime surrounds Alfred Sisley and his beautiful Impressionist paintings: Part One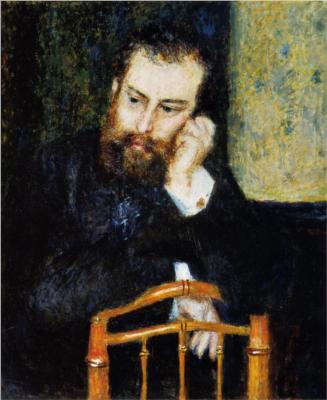 Alfred Sisley (above) might very well ponder the mysteries in his life and the crimes that have been carried out involving his paintings some of which Julie showcased in the post yesterday- Alfred Sisley.
Personally, I have long admired his works and he rates very high on my list of favourite artists. Sadly his life didn't mirror the beauty found in his paintings. Sorry there is so much text and few pictures in this post but we got a little bit carried away with the stories surrounding Sisley!
As Julie told you, Sisley was born in France and lived most of his life in France though his attempts to become a French citizen were rejected. He was also largely ignored as a French Impressionist and died in poverty. It is ironical that decades after his death he would be recognized as one of the great French Impressionist painters.
The first mystery that surrounds Sisley is why wasn't he granted French citizenship? Certainly his background was acceptable as the son of a wealthy silk merchant (Guillane "William" Sisley) who did support his son until his business failed during the Franco-Prussian war. His parents were cousins and descended from a long line of English smugglers and tradesmen.2 Perhaps the French didn't approve of the smuggling trade!!
I've done a little genealogical research and Alfred's father (below) was also born in France (as was Alfred) to an English father and French mother. He was not a "pure Englishman" as usually reported. Some commentary suggests Alfred's background was too English to be accepted by the French but I think the fact that Alfred never gave up his English citizenship 1 might also have concerned the French! We will never know.
When I read of Sisley's obvious love of two countries I am reminded of the Australian John Russell who was also a significant contributor to the French School of Impressionism and like Sisley was not accepted.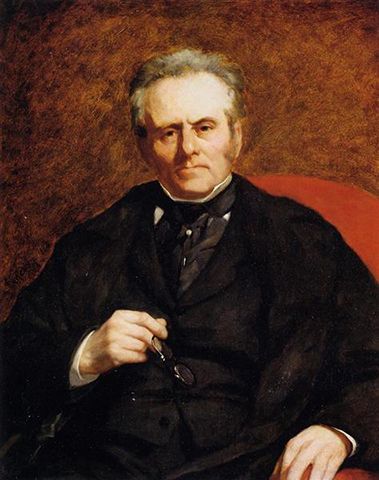 The next mystery associated with Alfred Sisley is - why wasn't Alfred accepted as one of the French Impressionists?
Again, I think this might be partly related to the fact that he never gave up his love of England and his love of the paintings of Constable and Turner. In 1857 when Alfred was 18 his father sent him to London for a career in business, but he abandoned it after four years and returned to Paris in 1861.2 While in London, Sisley is said to have spent much of his time visiting the exhibitions of John Constable and J.M.W. Turner at the National Gallery... Sisley returned to Paris in 1860, where he enrolled at the École des Beaux-Arts. In Paris, he met the artists Frédéric Bazille, Pierre-Auguste Renoir, Claude Monet, and James Whistler while studying in Charles Gleyre's (1806-74) atelier.2
We know Sisley made a second brief voyage to Great Britain in 1881 and in 1897 Sisley and his partner Eugénie "Marie" Lescouezec (1834–1898) visited England again and were married (after being together for 30 years and having two children) in Wales. They stayed for a couple of months where Sisley produced at least 11 oil paintings. When they returned to France, Sisley made his first application for citizenship which was refused. He made a second application which interestingly was supported by a police report but sadly Alfred became ill and died in 1899 before receiving an answer. 3 So for what it is worth - I don't think Alfred Sisley made any serious attempt to seek French citizenship until his wife died - so maybe he wasn't interested in becoming French and the application late in his short life was to do with protecting his children. Once he knew he was dying from throat cancer he did ask Monet to look after his children.
Monet organized an auction of Alfred Sisley's paintings to raise money for Sisley's children. Ironically, in the auction they managed to sell twenty-seven of his paintings, raising 112,320 francs.4
We must remember that many of the Impressionsts were not accepted at first by "the French establishment": Monet, Renoir, Degas, Morisot, Pissarro and several others including Sisley could not wait for recognition and so formed the Anonymous Society of Painters, Sculptors, and Printmakers and held their own exhibition in 1874 at roughly the same time as the annual Salon exhibition.5
The most intriguing mystery surrounding Alfred Sisley and his paintings is that many are missing!
We know that many of Sisley's paintings were stolen as part of the massive organised looting of European countries during the time of the Third Reich by agents who acted on behalf of the ruling Nazi Party of Germany. The looting of Jewish property was a key part of the Holocaust. The plundering was carried out from 1933, beginning with the seizure of the property of German Jews, until the end of World War II, particularly by military units which were known as the Kunstschutz, although most of the plunder was acquired during the war. In addition to gold, silver and currency, cultural items of great significance were stolen, including paintings, ceramics, books and religious treasures. 3
We are going to deal with the Nazi looting of art in another post. Some of Sisley's works have been located as in Soleil de printemps, le Loing (below left) which was restored to the family of Louis Hirsch in a ceremony in Paris on 18 June 2004.3
And in 2008 a dispute erupted between Alain Dreyfus, an art dealer in Switzerland, and the auction house Christie's over a Sisley painting Premier jour de printemps à Moret (below right), that was claimed by the Lindon family in court in Paris. Dreyfus said that Christie's had not sufficiently examined the work's history, or provenance, before putting it up for sale.3
Other paintings have been found and returned to the families of the original owners however the German Lost Art Foundation still has 24 listings for Sisley paintings that are yet to be located.3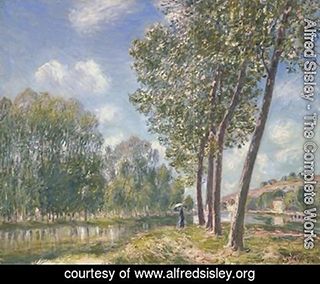 But an even more mysterious story surrounds Sisley's paintings. It is believed that Alfred Sisley produced about 900 oil paintings in his lifetime. Yes, some were looted during WW11 but many more are still missing. We will reveal the story in the next post on Art Crimes and Mysteries coming up soon. Plus some brazen thefts of paintings in broad daylight.
Late Mail
A very warm welcome from the AnArt4Life blog team to R.B. in Maine, USA who has come aboard as our latest subscriber.
And huge congratulations and best wishes to all Melburnians as we come out of lockdown and learn to live outside our homes once more: we are so excited about being able to get back to visiting galleries, museums, and especially getting together to socialise with our friends and families. But don't worry that in our socialising will we forget about our wonderful subscribers who have followed us loyally for so many years. A special shoutout to those of you who have been with us, daily since the birth of the AnArt4Life blog back in 2017.
The blog posts will continue to roll out daily to you and coming up soon - a very special and personal art story from M.B. in Tanzania.
Credits
1. wikiart.org
2. theartstory.org
3. en.wikipedia.org
4. itravelwithart.com
5. khanacademy.org
6. alfredsisley.org
7. smh.com.au