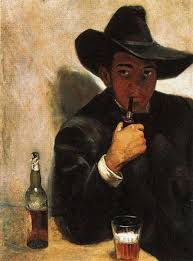 Diego Rivera (1886-1957) was one of the Mexican muralists known as Los tres grandes who together established the Mexican Muralism Movement. His full name was Diego María de la Concepción Juan Nepomuceno Estanislao de la Rivera y Barrientos Acosta y Rodríguez. Don't you just love these incredible Hispanic names which apparently tell a story of the person's heritage.
Can you guess who this is? Pablo Diego José Francisco de Paula Juan Nepomuceno María de los Remedios Cipriano de la Santísima Trinidad Ruiz y Picasso.
I am getting distracted and we must return to Diego and look at some of his works.
Though it is a good time to let you know that Diego and Pablo Picasso were friends and of course rivals! They both worked in Paris in the early C20th, both were outsiders and both were experimenting with Cubism.
Today we are going to learn about Rivera's road to painting success and look at his non mural works then in the next post we will look at his murals. He was without doubt a wonderful artist and I think you will enjoy this journey down his path. It is also easier to see his artistic skills in the paintings because the images of the murals don't show the same amount of detail.
Diego Rivera's artistic talent was obvious from a very young age and by ten he had been enrolled at the Academy of San Carlos in Mexico City. I found this sketch Diego did when he was 12 years old and you can see his talent oozing forth!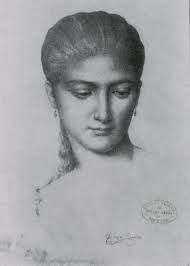 The painting titled El Albanil (below) hung behind the office door of Texan Rue Ferguson...The unassuming piece, bought by Ferguson's great grandparents in 1920, is actually a masterpiece by Mexican muralist Diego Rivera, as Antiques Road Show revealed last week. The painting, made when Rivera was only 18 years old, is worth between $800,000 and $1 million, but it lived in obscurity in Ferguson's home office for years.3
According to the Corpus Christi Caller, Ferguson's great-grandparents originally purchased the work in Mexico and passed it on to his parents, who thought it was a fake. They then kept the work in storage, unaware of its true value. While any Rivera work would be worth a hefty sum, this painting holds particular importance because it shows a young artist of note still developing his craft. Ferguson realized the weightiness of the piece and decided the work likely "needs to be in a museum where everybody can look at it," as he explained during his PBS appearance.3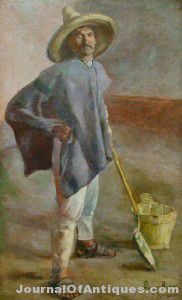 Like most young artists of the time, Rivera travelled to Europe to learn from the works created by the great masters. He was particularly attracted to the styles of Paul Cezanne, Van Gogh, Gauguin, El Greco, Breughel, Hogarth and Goya - a sign of the versatility and innate talent of this equally remakable painter. Below is one of his early European works.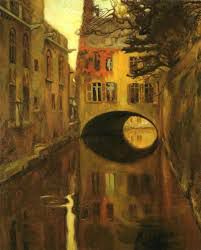 Finally by 1913 Rivera devoted himself entirely to cubism following in the style of Picasso, Dali and Klee. Examples are shown below.

But by 1917 Rivera's style had once more begun to change largely influenced by the Russian Revolution and the general return to Realism amongst the European artists.4
By the time Rivera's style matures his greatest emphasis is on the working class people of Mexico. And yes, I love these paintings because although not created in a naive style, they contain the same close observance of daily life and direct message.
I have deliberately made these images large so that you can closely study Diego's style and the details of his painting technique. As you will note by the dates some of these paintings were done quite early indivating his final view of the world was a seed germinating from the beginning.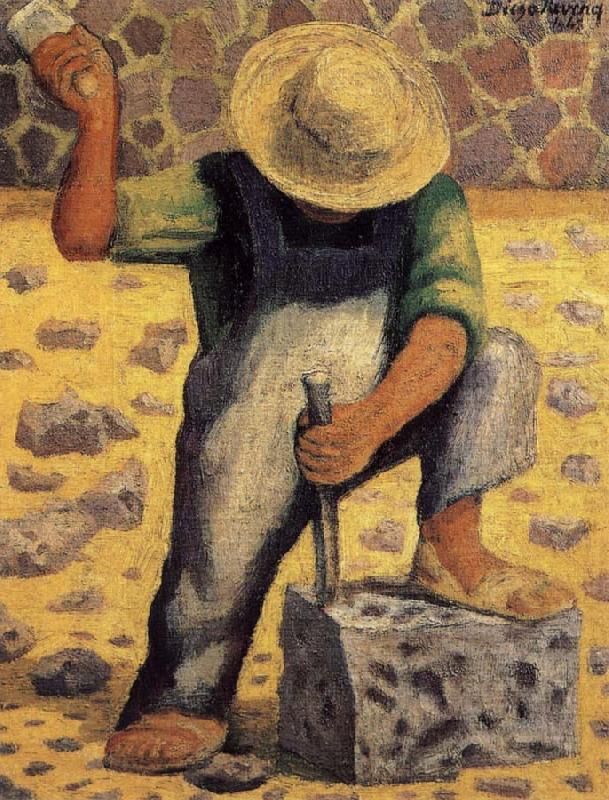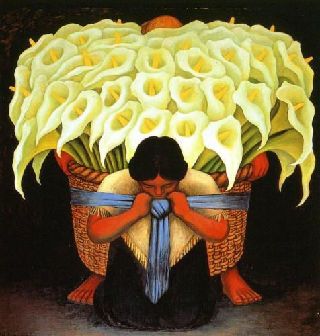 Tomorrow I'll be back to showcase for you Diego Rivera, Muralist.
Credits:
wikiart.org
pinterest.com
https://www.huffingtonpost.com/2013/01/14/diego-rivera-found-office-door-antiques-road-shown2471089.html
diegorivera.org
artprep.weebly.com