Watching the Cabbages Grow
One of my earliest and best genre paintings which sadly was done before I had learnt how to take photos of my paintings. The building in the background I found on my many walks around country towns, this time Castlemaine in Central Victoria.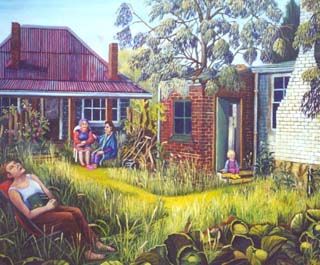 Watching the Cabbages Grow - Anne Newman
Original: Oil on Canvas, w90cm x h60cm, framed
This painting won a Highly Commended Award.
Painting Status: Sold