Unlocking Margaret's House Still Life Challenges with Margaret Olley No 5: Pattern
We continue to enjoy unlocking Margaret Olley's house with the still life challenges produced by the Tweed Regional Gallery and Margaret Olley Art Centre. Today the feature painting is Still Life painted by Margaret in 1986.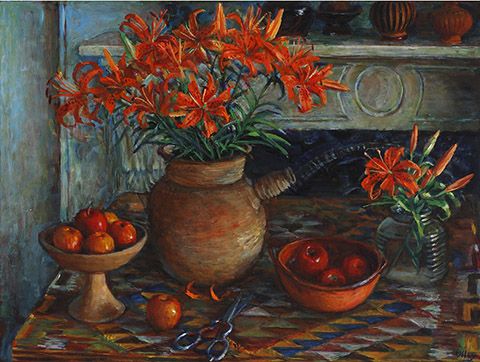 The textiles in Margaret Olley's home studio played an important role as subject matter for painting – bringing rich pattern and colour to her compositions. Cushions and fabrics on lounges; kilims on the floor; cloths draped over table tops become areas of directional line, contrast and colour. Sometimes rendered with sharp attention to detail and at other times with loose energetic daubs and dashes of paint.2
In Still life 1986 Olley covers the table top with a kilim featuring a geometric pattern of triangles. The flattened pattern silhouettes the lower half of the still life arrangement while in the top half the tiger lilies – reflected in the colour of the kilim and the fruit – explode with striking colour and strong angular form.2
Olley set the arrangement up in the front room of her Duxford Street home studio. This beautiful arrangement is an evocative celebration of the domestic, to which she adds subtle signs of time and life in the fallen flower petals and the scissors.2
For those of you interested in reading and learning more, here is the link to the Activity Sheet to give you some more enjoyment and insights into this wonderful artist - and to learn more about the significance of pattern.
And to return to the previous Margaret Olley Still Life challenge Click here.
Credit
1. ipswichartgallery.qld.gov.au/margaret-olley
2. gallery.tweed.nsw.gov.au
Image Credits for the video
Margaret Olley (1923–2011), Interior, Duxford Street c.1978, oil on board 75 x 60cm. Private collection, courtesy Philip Bacon Galleries © Margaret Olley Art Trust
Margaret Olley (1923–2011), Yellow room c.1989, oil on board 59.8 x 74.7cm. Tweed Regional Gallery collection. Gift of the Tweed Regional Gallery Foundation Ltd., 2016 © Margaret Olley Art Trust
Margaret Olley (1923–2011), Gloriosa 2001, oil on board 76 x 76 cm. Private collection, courtesy Philip Bacon Galleries © Margaret Olley Art Trust
Margaret Olley (1923–2011), Poppies and peeled orange 2011, oil on board 61 x 76 cm. Private collection, courtesy Philip Bacon Galleries © Margaret Olley Art Trust
Margaret Olley (1923–2011), Clivias and kelim 2004, oil on board 69 x 91cm. Private collection, courtesy Philip Bacon Galleries © Margaret Olley Art Trust
Margaret Olley (1923–2011), Still life 1986, oil on board 61.0 x 91.5 cm. Ipswich Art Gallery collection. Acquired with funds donated by the CS Energy through the Ipswich Arts Foundation, 1999 © Margaret Olley Art Trust
Adam Pyett (b.1973), Dried pomegranate with papers 2020, oil on linen 64 x 56.5 cm. Tweed Regional Gallery collection. Gift of the Friends of Tweed Regional Gallery and Margaret Olley Art Centre Inc., 2020 © The artist