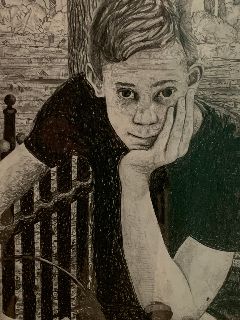 The Young Archie competition invites budding artists between the ages of 5 and 18 to submit a portrait and runs concurrently with the Archibald Prize which my cousin Colin Morris attended recently and very generously photographed the work of some of the finalists.
There are four age categories: 5-8 year olds, 9-12 year olds, 13-15 year olds and 16-18 year olds.
The competition has been operating since 2013 and this year (2019) there were over 2100 entries: 33% in the 5-8 year category, 44% in 9-12 year, 17% in 13-15 year and 6% in 16-18 year. Of the total, 74% were from girls. (artgallery.nsw.gov.au)
So let's have a look at this prodigious talent.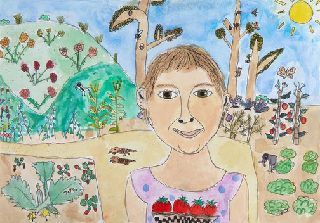 I chose to draw Grandma because I love her. Grandma has a beautiful
garden with vegetables, flowers, trees, lizards, possums, birds and
insects. Grandma loves taking care of her garden and waters her plants
every day. I like to help her water them. I love Grandma's backyard
because there is lots of space to run around, play and go for walks.
Sometimes we walk up to see the neighbour's chickens and we feed them
grass. Maya Butler de Castro (artgallery.nsw.gov.au)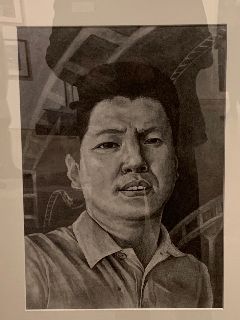 I drew my awesome dad, who would do anything for me. When I
was younger I really wanted to go on a fairground ride. However,
no one wanted to come on with me. I begged and begged my dad and
he finally agreed to come on with me. This image shows the moment
right before we were going on the ride. I captured this moment
because I think that my dad was trying to show his strong and
courageous side and was not wanting to show his nervous and fearful
side to me. Jack Lee (artgallery.nsw.gov.au)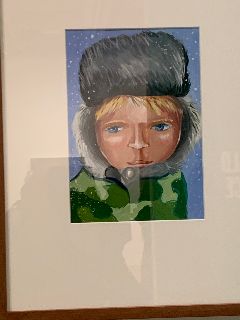 This is my younger brother Timofey. We visited our grandparents
in Europe and the weather there was very cold and there was even
some snow. My brother got frost on his eyelashes. He was very cute!
Nikalai Sakalouski (artgallery.nsw.gov.au)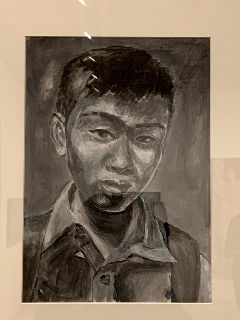 I chose to paint my friend Matt Tran because he is a nice
and caring friend who has helped me academically and mentally.
Matt Tran (artgallery.nsw.gov.au)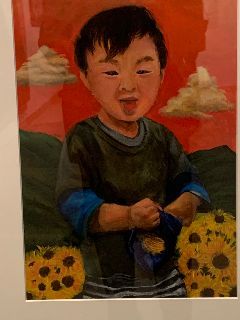 The person I chose to paint is my brother Nathan. I chose him
for this portrait because he has made my family happier and his
smile has supported me during hard times. In my portrait, I drew
him doing his two favourite things, which are eating and going to
the park. My brother is the most important person in my life and
I love him very much. Daniel Lee (artgallery.nsw.gov.au)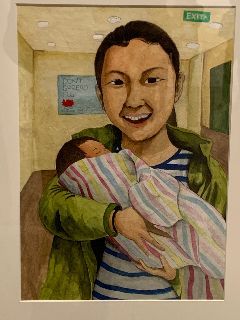 The reason I painted this picture is because my cousin Cindy
looks most happy when she's holding a baby. Cindy loves babies
and she wants to have six babies when she grows up. This picture
makes me smile. Erika (Min-Hsuan) Tsai (artgallery.nsw.gov.au)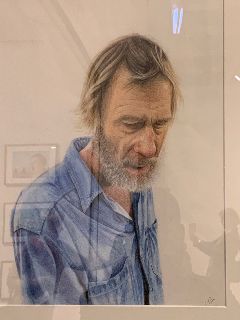 Johnny is a shy, unassuming yet colourful character, well
known in our community as a passionate environmentalist and
advocate for getting kids into the garden. He is generous
with his time, sharing his knowledge on how to live more
consciously. He has spent many hours in our garden teaching
my sister and me, along with all the neighbourhood kids, about
native and edible plants and how to nurture our land. Lily Norman
(artgallery.nsw.gov.au)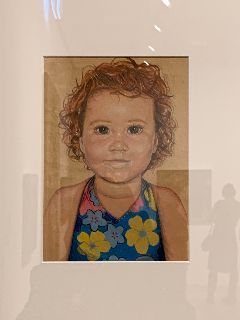 I chose to depict my younger sister Rosie at age three. Her
sassy toddler personality was fun to capture in this portrait.
She is now 14, and still has the fiery red hair and attitude
to match. Nevertheless, she is adored by everyone around her,
most of all me. Evie McEachern (artgallery.nsw.gov.au)
The painting by Rika Jammer at the start of the blog has as its descriptioin:
This is my brother. This moment was a special one, his eyes tell you the story. I think a person's eyes can hide and still reveal so much. His eyes here showed the fun, playful times we had as children, but also the bitter, sullen moments we somehow haven't regretted. We think differently, but we are still one, we stick together, and one day this showed. We were riding through a forest and stopped to take a rest. He looked up and there it was – the moment. With a swift kick of the pedals, we were back on the move. (artgallery.nsw.gov.au)
I hope you hve enjoyed the exhibition of Australian Artistic Talent that I have shown you this week through the Archibald, Sulman, Wynne and Young Archies.
And a special thank you to my cousin Colin Morris who photographed the works during his special viewing of the finalists.