Alice Xu: Winner of the 2021 Troy Quinliven Exhibition Award
The Troy Quinliven Exhibition Award was initiated in 2017 by Troy's parents Matt and Sue Quinliven. Sydney artist Kevin McKay administers the award and each year chooses the recipient from the students graduating from the National Art School, Sydney. As Kevin emphasises in his explanation, finding some feature that relates to the art work created by Troy Quinliven is a significant consideration in selecting the winner of this award.1
The 2021 winner of the Troy Quinliven Exhibition Award is Alice Xu and today we are thrilled to showcase some of her paintings.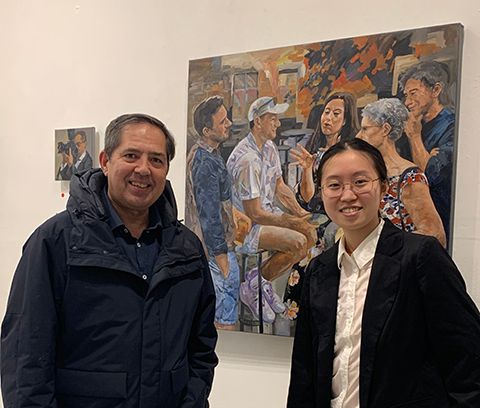 Alice Xu is an emerging artist working in the drawing and painting medium. She often focuses on themes of life and figurative works. Xu likes to treat her paintings and drawings almost like a photo diary, keeping scenes of the everyday and documenting the mundane, instances of people captured like a moment in time and scenes she finds interesting. Alice hopes to bring attention to these simple, unfluctuating life moments through her artworks, with a big focus on the social life and the interaction where everyone is concentrated and immersed in their current affairs.2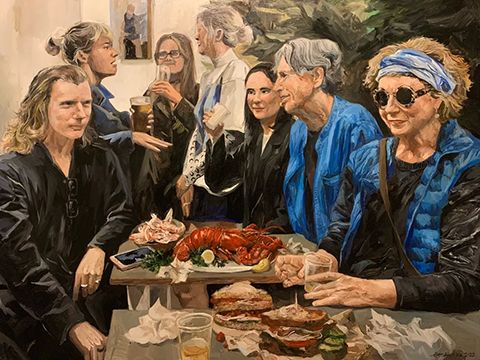 It is rare that we are given an insight into the thinking behind the awarding of a prize in the art field. Kevin McKay is always generous in sharing his paintings and thoughts with the AnArt4Life blog and today he explains why he chose Alice to receive the Troy Quinliven Exhibition Award.
I selected Alice for this award as her work stood out for its drawing expertise and mastery of the oil painting medium, while her interest in capturing unguarded moments of the human subject overlapped with Troy's interests as a portrait painter. Her work records activities from her life and conveys the energy of youth. The title for her exhibition "The Experience" relates ostensibly to the transient moments she documents, but it may also describe the painting process behind each picture as well as the accumulative effect of passion applied with persistence over time. Alice's work already demonstrates considerable experience, remarkable for someone so young.1
Importantly, as Kevin emphasises in his explanation, the winner of the award must exhibit in their work some feature which in some way relates to the art work created by Troy Quinliven.
If you missed our previous posts on Troy Quinliven please click here and here.
The unguarded moments as captured by both Troy and Alice (and referred to above by Kevin) can been seen in these two examples - Troy's portraits of his pub mates on the left juxtaposed with Alice's Enlightening - both paintings capturing so expertly and naturally the expressions on the faces of their subjects.
Please take a moment to examine and think about the countenance of each subject - so skillfully painted by both artists.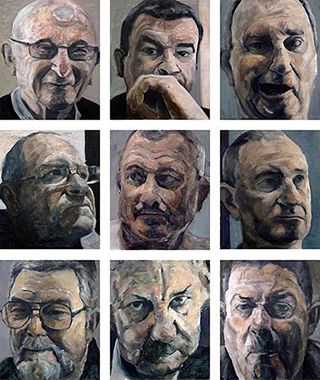 We turn to Kevin McKay's interview with Alice to gain a greater understanding of her background and artistic vision.
Kevin: What inspired you to paint?
A: I've always liked to draw life scenes and illustrations digitally, but wanted to create that into physical works. I began to use oils a few years ago and stuck with it ever since, though I still occasionally do digital illustration...1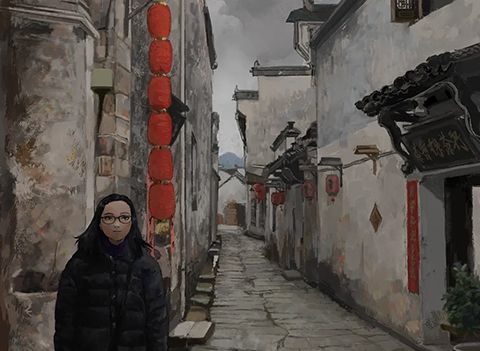 ...Painting life scenes at a life size feels more real to me, like I've really recreated the moment. Oil colour looks really rich and there is something great about slowly building the layers of the paint, the process of it is also enjoyable. That's why I like to work big and in detail, rather than small or simple. I really enjoy being immersed in a piece for a long time. If it takes less than a day to finish I feel unsatisfied. The enjoyment of the process is over too fast, I want it to take longer. Now I just continue one after the next in this same rhythm.1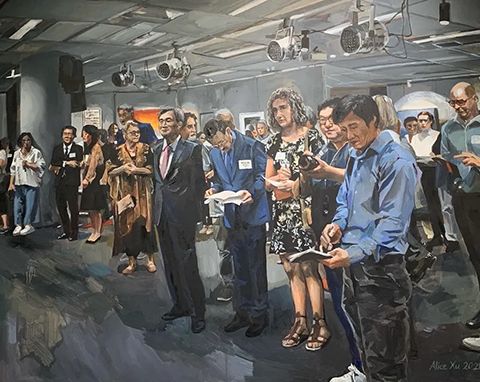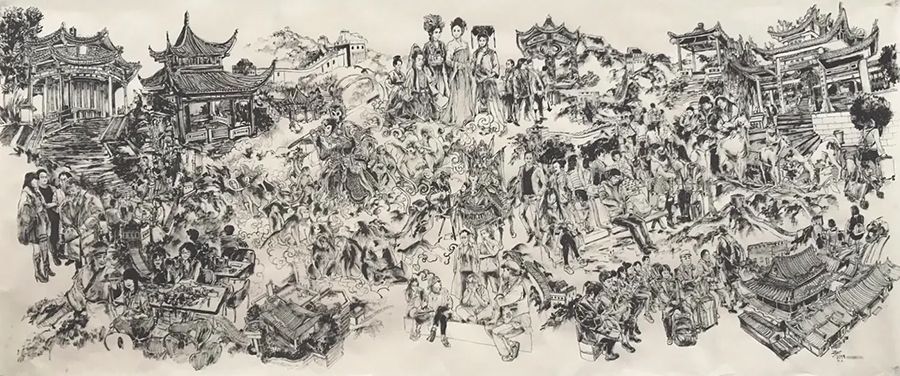 Kevin: Who are your influences?
A: Liu Xiao Dong is the main source of inspiration for my figurative oil painting work. The way he composes the image, uses colour and the life themes of his work is very inspirational for me. Kim Jung Gi is also similar in that way, while working in ink on large pieces drawn from his imagination. I hope to one day rely on my imagination more than my photos.1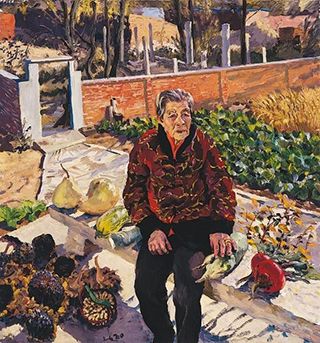 Kevin: Where did you study?
A: I recently completed a Bachelor of Fine Art at National Art School this year, I think NAS is a plethora of inspiration. A lot of my styles and ideas came from fellow students and teachers' advice. The environment also helps with productivity when you see everyone else working really hard as well.1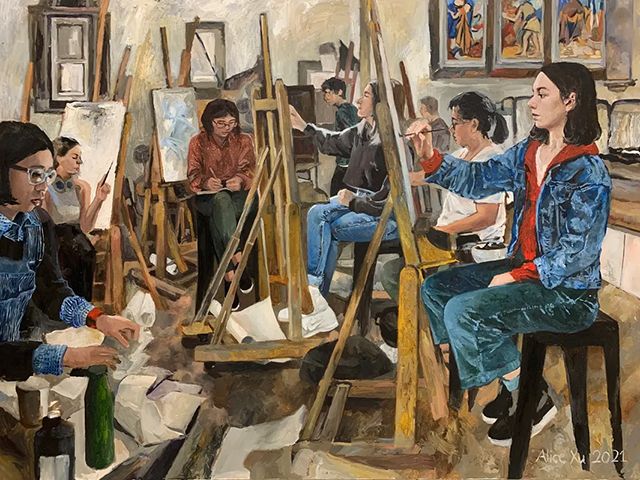 Kevin: What motivates you?
A: There is a big pile of compositions and photos in line to be painted, I take a good photo to be painted later at least every other day. I won't be running out of content for a while, and hope I can even somewhat catch up with my speed of finding new images. Getting through that list and the satisfaction of finishing a piece is great motivation.1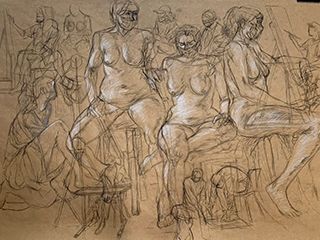 Kevin: Where do you see yourself in the future?
A: Hopefully being able to support myself as a full-time artist, or becoming an art teacher.1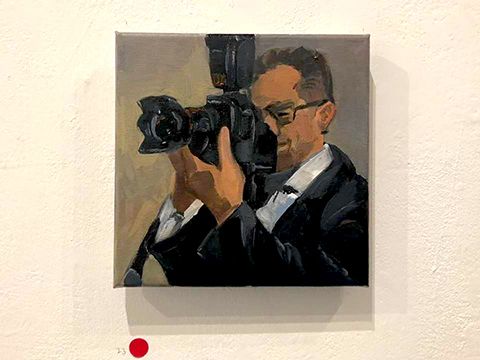 Kevin chose this small tightly cropped painting of a photographer from Alice's exhibition because as he states:
I liked the meta aspect in painting this act of picture making, as Alice works with photographic reference even as she seeks to transcend it. It also raises the differences between the moment that a camera catches and the extended experience required of drawing and painting. This devotion to time is apparent in Alice's larger canvases and drawings loaded with incident and attention to detail.1
An example of the style Kevin is referring to is found in Alice's Reminiscence, 2022, Chinese ink on paper, 100 x 200 cm which records a myriad of life experiences.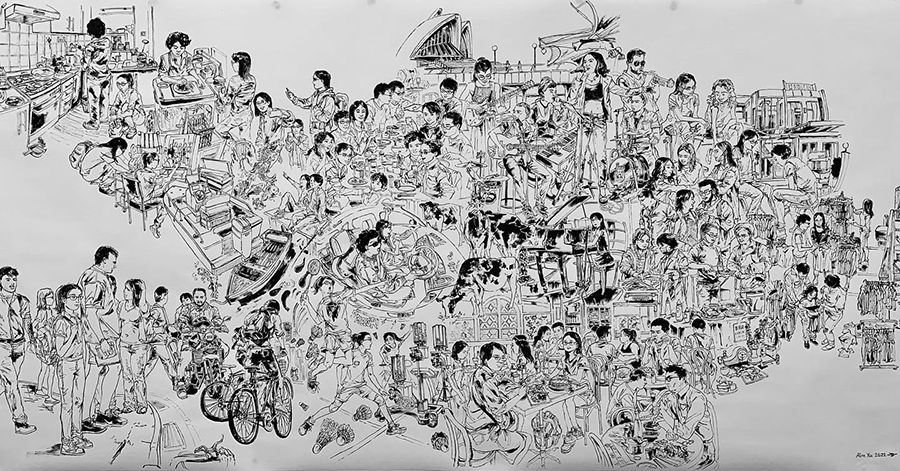 Alice Xu was also chosen to receive the 2022 Artist in Residence at St Andrews College, University of Sydney, NSW where she will be staying until February 2023 to create a body of work. She is the youngest recipient to receive this award.2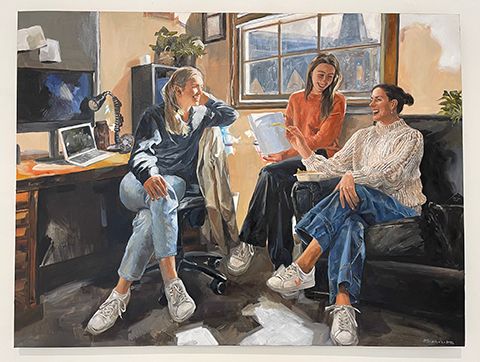 To view more paintings by Alice Xu please click here and Instragram users can follow Alice by clicking here.
We wish Alice well in her chosen career and look forward to seeing more of her art works as she makes her way along the life path of her choosing.
❁A very special thank you to Kevin McKay who provided much of the background information to this post so that our subscribers and followers could gain a greater appreciation of the works being created by Alice Xu.
© And thank you to Alice Xu who kindly gave permission for the images of her work to be shared on AnArt4Life.
Credits
1. Correspondence from Kevin McKay
2. alicexuart.com