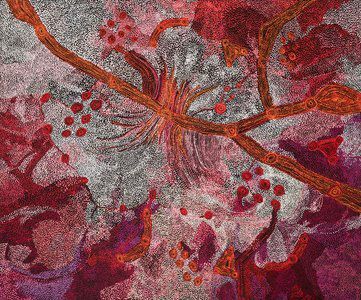 Sylvia Ken is from the Amata community in the Anangu Pitjantjatjara
Yankunytjatjara (APY) lands in South Australia. Her family are
traditional owners for significant sites where the Seven Sisters
story takes place. This painting refers to this story, the landscape
that the story takes place in, as well as the characters in the story.
'I listen to the old people's stories and I think about these stories 
and then the ideas come for my paintings… I listen when they are 
talking about tjukurpa and telling creation stories, and when they 
say to me, "No, you should paint this way, the Seven Sisters".'

Sylvia Ken, 2019 (artgallery.nsw.gov.au)

The Wynne Prize is awarded annually for the best landscape painting of Australian scenery in oils or watercolours or for the best example of figure sculpture by Australian artists completed during the 12 months preceding the closing date. (Wikipedia)
It was established in 1897 from the bequest of Richard Wynne and is one of Australia's longest-running art prizes.
Let's have a look at some of the finalists starting with two other winners.
Winner: Trustees' Watercolour Prize 2019 Perfect Uncertainty by Robyn Sweaney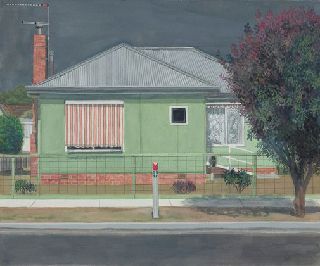 Residencies, travelling to new places and revisiting past
landscapes have become an extremely important element of my work.
My painting Perfect uncertainty has multiple meanings. It is about
light and shade, literally and metaphorically, and colour and
balance. Distinctly Australian, this simple home sits facing the
street of a small rural town in Victoria. Its facade is open to
passing traffic and scrutiny, yet its appearance is softened by
the paint colour choices and a tree planted on the verge. One can
only imagine what histories have occurred within this small and humble
house facing the street.
Robyn Sweaney, 2019 (artgallery.nsw.gov.au)
Winner: Roberts Family Prize 2019 Pink Lightning by Nongirrna Marawili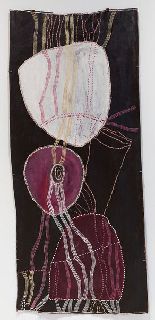 Yolŋu philosophy suggests, 'If you paint the land you should
use the land'. Industrial materials dumped on the land may now
be re-used in depicting the land. This work includes magenta toner
from smashed, discarded printer cartridges. This place is Baraltja,
north of Cape Shield in the Gulf of Carpentaria. These are cyclonic,
crocodile-infested waters with huge tides and ripping currents.
Rocks are set in deep water between the electric 'curse' that the
lighting snake spits into the sky and the sea spray from the ocean
waves trying to shift the rocks' immovable foundation.
Noŋgirrŋa Marawili, 2019 (artgallery.nsw.gov.au)

Magnolia Trees by Jun Chen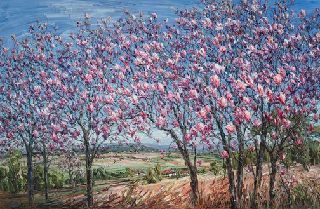 Toowoomba is not far from Brisbane, where I live. It is situated
at the top of a mountain that is about 800 metres high. In September,
it is covered in spring flowers. I love to be there in spring and
paint the views. This is one of my Toowoomba spring paintings. Pink
magnolia trees cover almost the whole canvas, while the blue sky
makes a strong colour contrast. Painting the field and remote mountain
with big marks, combined with the magnolia trees, makes the whole
painting active and powerful. It also shows how prosperous, joyous
and hopeful spring is.
Jun Chen, 2019  (artgallery.nsw.gov.au)

Reflection by Natasha Bieniek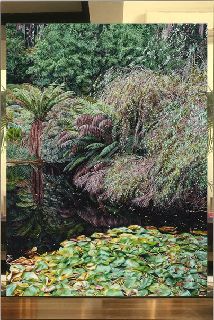 My artwork, Reflection, pairs intricate oil painting with a large
gold-mirrored surface. Its sleek physical appearance embodies my
interest in present-day image trends. As a culture, we are obsessed
with recording and documenting our surroundings. Our phones have
become an extension of ourselves and, as a result, we often
experience our environment through screens. If we don't truly
absorb our surroundings, I wonder how this will impact on real
experience. My painting explores my ongoing interest in the
relationship between people and nature within an urban context.
Natasha Bieniek, 2019 (artgallery.nsw.gov.au)

Highly commended in the Wynne Prize 2019

Please follow this link the see all the Wynne Finalists 2019
Many of Australia's most famous artists have won the prize, including William Dobell, Hans Heysen, Lloyd Rees, Fred Williams, William Robinson, Eric Smith and Sali Herman.
Please follow this link to view Past Winners of the Wynne Prize.
As a cheeky young hobby artist many years ago I actually submitted one of my landscapes to the Wynne competition. I'm happy to share my painting with you. It was titled The Valley and yes there are cows that look like this. They are not imaginative. Country folk will know them as Belted Galloways.
There is a fourth art prize that occurs with the Archibald and that is the Young Archies. We will look at the incredible talent possessed by some of our young artists tomorrow.