Sir John Sulman Prize 2019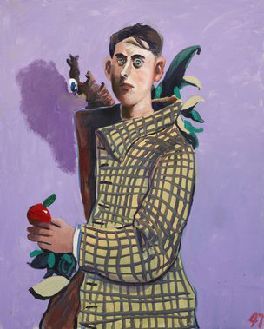 Art is very much about combining significant elements in a creative way that might be appealing to the general public or might not. But art that wins prizes creates different thought waves in our minds that lead us to perceive the world a little differently than before. The Sulman art prize always has this effect on me. The paintings expand the way I see life.
The artist's description that accompanies the winner (as shown above) states:
This is a painting about romantic engagement. My protagonist holds an apple/phone and is surrounded by new-growth leaves. There is a tree stump, stripped bare; febrile and baleful with one eye open. My hero's coat is of the 'look at me' variety, a map of roads, the pattern a bitumen colour and rather uneven. (artgallery.nsw.com.au
The Sir John Sulman Prize The prize was first awarded in 1936 and is now held concurrently with the Archibald Prize. It is valued at $20,000 AUD. As I mentioned in the blog on the Archibald my cousin Colin Morris very generously agreed to take photos of the finalists for the Archibald, Sulman and Wynne Prizes when he was a guest at a private viewing of the finalists. Today I will show you some more of the images he took, this time of the finalists for the Sulman Prize.
We will start by looking at Hewitts Avenue montage by Nick Santoro. I have included the artist's description with each painting so that you can gain a better understanding of the thoughts behind the image being created.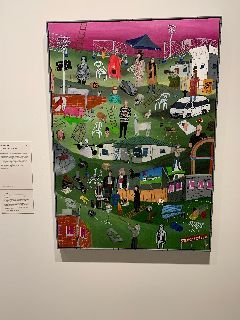 Nick Santoro describes his painting (above) in this way:
During the creation of this painting, I was between houses and studios. Life felt precarious, disorganised and scattered. I kept misplacing my belongings, losing pairs of glasses, clothes, books and other possessions. One of the places I was leaving was a studio in a run-down fibro house on Hewitts Avenue, Thirroul. I'd only moved there a month before but felt attached to the place and to a sense of potential or vision of the future that I felt whilst working there. So, this is an ode to those memories and imaginings glimpsed on Hewitts Avenue, and a meditation on feelings associated with transience when travelling or relocating. (artgallery.nsw.gov.au)
The paintings entered for the Sulman prize have to be a subject painting, genre painting or mural project. A genre painting is normally a composition representing some aspect or aspects of everyday life, and may feature figurative, still-life, interior or figure-in-landscape themes. A subject painting, in contrast, is idealised or dramatised. Typically, a subject painting takes its theme from history, poetry, mythology or religion. In both cases, however, the style may be figurative, representative, abstract or semi-abstract.(artgallery.nsw.gov). A mural project is an art work fixed to a wall.
Next we will look at Everything ever all at once by Abdul Abdullah.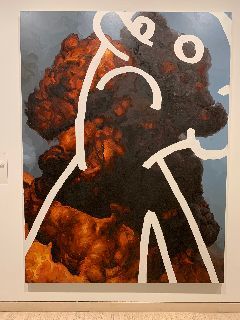 Abdul Abdullah explains: I treat the symbols in my paintings like words in a sentence. When arranged, these sentences may not be obviously decipherable, with deliberate spaces left for interpretation. Here, I have overlaid an image of an explosion with a figure inspired by political satire of the 1930s and 1940s. While not appropriating anything specific, it is designed to be familiar. The deliberate use of irreverent, playful imagery over the serious speaks to the ways we engage with and feel our way through information, whether tragic or just seemingly insurmountable, that we sense is beyond us – as if we're feeling everything ever all at once (artgallery.nsw.gov.au)
And this delightful image is Jump by Clara Adolphs.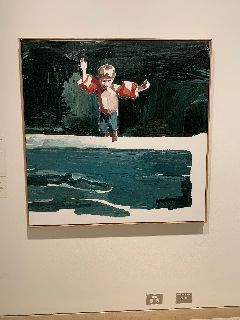 Jump is a work from the recent exhibition Remembering words at Goulburn Regional Art Gallery. It is an example of my continued interest in abandoned photography and the idea of what remains after a moment in time passes.
I created this work while on a residency at the Cité Internationale des Arts, Paris. I was working through material quickly, creating a new painting daily. Only a few made the final cut. Clara Adolphs, 2019 (artgallery.nsw.gov.au)
Below is Four thirty pm by John Bokor.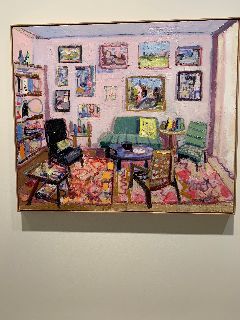 Four thirty pm is from a group of works I started making in 2017 depicting interior spaces. They are hybrid paintings of real and imagined scenes made using an airbrush and traditional painting tools. This painting took a very long time to resolve. I thought at one point in 2018 that it was finished and had it framed, only to realise early this year that it needed more work. I treated it as badly as it had me and sanded the surface down and reworked the whole painting, destroying most of what was underneath. When it was finally finished the light in the studio resembled the light in the painting. I checked my clock and it was 4.30pm. John Bokor, 2019 (artgallery.nsw.gov.au)
I am sure this painting will bring back many memories to us oldies who not only remember what a typewriter is actually know how to use one! This is Singer typewriter in Don's shed, Perth by Tom Carment.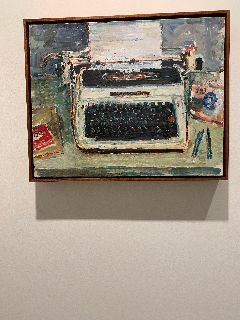 Tom Carment says: I believe that every typewriter has its own distinct provenance, its fingerprint, the crooked key that leads detectives to the blackmailer. Over the past two years I've painted about 12 different typewriters. I bought this beautiful white Singer in January, at a furniture shop in Guildford, Perth. I took it back to my partner's family home, and sat it, alongside a favourite tea mug and some pens, just inside the entrance of her late father's backyard shed. After three painting sessions, with the afternoon sea breeze banging at the shed door, the Singer's 'portrait' was finished. (artgallery.nsw.gov.au)
Now this one, titled Window/drift by Mason Kimber is a little different and very interesting.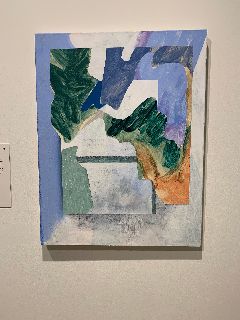 Mason Kimber explains: I've long been fascinated by the thresholds of architecture, where the surface or opening of a building acts as a mediator between interior and exterior worlds. Originally trained in painting, I recently spent time experimenting with wall-based sculpture and reliefs to capture the tactility of the places I experienced, and this has affected the way I've returned to the medium of paint. In this work, fragments of architectural impressions and painterly gestures are caught in suspended animation, signalling a break in the surface of the picture. In other words, a soft spot in a hard wall. (artgallery.gov.au)
Definitely my favourite is Judo house part 8 (a perfect light) by Nigel Milsom.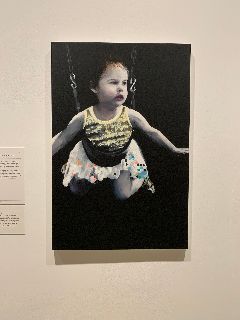 All the work in my Judo house part 8 (a perfect light) series stems from everyday experiences that seem to cut through the ordinary. The inspiration for this painting occurred after having a coffee with friends Ercan and Angie Ersan, and their daughters, London Daisy and Elvie.
We walked to a park where London Daisy headed straight for the swings. She was too small to jump up into the seat, so she wrapped it around her chest like a parachute harness and flew through the air with pure joy. She reminded me of a bee buzzing about a flower. There was something about the light too; it looked like she was being illuminated by a spotlight. Nigel Milsom, 2019 (artgallery.nsw.gov.au)
And last for today's viewing is Apartment by Noel McKenna.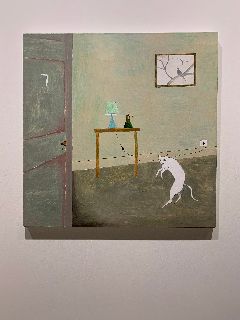 Noel McKenna descibes his painting: Apartment is part of my ongoing commitment to 'the interior' as a subject for painting. The interior in this case is a small section of an imagined apartment with a small table with a lamp, one of my handmade pots, and a cat on its back legs – which they do not often do but are capable of. The interior for me also involves the psychological state of people's minds, and in this work possibly the state of mind of the pet cat. (artgallery.nsw.gov.au)
Please note that I have deliberately shown you the photos of the paintings in the original state that Colin was able to photograph them within the environment of the exhibition. I wanted to create the sense of being there with him, experiencing the images first hand.
Please follow this link to view the other Sulman Finalists.
Tomorrow we will learn a little about the Wynne Prize and see some of the finalist. This is the third competition that runs concurrently with the Archibald Prize.