Before I introduce you to Louis Wain and his illustrations of cats, if you're looking for the answers to the quiz from the other day please scroll to the bottom of this post.
Today I want to introduce you to another artist (famous in his time) who not only loved cats but made his living by drawing and painting them. His name was Louis Wain.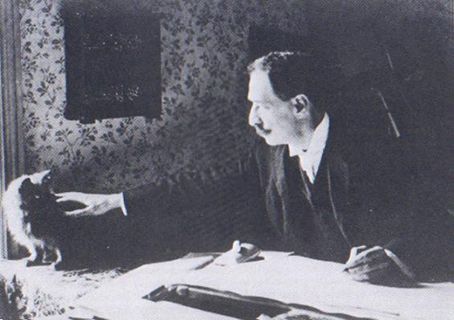 Louis Wain (1860-1939) was an English artist best known for his drawings which consistently featured anthropomorphised (humanised) large-eyed cats and kittens.

At the height of his career, Louis Wain was one of the most popular commercial illustrators in the history of England. Born in 1860, his anthropomorphic portrayals of cats captured the imagination of the Edwardian era and his work helped to elevate the profile and popularity of our feline friends to unprecedented heights. Before Wain, cats in England were often thought of with contempt but his work humanised them and helped to show them as something to be liked, admired and even loved.3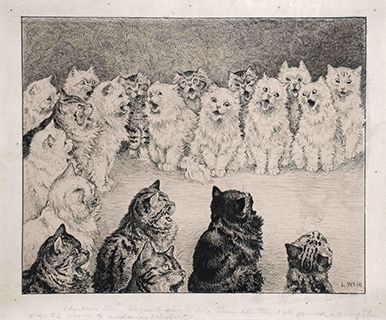 In Wain's weird world, cats wine and dine, grin and wink, dress up and boogie down — "at once embodying all that was fun and stylish in Edwardian times," suggests Chris Beetles, a London-based art dealer and leading Wain authority. "Back then, and now too, the English public were prepared to laugh at themselves more easily when presented with comic social disorder through animals." 4
I'm not suggesting for a moment that there is social disorder on the golf course - never! But I do like the idea of cats playing golf.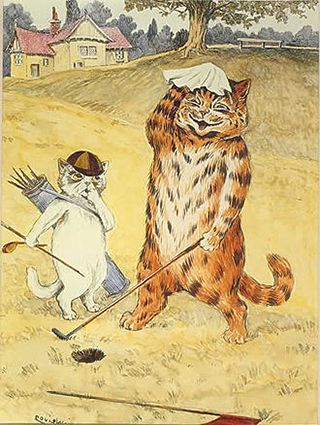 There's a delightful humour in Wain's illustrations. I found this wonderful illustration of Cat's Nightmare! Louis had a delightful and keen wit but this humour belied the tragic life that befell him.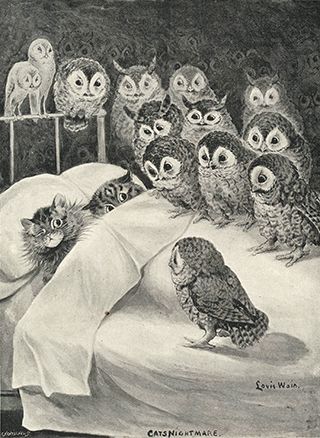 Louis' father was an English textile trader and embroiderer and his mother was French born. They had six children with Louis being the only boy. Louis was born with a cleft lip and his parents were advised not to send him to school until he was ten. Consequently, school had little attraction for him when he finally did go and apparently, he spent most of his youth wandering the streets of London. But intelligence and talent usually win out and Louis eventually studied at the West London School of Art and eventually became a teacher there for a short period.
Their father died young and by the time Louis was 20, he was supporting the whole family who all lived at home with their mother, except for one girl who was institutionalised due to mental illness. Louis supported the family financially throughout his life which caused him considered hardship, in spite of becoming a very successful illustrator.
Louis married his sisters' governess, Emily Richardson, but she died young. Although he was already a successful illustrator it was through his wife that Louis discovered his talent and love of drawing cats. During her illness, Emily was comforted by their pet cat, Peter, (photo above) and Louis began to draw extensive sketches of him, which Emily strongly encouraged him to have published. 5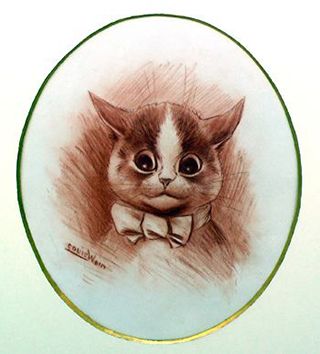 In 1886, Wain's first drawing of anthropomorphized cats was published in the Christmas issue of the Illustrated London News, titled A Kittens' Christmas Party (see below).
The illustration depicted 150 cats, many of which resembled Peter, doing things such as sending invitations, holding a ball, playing games, and making speeches, spread over eleven panels. Still, the cats remain on all fours, unclothed, and without the variety of human-like expression that would characterize Wain's later work. Under the pseudonym of George Henri Thompson, he illustrated numerous books for children by Clifton Bingham, and published by Ernest Nister.5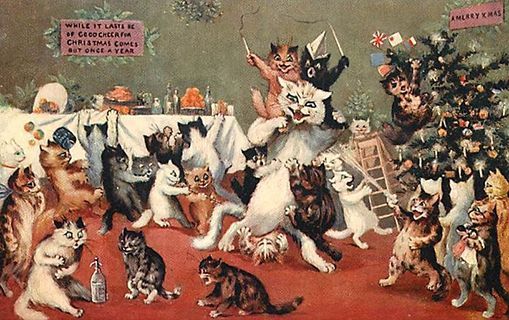 In subsequent years, Wain's cats began to walk upright, smile broadly and use other exaggerated facial expressions and would wear sophisticated, contemporary clothing. Wain's illustrations showed cats playing musical instruments, serving tea, playing cards, fishing, smoking, and enjoying a night at the opera. Such anthropomorphic portrayals of animals were very popular in Victorian England and were often found in prints, on greeting cards and in satirical illustrations...5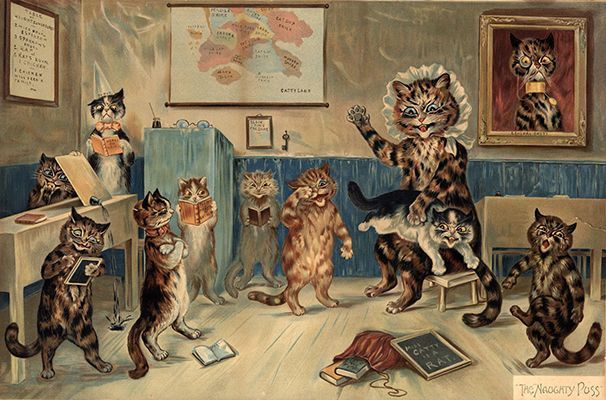 Gradually over time Wain's cats became more abstract as shown in the series of drawings below.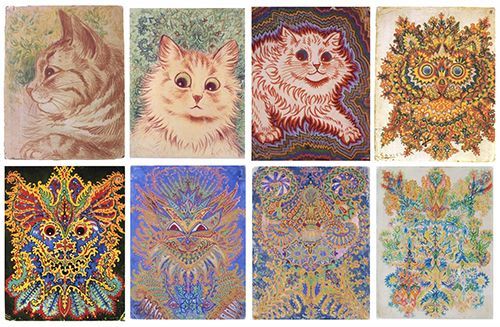 Wain was a prolific artist for the next thirty years, sometimes producing as many as several hundred drawings a year. He illustrated about one hundred children's books, and his work appeared in papers, journals, and magazines, including the Louis Wain Annual, which ran from 1901 to 1915. His work was also regularly reproduced on picture postcards, and these are highly sought after by collectors today. In 1898 and 1911 he was chairman of the National Cat Club.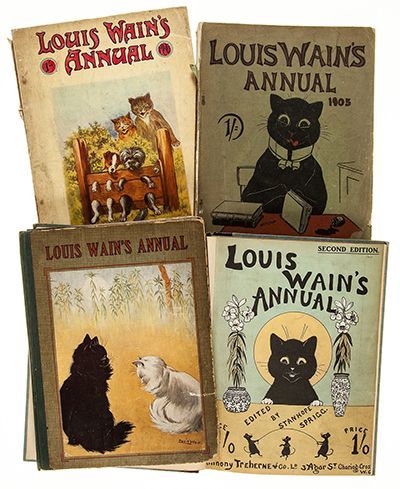 Wain was involved with several animal charities, including the Governing Council of Our Dumb Friends League, the Society for the Protection of Cats, and the Anti-Vivisection Society. He was also active in the National Cat Club, acting as President and Chairman of the committee at times. He felt that he helped "to wipe out the contempt in which the cat has been held" in England.5
If you would like to read more about Louis Wain and his Psychedelic Cats please follow the bookmark link below.
---
Answers to the Quiz on Matching Cats to their Artistic Owners from the post Pussy Cats and Their Famous Artistic Owners (Left to right, top to bottom)
Salvador Dali with Babou the Ocelot
Henri Matisse with Minouche and Coussi
Gustav Klimt with Katze
Wassily Kandinsky with Vaske
Pablo Picasso and Minou
Andy Warhol and Sam
Answers to the Quiz on Matching Paintings of Cats to Artist (Left to right, top to bottom)
Pablo Picasso Cat Devouring a Bird
Salvador Dali The Persistence of Cat's Memory
Andy Warhol Green Cat
Gustav Klimt Garden Path with Chickens
Wassily Kandinsky Katze
Henri Matisse Le Chat Aux Poissons Rouges (The Cat With Red Fishes)
Credits
schizlife.com
Courtesy of Chris Beetles Ltd/artsy.net
illustrationchronicles.com
artsy.net
en.wikipedia.org
pinterest.com