Tendai Makufa engages us in his narrative art - "From 2019-2022"
Tendai Makufa in South Africa has completed another of his beautiful and engaging paintings - created from his heart which is so closely linked to his origins back in Zimbabwe where he was born in 1979.
The painting significantly is titled "From 2019-2022".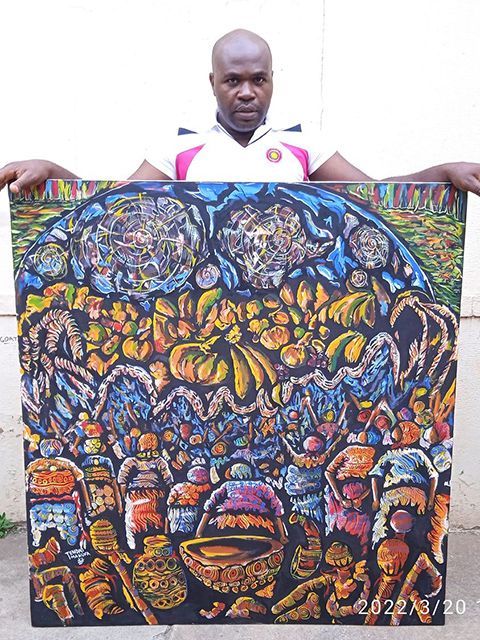 The painting measures 120cm x 126cm and has been made using acrylic decorative paint on canvas.
Tendai explains his thinking process thus:
This painting, from the bottom, are objects which were used by our elders and kings in the past which we lost during "Covid Times which happened 2019-2022. On the second level, the people are busy pulling off their masks so that they can obtain their food. On the top level in blue shows the contents of the people's lives covered with spider webs* 🕸️ - meaning that some of the activities which existed during the era "From 2019-2022 were disturbing. But we are now in 2022 getting back to our normal life!!!!
A close up of details in the early stages of preparation reveals the composition forming and the variety of strokes used by Tendai in this progress. His iconic figures of the women, so central to his community, always forming that permanent stability to his work and the message he sends to his viewers.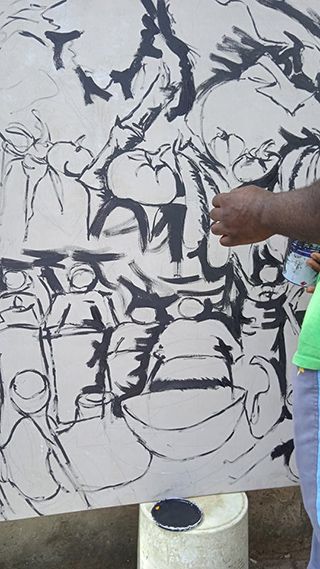 If we return once more to examine From 2019-2022 - not only can you see the all-inclusive arrangement of figures and objects, but the patterns on the clothing and dominant objects in the foreground created from intricate lines and an amazing combination of colours.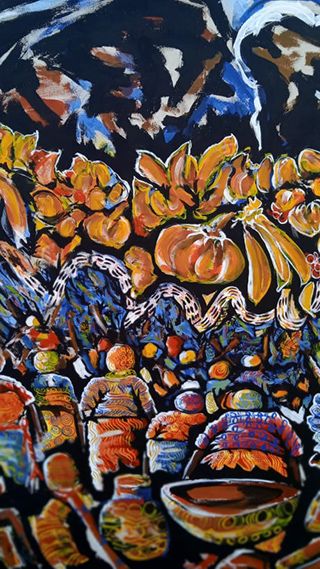 Honestly, every time I examine one of Tendai's paintings I see something unexpected and learn something new. Perhaps you would like to use the Comments Box at the end of the post leave a message for Tendai and the impact this work has had on you.
If you use Facebook you can follow Tendai by clicking on this link to his FB HomePage.
You can also view his works at LeChe where South African artists inspire you with the beauty of their design, all stemming from original artworks.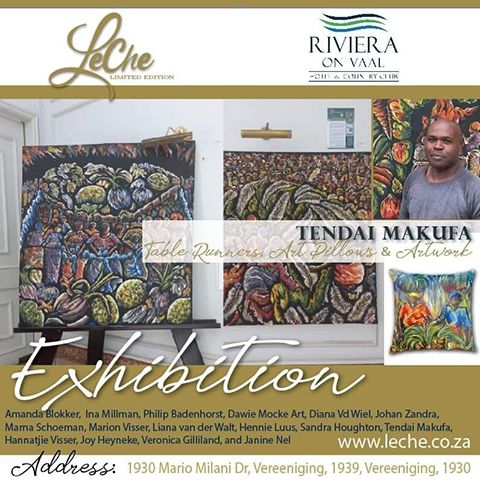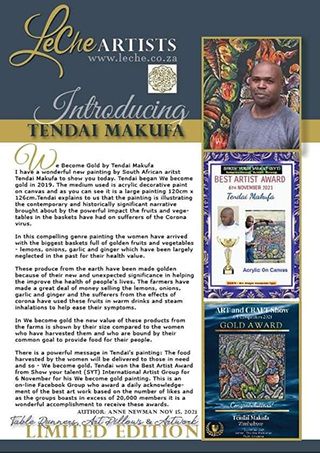 © Thank you to Tendai Makufa who kindly gave permission for the images of his work to be shared on AnArt4Life.