Tendai Makufa: Great Future
Tendai's latest painting has a most prophetic title - Great Future - which I am sure Tendai Makufa has as an artist and as an individual wanting to make a difference in our world.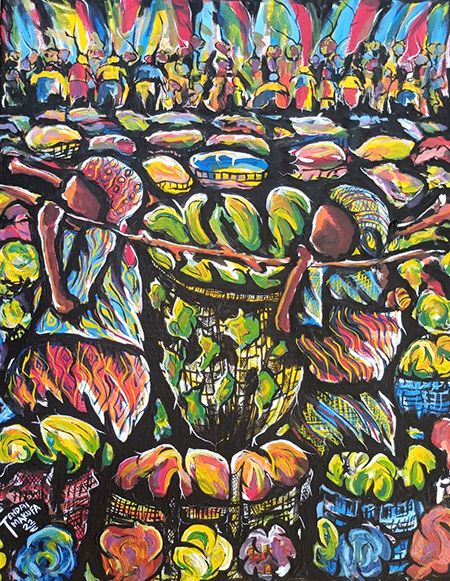 Great Future by Zimbabwe born South African artist Tendai Makufa has been created using Acrylic decorative paint on canvas and is 40x50cm in size.
As Tendai informs us: The painting 🖌️ is about the Great Future for the new generation!!! Or good news for farmers who now will able to grow cotton with its colour!!! If you need yellow cotton, you will be able to grow it ... you can have blue, red and black!!!
""Genetically modified Cotton ""
I thank you !!!! Tendai
If you would like to know more about how the genetic code was broken to grow coloured cotton please click here.
© Thank you to Tendai Makufa who kindly gave permission for the image of his work to be shared on AnArt4Life.
You can follow Tendai on his Facebook page.
And you can use the search tool on the AnArt4Life menu bar to see all our past posts on Tendai Makufa's remarkable and rewarding paintings based in his homeland culture of Zimbabwe.