Steve Cook: My Story in Art Part Four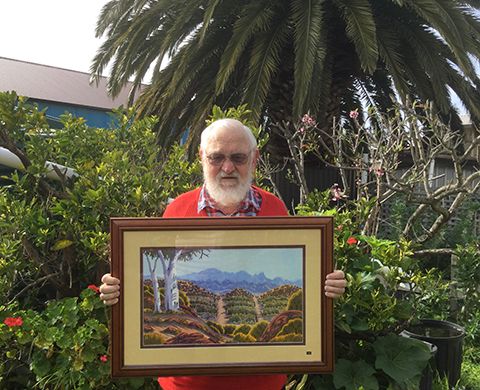 My name is Steve Cook, and as previously explained, I'm not an artist so much as an art collector and enthusiast. For close to 60 years I have collected paintings, mainly Hermannsburgs, but also art magazines, and books.
Here I am in my garden holding a Kevin Namatjira painting which I bought on eBay in 2010 from a art dealer in Hahndorf. It (as they all are) is a wonderful painting and I got it for a steal, only $360.
If you missed the previous three posts on my collection and painting attempts please click here for Steve Cook: My Story in Art Part One, here for Steve Cook: My Story in Art Part Two and here for Steve Cook: My Story in Art Part Three.
I have a private library of collected materials so extensive that I will never live long enough to read them all. But I do enjoy having them and being able to reference them when required.
Here is Kevin Hamatjira's painting close up so that you can enjoy the composition, colours and brush work as much as I do. Kevin is the oldest son of Maurice and Epana Namatjira; Maurice of course being Albert Namatjira's son. So, he is Albert's grandson.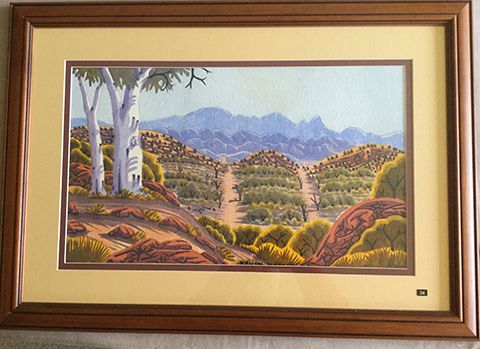 Before we move onto some of my other interests can I please emphasise the importance of keeping records - if you are going to collect try to keep a close account of the stories that your collected objects (whatever they might be) have had in their lifetime.
One of my favourite Hermannsburg School artists is Henoch Raberaba as shown below with the Provenance on the right. The provenance note I have written reads:
2-8-17
MY HENOCH (AT LAST). SHARON BOUGHT THIS DAMAGED PAINTING & ONSOLD IT TO ME FOR $160. DAVID BUTTON CHARGED ME A FURTHER $200 TO RESTORE IT. THE FRAMING COST A FURTHER $56. A TOTAL OF $416 BUT WELL WORTH IT. MY FIRST HENOCH. THE BARGAIN WAS THAT SHARON GAVE ME A BONUS PASTEL SKETCH OF ALBERT BY REX BATTARBEE.
THIS WAS GENEROUS OF SHARON, & VERY MUCH APPRECIATED, BLESS HER.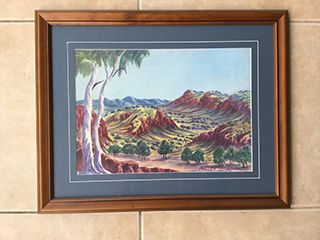 Apart from collecting paintings by artists belonging to the Hermannsburg School I also have some naive paintings.
The first is by Sam Byrne and Anne tells me that Sam Byrne has already been featured in the AnArt4Life blog in the post Sam Byrne Naive Painter from Broken Hill.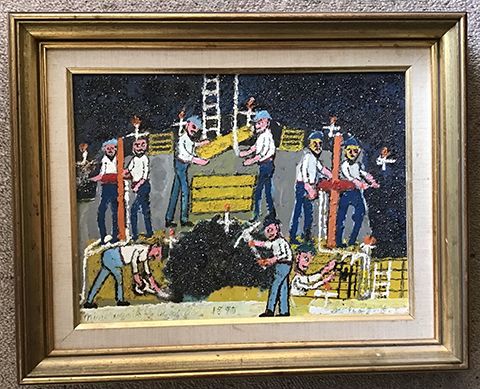 I also rather like the work of Victor Maloney who lives and works as a professional artist right here in Victor Harbor, South Australia.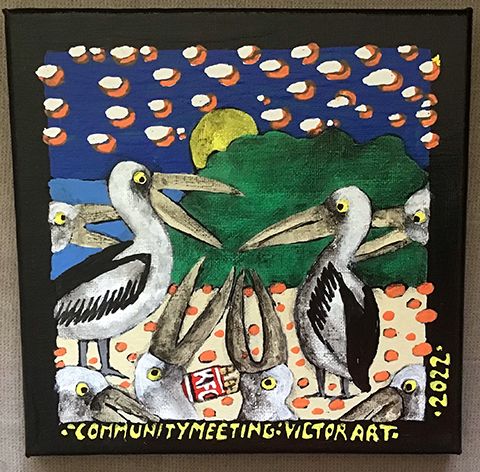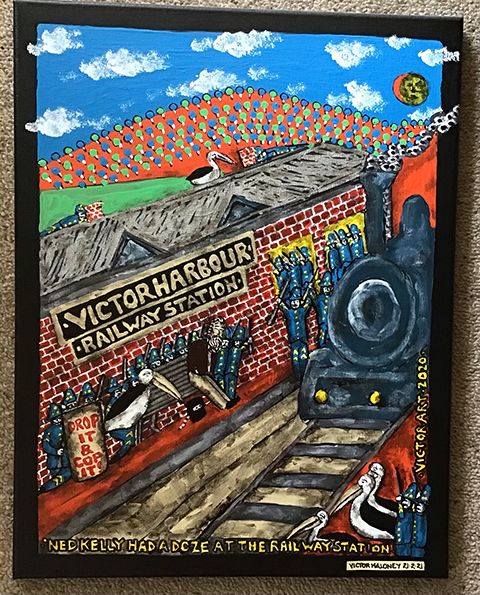 You will not have heard of Doreen Hibberd who died in 2017 aged 90 but she illustrates a very important aspect of art which is sometimes forgotten. And that is that being engaged in art in any way - as a collector, spectator or participator - can have a wonderfully positive effect on mental health.
Doreen was in fact my wife Gill's Mum. When Doreen's husband died in 2009 Gill organised for Doreen to move to Victor Harbor to be closer to us. Doreen was a loner, and at a bit of a loss so I encouraged her to take up art. Her style would be described as naive, but I love this one she did and gave to me. I've always appreciated it and think it looks great framed in my gallery.
Dear old Doreen had no training but had an enthusiasm for painting and we all know that painting has a positive mental effect particularly during times of stress or grief. So, that's why I have included Doreen's painting. Besides, if she's watching, I know she'd be chuffed.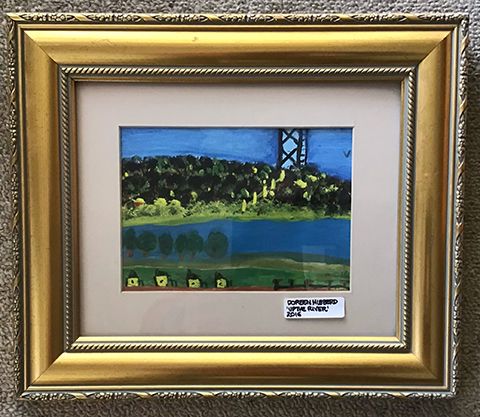 Moving on to my last obsession which Anne has been teasing you all about. It's no secret that I am an ardent Scrapbooker! I love scrapbooking which is an art in itself and I can't imagine any true collector not being a scrapbooker!!
I have visited most of our state art galleries and many regional galleries over the years. And you know most little townships have a local gallery so whenever we're travelling, we tend to be drawn to them.
Australia is full of unsung artists who potter along doing what they do and enjoying their art. Victor Harbor, and the Fleurieu Peninsula in South Australia is no exception.
We have many wonderful galleries in our region, not the least of which is our local Victor Harbor Regional Art Gallery where Rowdy works regularly as a volunteer.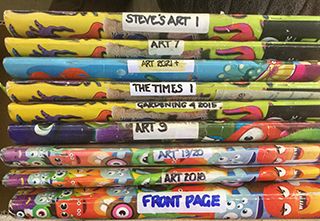 Scrap books bring back memories of my childhood when us kids were bored during school holidays and Mum would try to keep us quiet/amused/busy by making our own glue out of a flour paste, give us some old newspapers and a pair of scissors to fight over.
When I retired I began scrap booking anything of interest that I thought should be kept for posterity. Footy scrap books, art scrap books, front page scrap books, gardening scrap books, dear old Max Fatchen scrap books and finally News scrap books from the Yorke Peninsula and Victor Harbor Times, local newspapers.
God knows what will become of them when I die but hey, I'm in no hurry to find out. My siblings love them, and the efforts I have put in to saving cartoons, art, and news of interest will surely entertain someone in the future.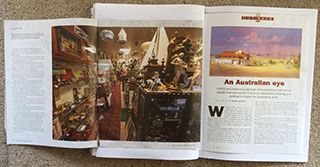 The real 'art' of scrap booking is to fold pages to fit the scrapbook page. Consequently, one needs patience and care to manoeuvre through the many and varied stories. I have probably 50 such scrap books on various subjects. Sometimes you may read a magazine or newspaper and just one article might catch your eye. An article on an artist with a picture of their works, a football player from your team (in my case the Crows and Redlegs, in your case Anne your mighty Pies), kicking a goal. Or a report on an important win. These things should be kept forever for future generations to enjoy. Real paper instead of computer images that are here one minute and gone the next.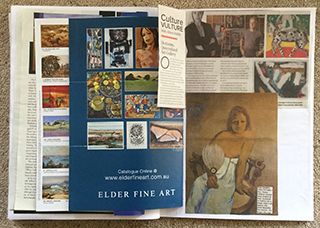 So, I hope you enjoy just a few images from one of my Art scrapbooks. I know someone must be interested in this 'art form' which is one of those lost arts. There is a modern day 'scrapbooking' pass time but this is the old fashioned style. Find it, cut it out, stick it in a scrap book, and keep it for future reading/enjoyment.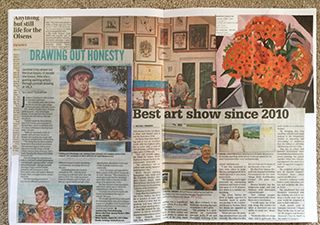 Without a fortuitous meet with Yvonne McGlone, John 'Rowdy' Wylie and Anne Newman, my collection, my passion, and my story would never have been told. I thank them for their encouragement. I have more stories to tell but remember, I'm not an artist, just an enthusiast collector. Thank you, and I hope you've got something out of it. Steve Cook
---
© Thank you to Steve Cook who provided most of the information used in this post and who kindly gave permission for the images of his collection and personal works to be shared on AnArt4Life.
A special thanks also to Gillian Kay Cook who took the photographs and gave permission for them to be used in this post.
Late Mail
M.K. in Australia likes the content of the AnArt4Life blog and has joined up as our newest subscriber. A very warm welcome to you.