Steve Cook: My Story in Art - Part Three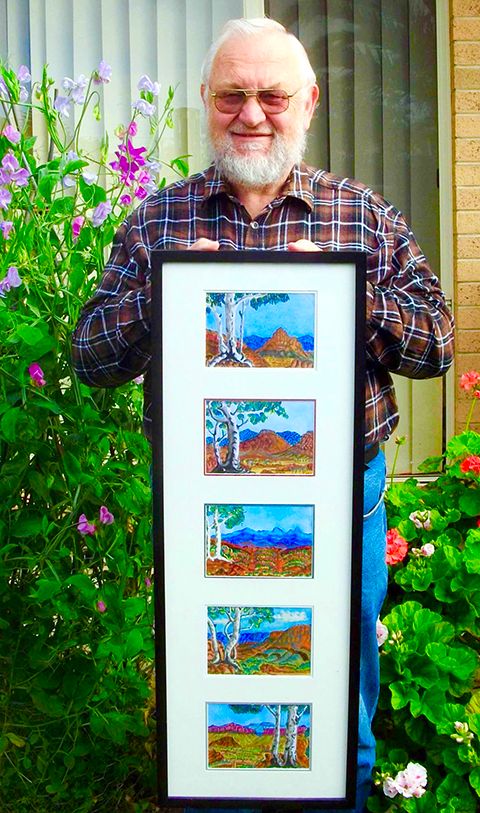 Collectors are very interesting people. Why would someone spend years of their life seeking out the objects of their obsession?
And why spend effort, oodles of money and budgeting manoevures, nervous energy, driving for hours and hours across endless kilometres to find those sought after treasures and not to forget making the decision to find more and more space (even another house!!!) for their beloved collection?
It's called passion, commitment and love - love of a beauitful object that appeals to something deep down inside the person's psyche.
But when a collector of art also engages in producing creative works we see an added dimension and perhaps gain a little more insight into how deep this person has embraced the love they have of a particular perspective on the world.
Today we continue a Story in Art by South Australian Steve Cook. Make sure you have caught up with the two previous posts in the series - Part One and Part Two.
And now over to Steve Cook who takes up his story...
So, I'm sure you're asking "Does he paint himself?" Well, no, I paint pictures instead!!!
From when I was a young teen - I'm now 73 - I tried to teach myself to paint in the Hermannsburg style as shown above.
And then a few years ago, what with more time on my hands, my neighbour suggested I think about Urban sketching.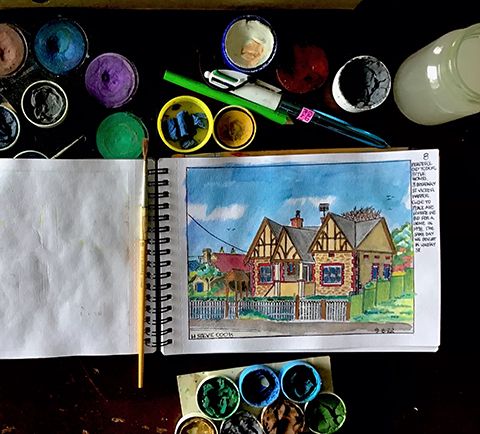 And that's what I do these days. I paint small watercolours of houses with the occasional landscape scene but always including some architecture. I paint in artist booklets most of which contain 30 pages and I have just started my 7th
book. That represents approximately 200 paintings.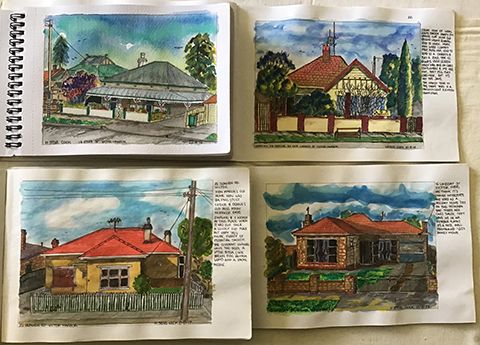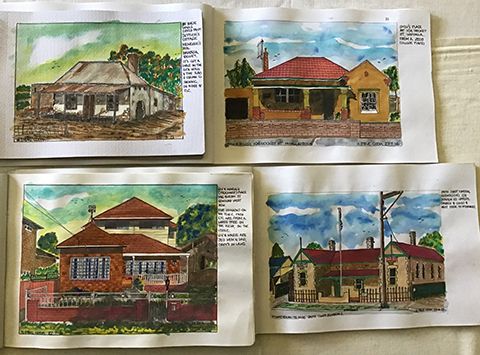 What I generally do is photograph any accessible homes whose architecture intrigues me, and paint the picture from the photo. I have often wondered how a resident must feel if they looked out their window to see this old man taking photos of their home?
Thankfully so far, no one has called the police!! And so, my hobby continues.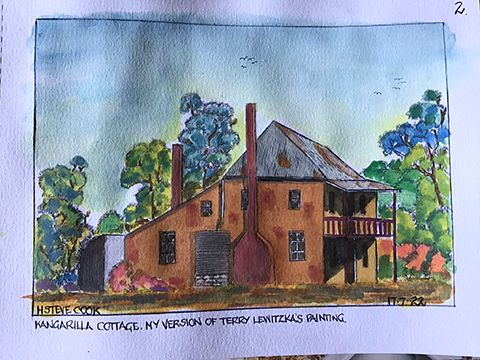 As you can see I write copious notes about the buildings I choose to paint.
The notes are more for myself really, usually an address, or an occasion, or simply notes on the sketch. Just to remind me for when I get too old to remember the reason for the sketch. It surprised me to learn that people are interested also to learn the story behind the painting.
A great example of reasons for notation is my Queensland abandoned homestead shown below. I took the photo way back in 1989 but only got round to the sketch/painting this year.
I hope you can read the notes and follow my thought pattern.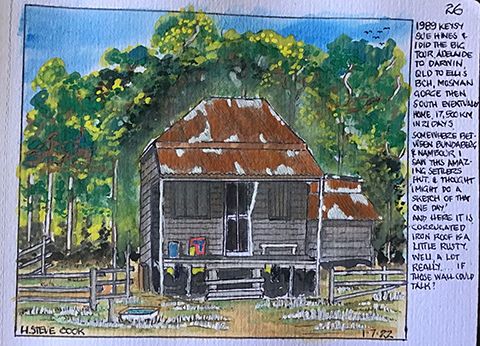 And below is the Old Customs House in Wallaroo, Yorke Peninsula, South Australia. I painted this in Nov 2021 because I wanted to showcase what a pretty building it is by comparison to the ugly new box style type building of plaster, glass and bloomin' aluminium next door. And also why put poor quality artificial grass in front of such a pretty period piece of property!!!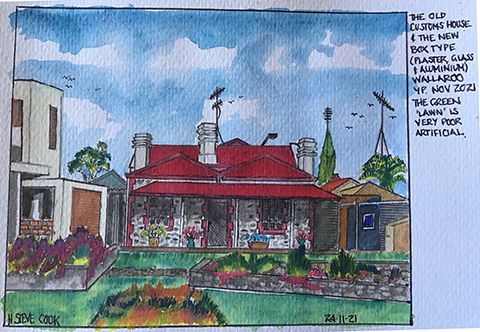 I continue to muck around with my urban sketching in watercolour which I enjoy very much and as I say to My Darling:
It keeps me off the streets, and on the streets- if you know what I mean?
And very occasionally I'll take to the open roads and spaces and do a sketch/painting of a building in the countryside.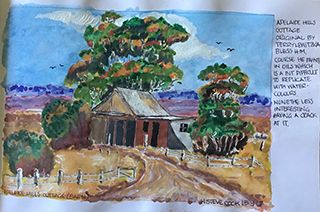 I have moved around a bit during my lifetime and to illustrate this I have painted a series on homes I have owned.
Below is 18 Roger Tce Maitland South Australia. I bought this house for just $13,000 in 1990 and sold it when I moved to Lobethal for $35,000. Basically all I had done was paint the place.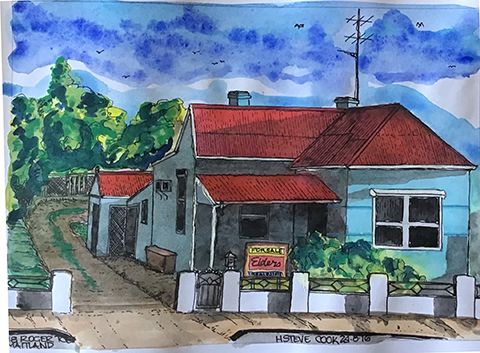 My watercolour sketches as I call them are, in a way, a record of my journey or perhaps more appropriately a record of buildings that have caught my eye - some more significant than others.
The painting below is significant in that it is of the Warooka Post Office where I worked from 1970-74. You don't know where Warooka is?? Shame on you!! It's known as the gateway to the bottom end of the magnificant Yorke Peninsula and only 228 kilometres west of Adelaide. Hope you can visit some day.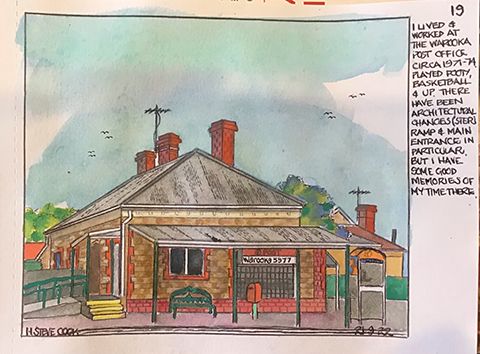 I'm sure you have gathered that I enjoy the company of people and value my friendships very highly. Some of my watercolour paintings illustrate this. There Chris and Bronte's House (next door) and Cobber Don's.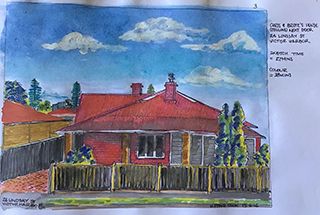 I really do enjoy painting houses but I like occasionally to tackle something more subsubstanial.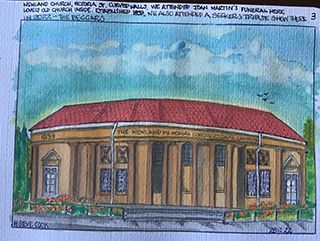 And then it is so tempting to go to the other extreme....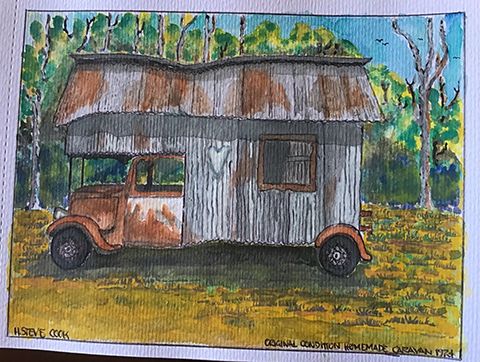 Funny thing is, I stopped painting in the Hermannsburg genre when I started my urban sketching and recently I tried to paint a Hermannsburg style painting ... and I'd lost some ability. Just goes to show - you've got to keep practising!
But I guess I'll stick to the urban sketching for a bit longer...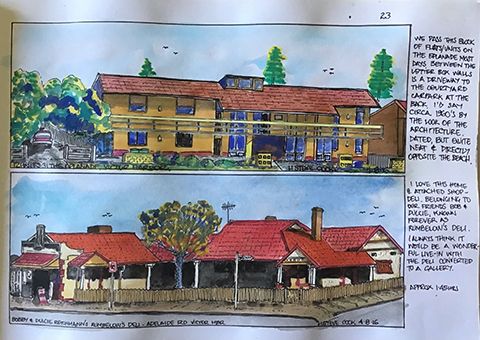 We have one more post to go for the AnArt4Life blog and it includes a hobby activity that many people engage in (as do collectors also) and Anne tells me she has never covered this topic in the blog. So tune in tomorrow to find out what I am talking about!!
---
© Thank you to H. Steve Cook who provided most of the information used in this post and who kindly gave permission for the images of his collection and personal works to be shared on AnArt4Life.
A special thanks also to Gillian Kay Cook who took the photographs and gave permission for them to be used in this post.