Steve Cook: My Story in Art - Part Two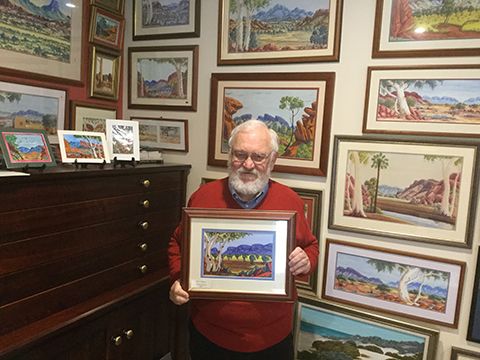 Most people who have collections don't tend to showcase their beloved objects with others but rather keep them cosseted at home for their own satisfaction and viewing.
But H.Steve Cook goes the extra miles as he wants his beloved paintings and memorabilia from the Hermannsburg School to be shared with others.
I will let Steve take over the story.
As you must gather by now I love my collection. In the photo above I am standing next to my map drawers where I keep some of my Hermannsburgabilia - that's a word I made up but it fits perfectly! The painting I'm holding is a Mervyn Rubuntja, son of Wenten Rubuntja.
Yesterday I began talking about meeting a fellow art enthusiast called Mike Hudson who, like me specialises in Hermannsburg art. If you missed the first post on my story please click here.
Several years into our friendship in 2011 we held a combined exhibition in Fullarton, an inner suburb of Adelaide in South Australia - and trust me, that was a hectic but rewarding experience.
Together we exhibited approximately 80 paintings and collectible Hermannsburg paraphernalia.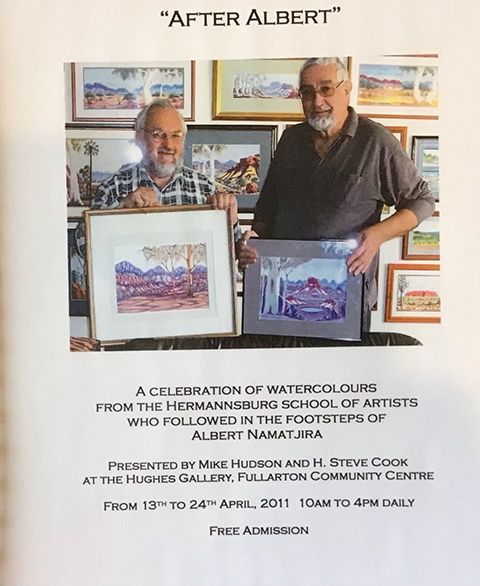 The Victor Harbor Times got onboard to promote the exhibition of our collections of paintings and memorabilia arising from the Australian Aboriginal artists who followed in the footsteps of the famous Albert Namatjira 1902-1959.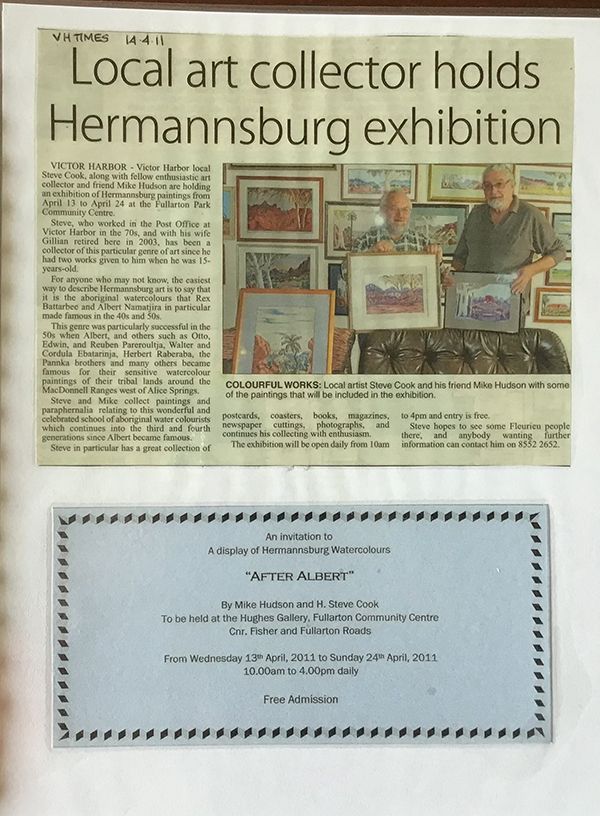 We called our exhibition After Albert (Albert Namatjira) and staged it at the Hughes Gallery which is in the Fullarton Community Centre.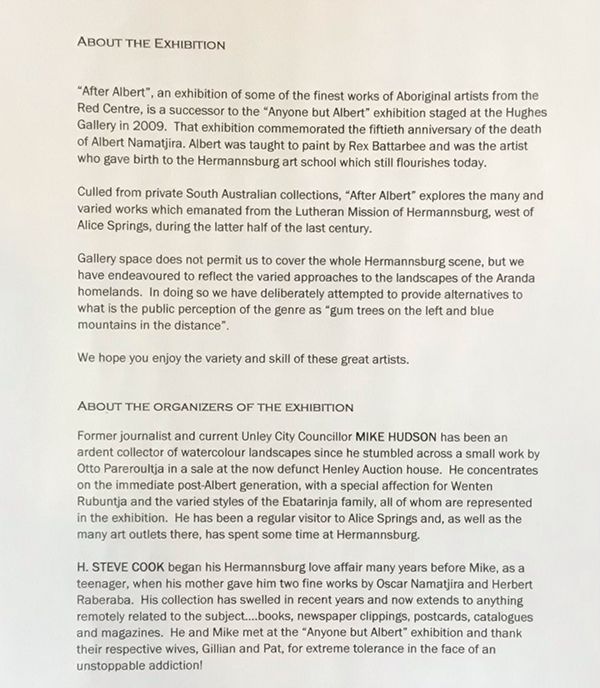 A little about my mate, fellow collector and sometimes collector rival!! Mike and I are quite competitive so whenever we catch up it's always to compare our collections and what's new for you?
Mike and I first met probably 20 odd years ago when he was holding a one man exhibition of his Hermannsburgs and we have become fast friends ever since. At that time he was a Councillor on the Unley Council, a job he had done for over 30 years. Prior to that he was a jounalist on a Melbourne, and South Australian weekend paper.
Pooling our collections for the exhibition meant that we were able to show the works of a large number of the Hermannsburg artists as shown below.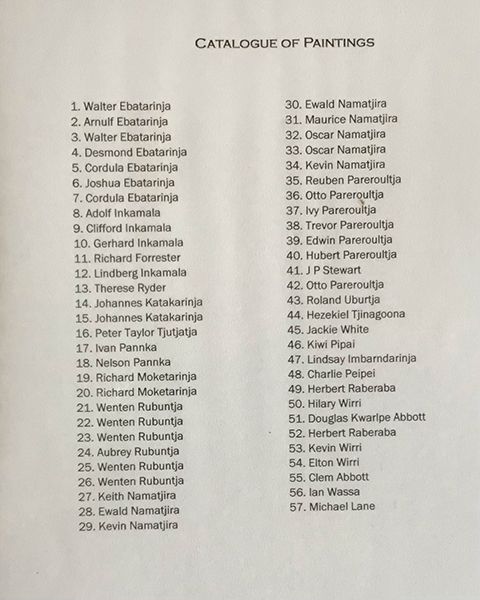 We produced a catalogue and gave a detailed description to match each of the works being displayed. We were very proud of what we were able to achieve.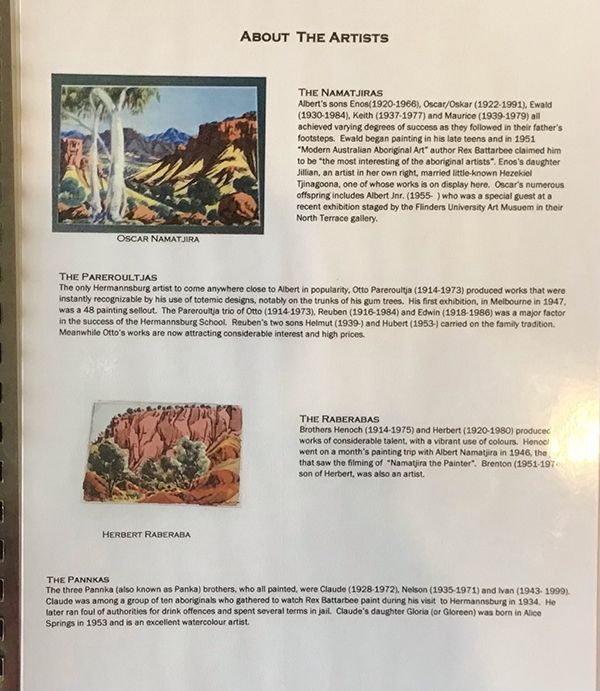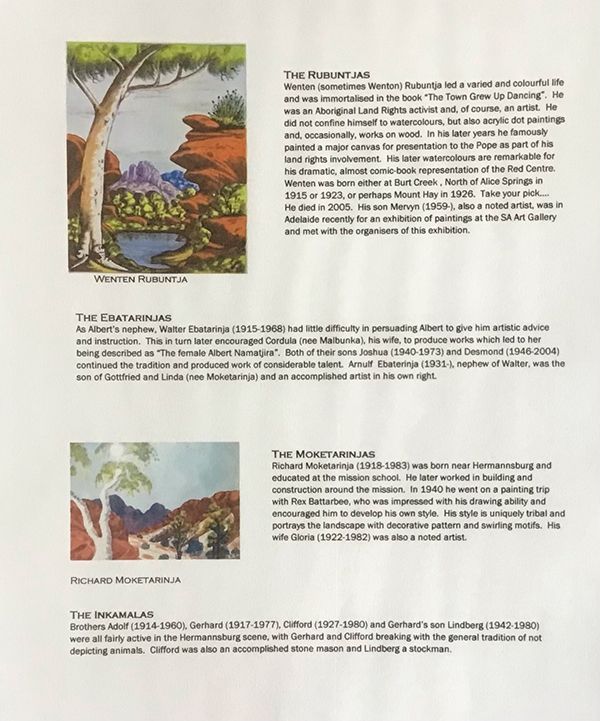 Below is a painting by Elton Wirri who is a modern day Hermannsburg artist and on the left I have shown you the Provenance which came with the painting.
With many of my paintings I would get Mike to go to the auction houses for me (he lives close to Small and Whitfield in Adelaide, and a short drive to Scammells and he loved, as he said, spending my money!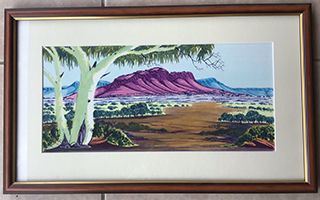 And below is a wonderful Claude Pannka painting. There were three Pannka brothers who painted: Claude Pannka (or Panka) (1928-72), Nelson (1935–71 and Ivan (1943-1999) - but Claude was the best.
Claude married Rosina who was a daughter of Albert Namatjira and a woman called Selma. Their daughter Gloria became an artist continuing the Hermannsburg watercolour school.1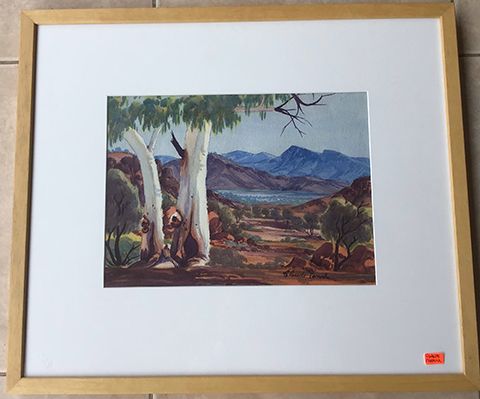 The exhibition was a great success and so recently I did a presentation where I showed a couple of my collections, some books, more Hermannsburgabilia etc at the Victor Harbor Regional Art Gallery...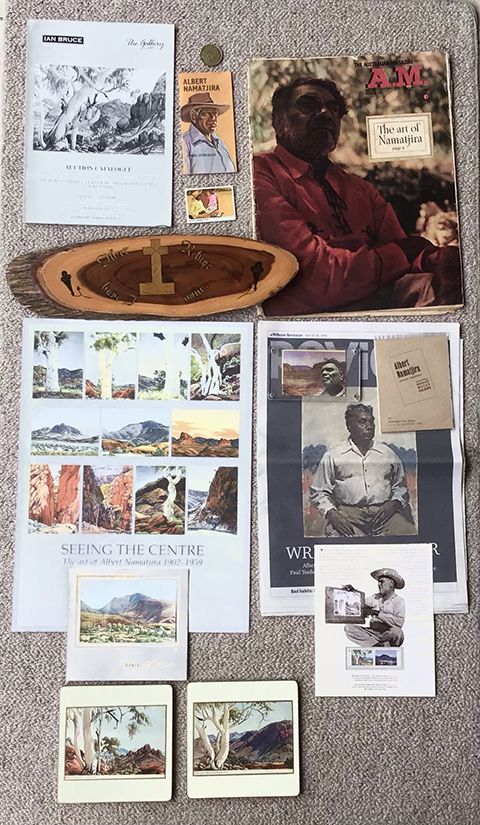 ...and followed that up with a home visit to my gallery for some artists and members of friends of the gallery.
One of that group is your own John Rowdy Wylie and he has suggested we do a post for Anne Newman who heads the team who produce the AnArt4Life blog. This is why I'm writing my story.


I am so proud of my collection and really chuffed that people want to view it and share in my admiration of the Hermannsburg artists. Here is another one for you to get to know - Richard Forrester.
There is a story behind the purchase of this painting but too long to mention here ... Suffice to say I got it at the markets for $20! At least it now has pride of place in my home gallery.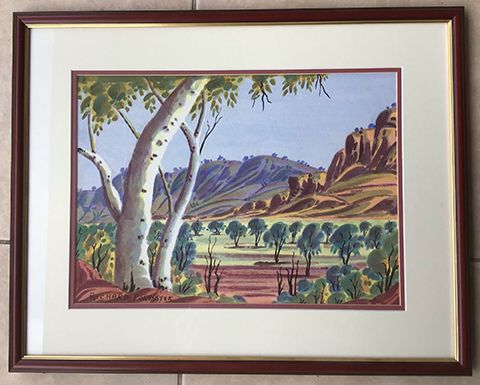 And speaking on my home gallery - as mentioned, we had additions made to our home in 2004 for two reasons: basically extra living space but more importantly (to me) enough wall space to hang most of my collection.
My gallery would house some 200 works and I love every one of them. Sadly, I am out of room but continue to purchase the odd one here and there. As I mention to any visitors, and bear in mind this is a private gallery, I am not an artist, I am not an expert, but merely an enthusiast.
I have a passion for Hermannsburg paintings but have generally bought what I liked if I could afford it, regardless of style. I do have a few paintings by Australian naive artists which I will show you before my post series ends.
But tomorrow Anne and Rowdy have asked me to tell you a little more about another aspect on art which takes up a little extra of my time.
---
© Thank you to Steve Cook who provided most of the information used in this post and who kindly gave permission for the images of his collection and personal works to be shared on AnArt4Life.
A special thanks also to Gillian Kay Cook who took most of the photographs and gave permission for them to be used in this post.
Credit
1.bimbambrisbane.com.au