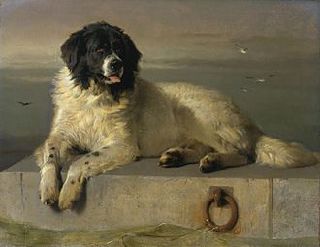 This wonderful painting of Bob titled A Distinquished Member of The Humane Society was done by British painter Sir Edwin Landseer in 1838. Bob, a Newfoundland, was found in a shipwreck off the coast of England and somehow found his way to the London waterfront where he became known for saving people from drowning: twenty-three times over the course of fourteen years! He was made a distinguished member of the Royal Humane Society, granted a medal and access to food. The Newfoundlanders with white patches are now recognized as a breed of their own, as a Landseer. 1
As a little aside, the painter Sir Edwin Henry Landseer (1802 – 1873) is best known for creating the lion sculptures in Trafalgar Square, London.
Next we go Morristown, New Jersey where there is a statue to Morris Frank and Buddy who traveled the United States and Canada to promote the use of guide dogs for people who are blind or visually impaired, as well as for the right of people with guide dogs to access restaurants, hotels, transportation, and other places that are open to the general public. The statue was created by John Seward Johnson II (1930–2020), a grandson of Robert Wood Johnson I, the co-founder of Johnson & Johnson.1
Morris Frank (1908–1980) was a co-founder of The Seeing Eye, the first guide-dog school in the United States. Buddy is considered to be the first seeing eye dog in America. 1
A statue of Morris Frank and Buddy in Morristown, New Jersey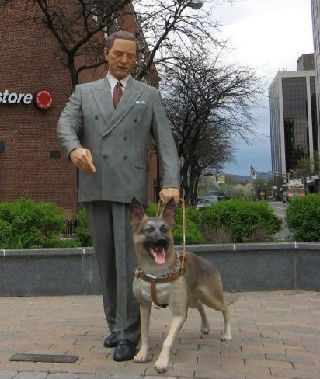 We couldn't possibly look at Remarkable Dogs and not mention Greyfriars Bobby (1855-1872) who represents the undying faithfulness and attachment dogs have to their human companions.
Greyfriars Bobby was a Skye Terrier who became known in 19th-century Edinburgh for spending 14 years guarding the grave of his owner until he died himself.1
A year later, the English philanthropist Lady Burdett-Coutts was charmed by the story and had a drinking fountain topped with Bobby's statue (commissioned from the sculptor William Brodie) erected at the junction of George IV Bridge and Candlemaker Row (opposite the entrance to the churchyard) to commemorate him.1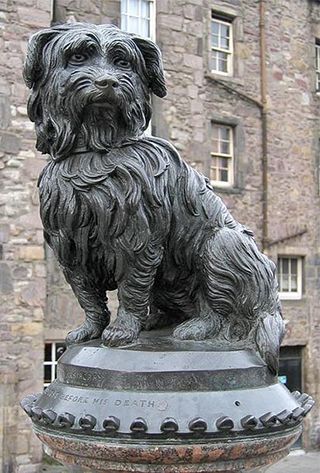 Moustache, sometimes abbreviated to Mous, (September 1799 – 11 March 1812) was a barbet who is reputed to have played a part in the French Revolutionary and Napoleonic Wars. His story is recounted in many publications but may be partly fictionalised.
Moustache is said to have been born in Falaise, Normandy, France in 1799 and to have joined a grenadier regiment at Caen. He followed the regiment through the Italian Campaign of the Revolutionary Wars and is said to have alerted the regiment to a surprise night attack by Austrian forces. He is reported to have been present at the Battle of Marengo, during which he lost an ear, and with a cuirassier regiment at the Battle of Austerlitz.1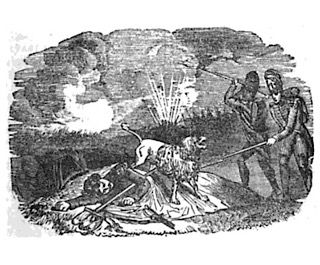 As a result of wounds taken at Austerlitz, Moustache had a leg amputated and was reportedly rewarded with a medal by Marshal Jean Lannes.
He is later said to have followed a unit of dragoons to Spain where he fought in several actions of the Peninsular War. Seeing action in the Sierra Morena and later, with a gunboat unit, at the Battle of Badajoz, where he was killed by a cannonball. Moustache was interred beneath a gravestone on the battlefield but his memorial is said to have been smashed and his bones burned after the war....
One of the earliest written accounts of Moustache's life is that written by Arna Cano and published in The Kaleidoscope magazine of Liverpool in January 1826. 1
---
We will conclude with a statue recognising the contributions that Explosive Detection Dogs and their handlers made during the war in Afghanistan. The bronze statue, Evolution of the Senses, was made by Ewen Coates and portrays a dog face-to-face with his handler, who is removing the animal's kit after a patrol. The memorial carries the names of dogs Merlin, Razz, Andy, Nova, Lucky and Herbie. It has only one human name — Sapper Darren Smith who died with his dog Herbie in an insurgent bomb blast in Oruzgan province in 2010.3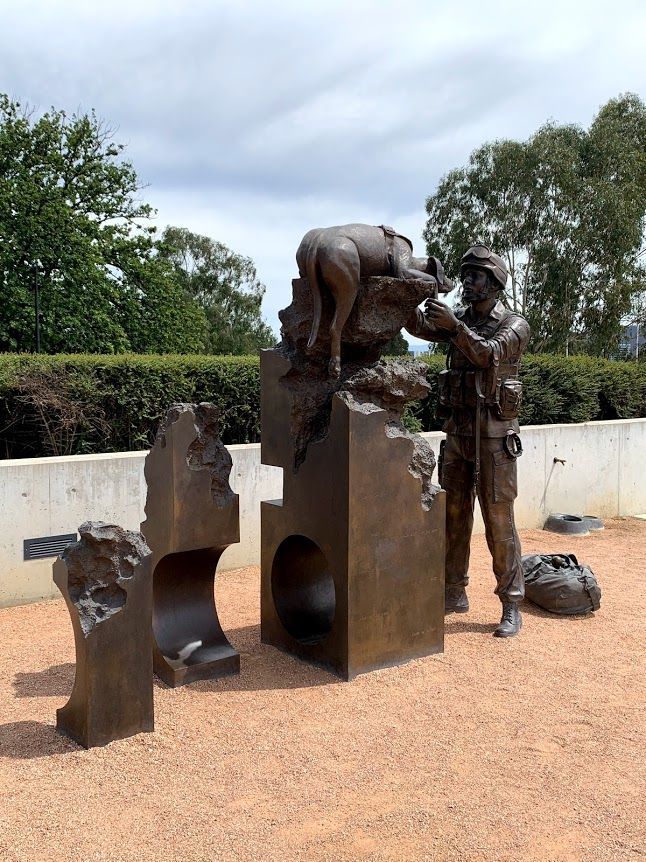 Credit
en.wikipedia.org
tnhistoryforkids.org
australiandoglover.com