Reflection: Dogs in Our Lives
At This Moment in Time my dog Gypsy is completely out of control as she is so overjoyed that I am at home most of the time so I can dance attention to her every whim. Several walks a day are on her agenda plus lots of little treats and endless patting. All because I have time.
But of course this is a two way arrangement and benefits are shared. I enjoy our extra walks and the extra long walks: not hurrying. Gypsy stops to sniff at just about everything. I resist this temptation except for perhaps the last of the summer roses braving the very cool morning air!
Out with my dog I am relaxed and all my concerns are put on hold. Yes my dog lives like a Princess but she gives back in so many ways. She tells me to get up in the morning as it is time for a walk; she tells me to leave the easel and give her a pat, or another walk; she tells me someone is at the door for a cup of coffee; she tells me it's time to go to bed as writing a blog post at 11pm is far too late!! "Turn off the computer" she says. "I'm far more important." And she is!
The Blog Dogs belonging to the AnARt4Life writers are showcased below.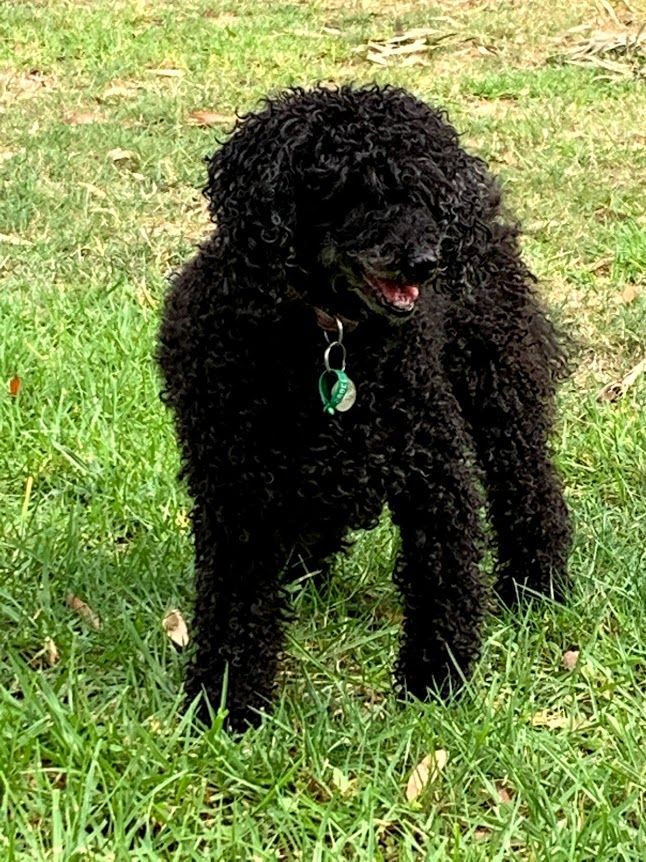 Jane doesn't have a dog at the moment as she is usually travelling every corner of the globe. However both she and Caroline were brought up with poodles around. In later years Caroline fell in love with Lucy, a chocolate coloured poodle, when living in Sydney and shared a move to a property near Ballarat. In her senior years Lucy enjoyed a luxurious retirement with Jane and (Mother) Elisabeth in suburban Melbourne. As you can see she lived like a princess and obviously felt like one – in the garden she always sat on a mat (the grass was beneath her dignity) and inside usually settled in her basket – especially when the hot water bottle was refilled. Although quite grey, Caroline was adamant her colour was chocolate.
Jane's dog Pepper (suggested to be a poodle/terrier cross) was a stray that wandered into the office of the family's fire protection business – he sensed the good life and the other dogs that accompanied the family to the office each day. Pepper was inquisitive and a wanderer – he loved a party – as you can see here – sharing a shindig in the mid 1980s with Jane and Caroline.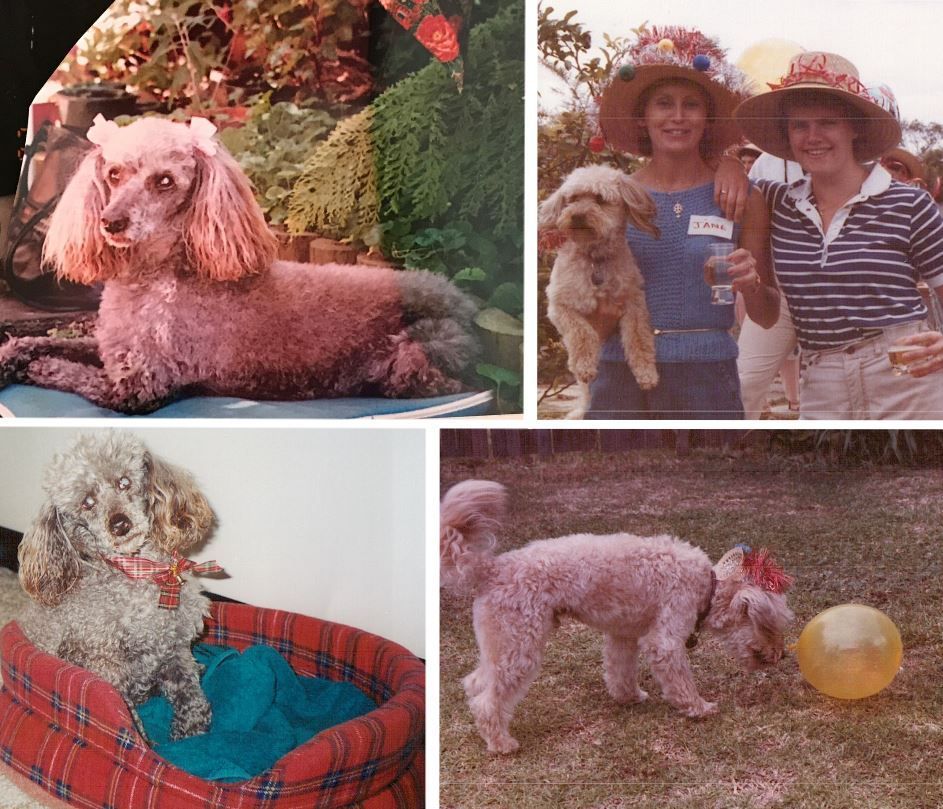 Last year a very dear cousin of mine gave me a wonderful book - Dogs in Art by Susie Green. It is a beautiful and enthralling book about dogs throughout history. To quote from the blurb:
From a Zoroastrian sculpture of a 100-kilogram mastiff to portraits of coiffured lap dogs, Dogs in Art presents humanity's best friend like never before...
Susie Green considers the often very personal motives behind ... artists' works, and the reasons why dogs, as sentient, emotional beings, are loved and trusted by hundreds of millions of people, including artists such as William Hogarth, William Wegman and Lucien Freud.1
This is the 100kg Persian mastiff Susie Green is referring to. The statue (originally one of a pair), made from limestone, was created in about 500BC in recognition of the significant role these devoted creatures played in protecting their tribal owners. It was found at the Apadana and is kept at the National Museum, Tehran.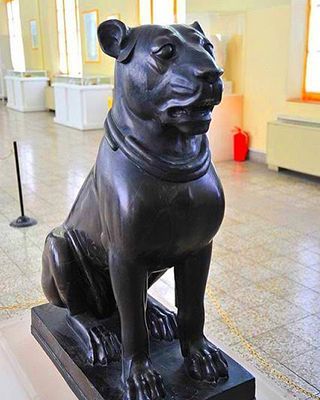 In complete contrast both physically and in nature, are the lap dogs: cute and cuddly and not particularly good at protecting the flock from wolves. But very good at protecting the owner from feeling a little down at heart.
I have chosen to represent lap dogs in a painting by Titian Frederico 11 Gonzaga, First Duke of Mantua painted in 1529 and A Woman with a Dog by Jean-Honore Fragonard painted around 1769.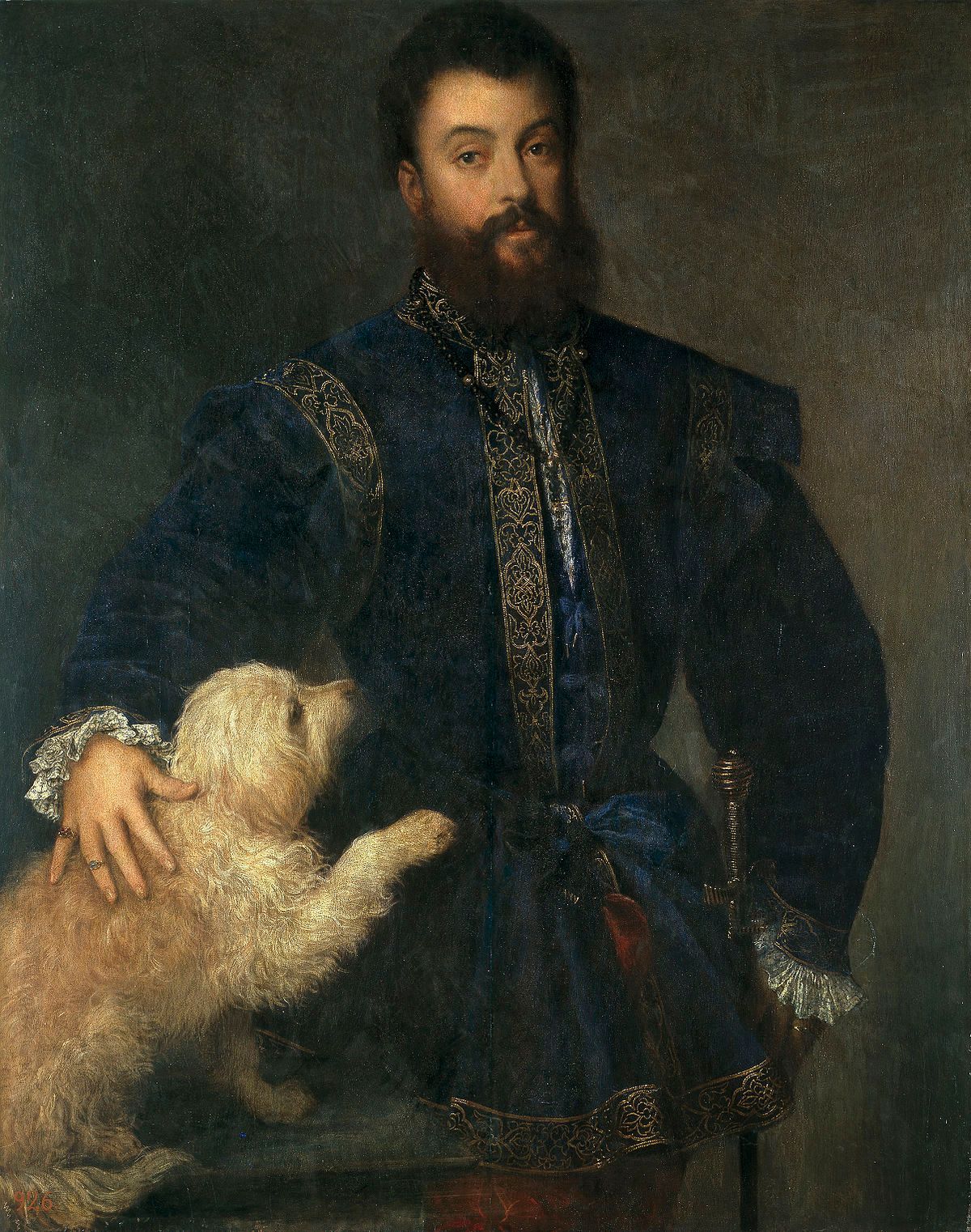 Susie Green emphasises in her book the strong relationship artists have with their dogs; some famous names you would recognise are William Hogarth, Lucien Freud and David Hockney; all of whom adored their furry companions.
David Hockney created more than 40 paintings of his dachshunds Stanley and Boodgie. It is not possible to show you Hockney's dog works so I have provided you with a bookmark link below. Please check out these delightful images - they will bring a smile to your face.
Not so well known is American contemporary artist William Wegman (born 1943) who is especially known for his paintings of dogs (mainly his own Weimaraners) in various poses and often in costumes.
Below is one of Wegman's paintings.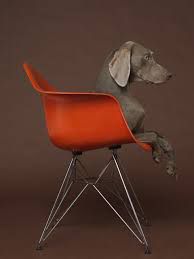 All of the illustrations shown today (except for the Blogdogs) are included and discussed in Susie Green's book. Please consider borrowing it from your local library to read the stories behind the images: you will not be disappointed.
We have many Twitter followers and one of our greatest admirers is Snowy the Dog. If you would like to follow Snowy who has Susie Green the author as his assistant please check them out on Twitter as directed below.
Looking back we have produced quite a few posts on dogs. Here are a few for you to browse through at your leisure and to guide you in reflecting on just how important these remarkable creatures are in our lives.
A wonderful thank you and toast to all the dogs in our lives.
Credits
Green, Susie Dogs in Art, Reaktion Books, London, 2019
Achaemenid Empire - Persian Facebook Page