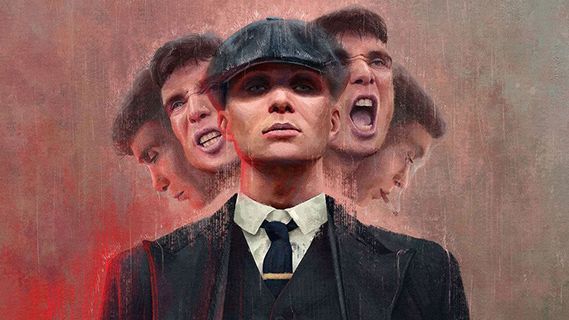 Thanks to subscriber E in London I have been alerted to Peaky Blinders Art Works. As an ardent fan of this BBC television program I have thoroughly enjoyed researching the perspective various artists have brought to the unbridled characters.
Some of you will know of Peaky Blinders, a British crime drama television series created by Steven Knight, that premiered on BBC Two on 12 September 2013. The series is primarily set in Birmingham, England, and follows the exploits of the Shelby crime family in the aftermath of World War I. The fictional gang is loosely based on the Peaky Blinders, a real 19th century urban youth gang who were active in the city from the 1890s to the early twentieth century. Cillian Murphy stars as Tommy Shelby, the gang's leader, with Helen McCrory and Paul Anderson playing Tommy's aunt and older brother respectively, who serve as the second-most senior members of the gang.
In May 2018, after their Drama Series win at the BAFTA TV Awards, Knight confirmed his "ambition of making it a story of a family between two wars, and by ending it with the first air raid siren in Birmingham", which was 25 June 1940. After the conclusion of the fourth series, he confirmed that it would take another three series (seven in total) to complete the story up to that point. The fifth series premiered on BBC One on 25 August 2019 and finished on 22 September 2019. (Wikipedia)
To understand more about the series Peaky Blinders and the period in which it is set please watch the BBC Trailer.
And now down to the Peaky Blinders Art Work.
We are going to start with a teenage artist called Leo Bignell of Beaumont-cum-Moze, who creates fascinating and awe-inspiring art pieces using only cardboard boxes.
The visionary designer, who also goes by the name of Leonardo Lambert, has been fixated on producing offbeat creations since he was old enough to hold a craft knife.
He started using the heavy-duty material in his artworks after Colchester-based visual artist Nicola Burrell gave a life-changing talk at Tendring Primary School, where Leo was a student.(gazette-news.co.uk)
Leo Bignell is now 16 and he has created Tommy Shelby from Peaky Blinders out of cardboard. Leo's cardboard sculptures were on display this week in a solo showcase at menswear store Turner's in Crouch Street, Colchester.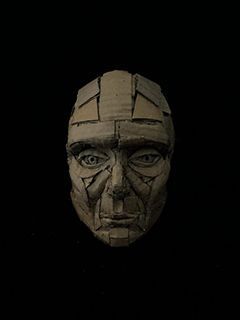 I am sure this will not be the last we hear the name Leo Bignell associated with the Arts. I will be showcasing some more of his cardboard sculptures very soon.
I have also learned that the BBC, to get fans of the show excited - as if we need more excitement! - the BBC have released a series of fan art which they commissioned ahead of season five's air date. After more than 1,000 submissions, they whittled it down to just 16 finalists. (planetradio.co.uk)
BBC Creative's Emma Brooke commented that the pieces "are all about celebrating and giving recognition to the Peaky Blinders fans," whilst BBC One's Chris Hooper added, "We wanted to harness the power of the existing fandom. Their passion for the show is truly infectious."(planetradio.co.uk)
Here is a small selection of Peaky Blinders images from the finalists. Left to right we have:
Arthur Shelby (Tommy's brother), played by Paul Anderson, Artist: Sue Verity
Polly Gray (Tommy & Arthur Shelby's aunt) played by Helen McCrory, Artist: NerfAlice
Tommy Shelby played by Cillian Murphy, Artist: Sam Ding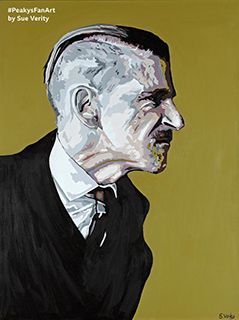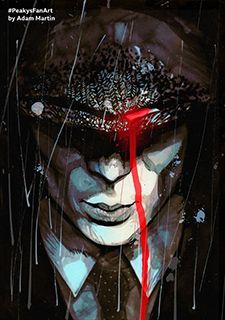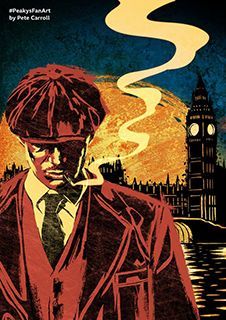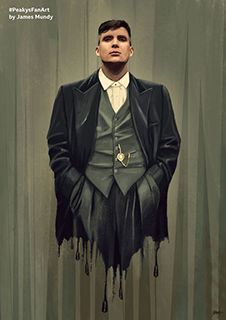 If you are a fan of Peaky Blinders you can check out all of the finalists here.
Peaky Blinders bosses release incredible fan art after series five air date revealed