My apologies for the muck up with the blog yesterday when the wrong and incomplete blog got uploaded ahead of the correct blog for the day. You were meant to only receive Political Unrest and Artists: The Great Depression so please follow this link if you didn't read it yesterday.
I could claim that there was political interference in my blogs but not so- the accident was all my own fault. Please take time to go back and read the blog on The Great Depression and then enjoy (perhaps the wrong choice of word) the completed blog on Brexit and the Art World.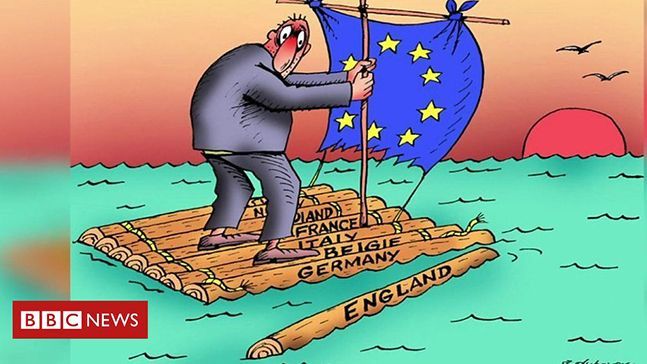 As part of my thinking about the effects of political turmoil on artists I started to ask the question:
What is all the hype surrounding Brexit doing to the art world?
The easy and obvious answer is that Cartoonists are having a field day over Brexit.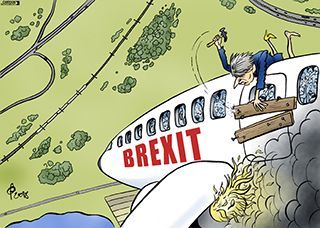 And one the stands out from the rest.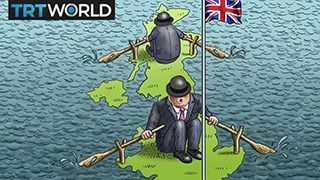 Recently, as I have already mentioned in an earlier blog, London had its Frieze Art Fair. So let's see what the sales were like as a possible barometer on Brexit.
With much relief I can report that:
The Frieze London art fair was a resounding success, despite much hand-wringing 
about the possible cooling effects of Britain's imminent exit from the European 
Union. Exhibitors at the London expo and its sister fair Frieze Masters, both of 
which closed on Sunday, reported strong sales across multiple sectors. The 
consensus among dealers and buyers was that even though many are worried about 
how Brexit will impact the art market, it hasn't happened yet—and perhaps it 
never will. So why fret? In other words: Keep calm and carry on.(artsy.net)

Follow this link to read the complete article on What Sold at Frieze London
Benjamin Sutton.
I can report that David Zwirner, whose booth faced one of the main entrances to the fair, sold a new Kerry James Marshall painting, Car Girl 2 (2019), to a
museum in the U.S. for $3.8 million!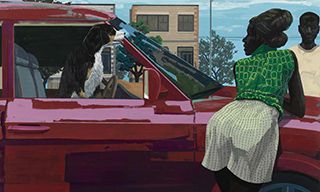 So all is not gloom and doom. Graham Sheffield and Kate Arthurs have used Monet's painting of the Sun breaking through the fog, Houses of Parliament to throw some light on the issue.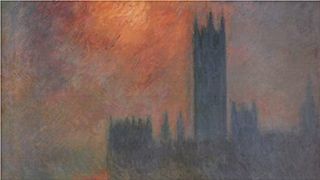 Sheffield and Arthurs back in March 2017 proposed the idea that:
British arts can ... help us understand and project who we are as a country – and create strong foundations for dialogue as the UK negotiates its new place in the world.
They suggested that:
Brexit is an opportunity... to help present an authentic view of the UK 
domestically, to Europe, and to the wider world – and to increase further the 
UK's global standing as an open and creative nation.

Read the article here: The Art of Brexit.
I don't want this blog to be highly critical especially as an outsider I have absolutely no idea what is best for Britain. All I am aiming to do is to pose questions that have to be answered when or if Brexit occurs. One question that must be answered is Will Britain be able to maintain the level of funding for the arts that currently occurs as a member of the EU?
According to research conducted for Arts Council England in the run-up to the 
Brexit vote, the EU contributes £40 million ($50 million) per year to the arts, 
museums, and creative industries in England alone. Around 1,385 projects received 
funding from the EU between 2007 and 2016.(news.artnet.com)

Another question that will need answering is:
What will happen to all the EU Nationals currently employed in Britain, many in 
the creative arts industry?

And uncertainty is not a friend to the arts, as many of the investors and funders 
of art initiatives are in business and need certainty to create success," Stacie 
McCormick, artist and founder of the Workshop Foundation, which supports emerging 
and midcareer artists with studio space in London, tells artnet News.

McCormick adds that her residency programs are specifically at risk of receiving 
fewer applicants from the EU "due to concerns on being eligible to work and stay 
in the UK."(news.artnet.com)
The Guardian reported however:
London galleries are launching new spaces in Paris, and US dealerships, who would 
once have chosen London as their European base, are going to Paris instead. Is it 
the Brexit effect? The Macron effect? Or is it simply that with a revitalised art 
fair rivalling Frieze for international clout, a vibrant gallery scene, a growing 
number of serious young collectors and world-class museums, Paris is having a 
moment?

In February 2018 the Los Angeles gallery Freedman Fitzpatrick opened a second 
space near the Hotel de Ville because, says its co-director Robbie Fitzpatrick, 
"over four years exhibiting at FIAC we realised we were making our highest number 
of sales outside the US in France, both to private collectors and 
institutions".(theguardian.com)
Finally I found a very interesting article by Adam Bloodworth on How British artists are responding to Brexit who reminds us that:
Pablo Picasso once described the most integral part of his work as 'being 
constantly alert to the horrifying, passionate or pleasing events in the world, 
shaping himself completely in their image'. Sentiment about art representing 
times of strife feels especially pertinent in London in light of Brexit.
(thejackalmagazine)

Whether for protest, expression, or social cause, British artists are responding to Brexit in intriguing ways.
A raft of artists are responding to Brexit across the capital in a number of 
exciting ways. For starters, there's the new Brexit-focussed exhibition as a part 
of the Mayor of London's "LondonIsOpen" campaign soon to launch, with the jarring 
and provocative title The Present Tense. There's Should I Stay Or Should I Go? at 
the Patrick Heide Contemporary Art Museum, as well as Banksy's latest stunt: his 
Devolved Parliament canvas piece has been put back on display at the Bristol 
Museum & Art Gallery to coincide with the original Brexit date of 29 March. For 
those unaware, the piece depicts a load of chimps running around the Commons, 
leaving little to question about the artist's own political views. 
(thejackalmagazine)