At the very top of our November mailbag is one of the latest art works from Soumya Kundu in India. Soumya hasn't given us many details about Handmaid and so it would be wonderful if he or someone who knows more could follow this up with some comments.
The AnArt4Life blog team loves the way subscribers and social media followers share their work here and in our AnArt4Life Facebook Chat Room but please provide as much detail about the subject matter and materials used.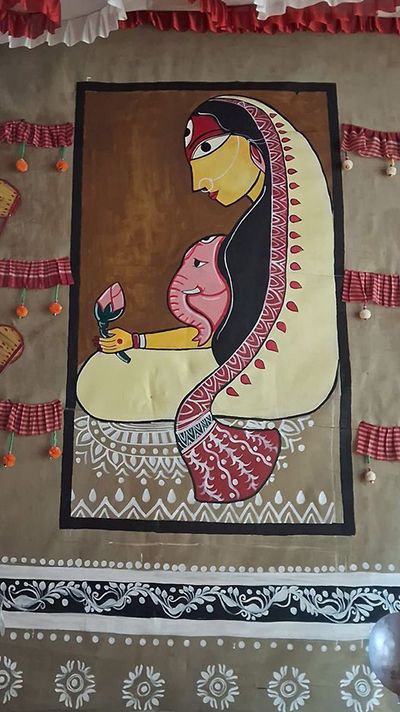 Next in the mailbag is from Julie who presented you with posts on the photographers Olive Cotton and her daughter Sally McInerney.
Julie has discovered that there is now a book about Olive Cotton, by the author Helen Ennis, published in 2019. You can read more about that book here, especially about the trunk in which Olive stored many of her films whilst bringing up her family.
And now back to the remarkable and challenging works by Yayoi Kusama which I presented a litte while back after attending one of her Immersive Installations in London. Blog team member Jane (who has been tripping around the globe this year) wrote in to say:
Hi Anne,
I loved this post - Kusama's art is incredible, I had no idea she suffered such a significant mental health issue for most of her life, not to mention the discrimination against her art due to her nationality and being a women. She certainly has a lot of determination and wonderful she is still working in her 90s.
I saw one of her mirror boxes at the Light exhibition at ACMI, Melbourne a year or so ago, in fact I was so captivated by many of the artists, I visited the exhibition twice and wrote a few posts. The immersive nature of Kusama's light installations and other artists really stuck with me.
The mirror rooms must have been an unusual experience, captivating but challenging to all the senses. The Tate video was very interesting - as was yours too.
Yayoi has produced a huge body of work over her long life. She loves flowers and dots. There have been many exhibitions of her work around the world and in Australia. I saw one of her flower sculptures in the Heydar Aliyev Centre in Baku recently - that's the fabulous white modern building with curves and no straight lines I mentioned in one of my lengthy emails! I'll be writing a post on that soon.
The Art Gallery of NSW commissioned a flower sculpture by her for their new north wing, which I visited while in Sydney earlier this year.
On the left below is my photo of the sculpture Flowers that Blossom Tomorrow dispalyed at the Heydar Aliyev Centre.
On the right below from the Gallery of NSW is another Kusama sculpture with the notation reading:
Flowers have been a lifelong passion for Japan's Yayoi Kusama, one of the world's most beloved living artists. Inspired by an endemic plant of south-eastern Australia, Kusama has created an exuberant floral sculpture that will be visible day and night, prominently positioned on the new building's terra overlooking Woolloomooloo Bay.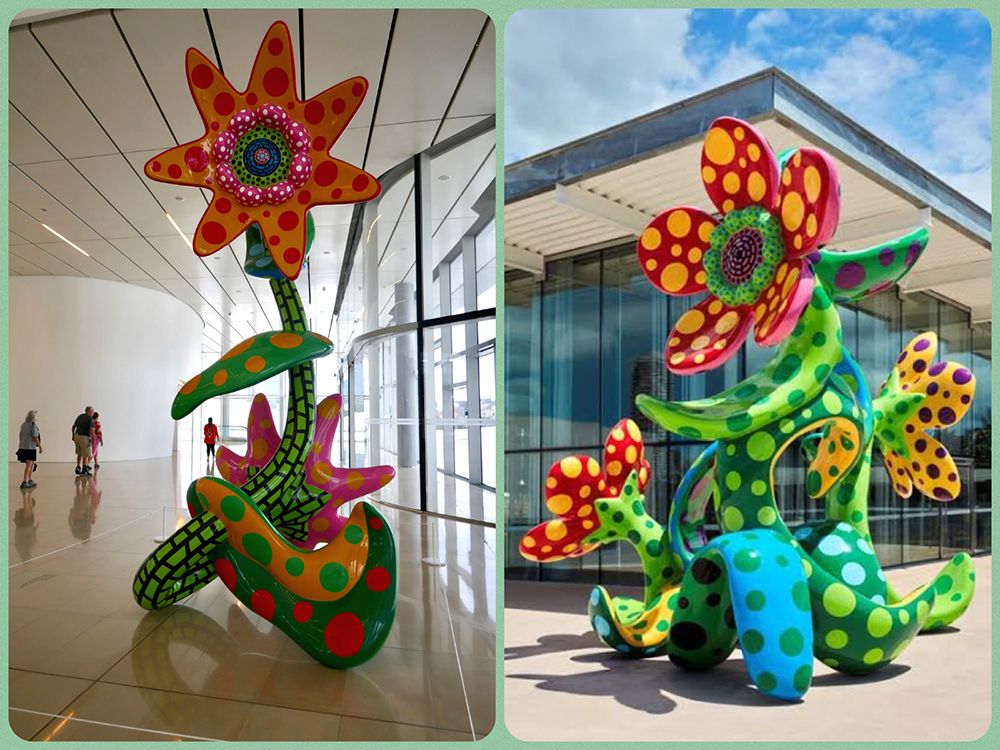 Some time back I showed you a photo of a naked tree in Regent's Park London which had been severely pruned to save its life. This year on my return look at it now!!!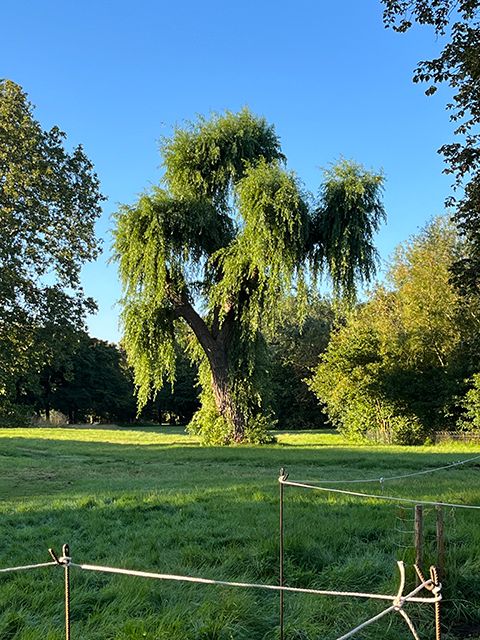 We will conclude November's mailbag with Tendai Makufa's latest painting titled: Future Generations.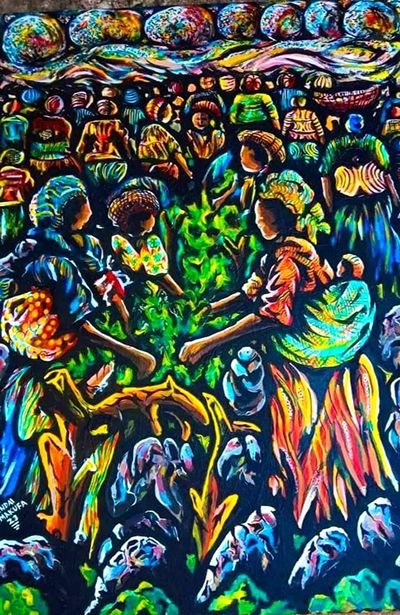 Description
Artist:Tendai Makufa
Title: Future Generations
Medium: Acrylic decorative paint on canvas
Size: 67x 48cm
Country, (Africa) Zimbabwe
Year (2023)
Story!!
As we live we should do the best for the generation to come,as our elders did for us and this makes us to be where we are now today.So they should plant also for the, next, next, next generation to come!!!
The Painting 🎨🎨 - they are busy planting and maintaining the small tree, but only a few are in that group, the rest are focusing on the big trees and getting fruits.They are not thinking that one day they are not gonna get great harvest!!.It will take time to build again and get results.I think a few will wait for that!!
Let's build and maintain "Future Generations"
Late Mail
This past week I received a link from D who is our Roving Reporter in Central Victoria. The link led me to an amazing photograph from the past of an artist and fellow Bendigonian engaged in creating a most remarkable piece of work. I will share this with you tomorrow.